Just north of Indianapolis in Hamilton County, you'll find a cool place to quench your thirst for summer adventure. The White River is full of opportunities for water recreation, but only one promises total relaxation -- the White River Canoe Company offers tubing trips that span from an hour and a half to four hours long. This livery is home to daily river tubing trips, kayaking expeditions, and canoeing, but you'll want to try the river tube trip. Once checked in, visitors will hop aboard a shuttle bus and be carried to a special spot on the West Fork of the White River, where your inner-tubes will be waiting for you.
If you're looking for a fantastic social distancing activity, a river tube float could be what you need. While the WRCC offers a school bus shuttle, with a few modifications, you can bypass the shuttle and just use their gear. If you opt to avoid the shuttle, you'll need to bring two vehicles; one will be left at the livery after check-in. From there, using your second vehicle, drive to the starting point for your trip, either Forest Park or Potters Bridge, where you'll meet the equipment truck. After the float trip, you'll end up back at the livery where your first vehicle is parked. From there, drive yourself to your second vehicle, just a few miles away. Just don't forget both sets of keys!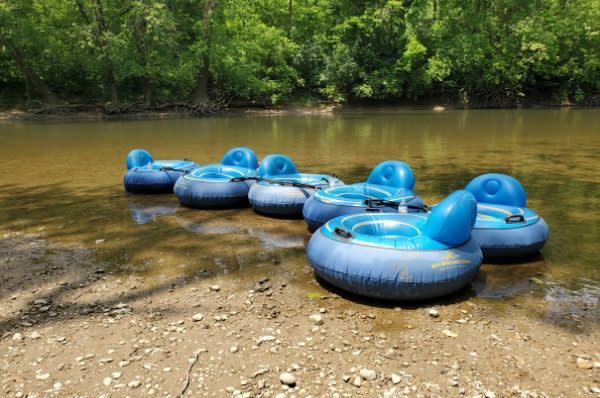 Dress for swimming, wear water shoes, sunglasses and don't forget a hat and sunblock, you'll be kicking back and floating down the river at real-life lazy river speed. As you pass under bridges and through treed areas, there's plenty to see and absolutely nothing to do except relax and take in the breathtaking Indiana river landscape. Keep your eyes open for deer and rabbits onshore, turtles resting on fallen trees, and fish swimming nearby. The sounds of frogs and the click of dragonflies won't distract you too much.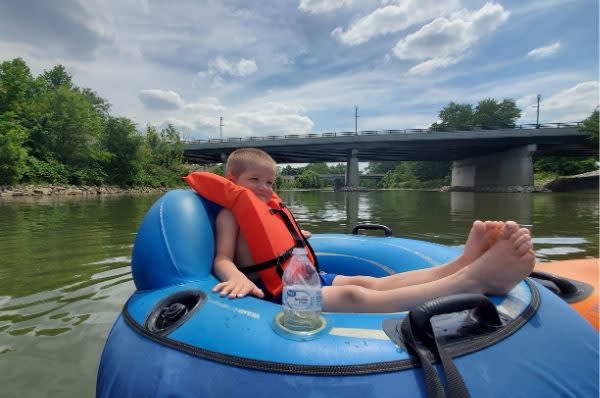 There are two routes to choose from; Forest Park is the short trip, just over an hour in length with about one mile of distance traveled from the park back to the livery. If you choose to take the 3 1/2 mile trip, expect to spend 2 1/2 to 4 hours on the water, so you'll want to rent a cooler tube and bring along a picnic and beverages. Ultimately, river conditions influence how long your tube float trip is. When there has been a lot of rain, the river is higher and moves fast. When it's been dry, or it's later in the summer season, the river moves slower, and you may need to get out of your tube more often to get through low areas. Tubes can be tied together to create a floating tube island so that you don't become separated from anyone in your group. This provides an excellent opportunity to share a picnic while floating in your tubes, or many guests like to pull off to the side on a sandbar and eat their snacks while exploring the sandbar. One of the many points of interest on your river float is the old trestle bridge that the river runs under. Depending on river conditions, you'll see many visitors having a look from atop the trestle and others watching from below.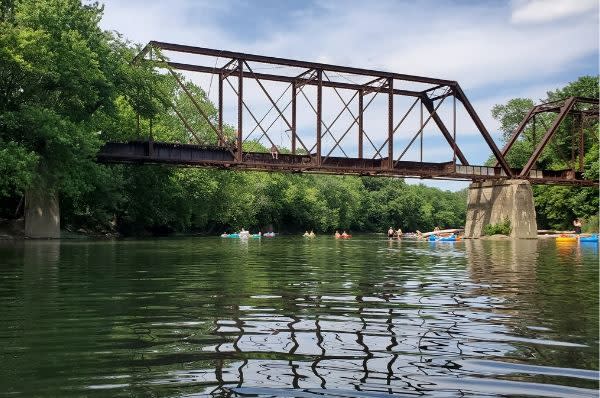 Nearly everyone loves a river tubing trip, and it's a lot of fun for many ages. Guests must be 18 years of age or older to rent a tube. Infants or toddlers must be able to walk unassisted on their own to participate, but if your children weigh less than 30 pounds, you must bring their own life jacket rated for the child's weight with a safety buckle that passes between the legs so it cannot be slipped over their head without removing the strap. Families love the river tubing trips because there's no paddling, no getting lost and you can be fully in the moment with one another.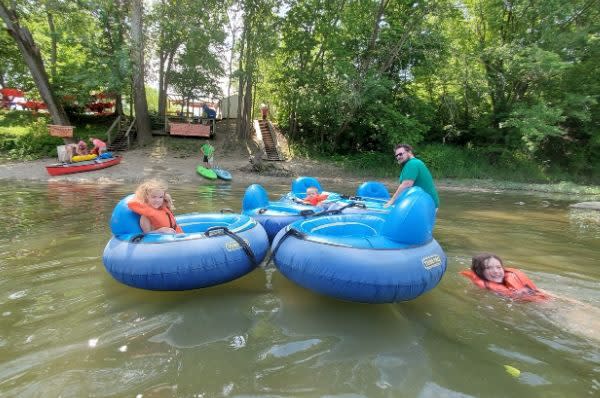 A river float trip in Noblesville is excellent for a group of friends who enjoy being together; you'll have a lot of time to talk and tell stories. Some groups bring along a waterproof music player and listen to their favorite songs as they float the day away. After a beautiful day on the river, you'll see a sign on the right-hand side that indicates you have reached the White River Canoe Company. It is here that you'll exit the river, empty your tubes of trash and personal belongings, and make your way to your vehicle.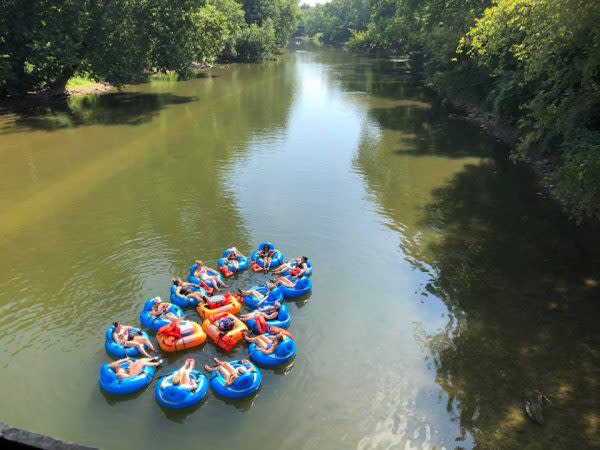 The regular season for the White River Canoe Company runs May - September. For more information and to book your adventure, visit whiterivercanoe.com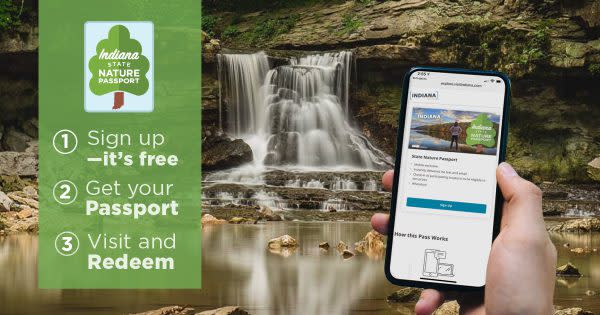 There are 59 destinations on the Indiana State Nature Passport! Check-in and explore participating locations throughout the state to earn great prizes! The more you visit, the more you win. This program is 100% free, but property entrance fees apply when you visit. Learn More.