If you've ever had a chance to see Lou Harry and John Thomas' "Going...Going...Gone," you've witnessed some great improv and prop based comedy with some hilarious audience interaction.
First introduced at the 2012 Indy Fringe Festival, Going...Going...Gone is a live auction that uses different props and found items, which are auctioned off to the audience who are handed fake money when they enter the theater. Audience members can bid on their own, or pool funds to outbid others. If you win, you get to take the item home.
I use the term "win" very loosely.
This holiday season, Indiana native Bill McKinley will be joined by improv veterans Eryn Bowers and Mike Gospel, and GGG co-creator John Thomas to combine the auction romp with another classic holiday film, "It's a Wonderful Life," to bring you Going…Going…Gone: It's a Wonderful Auction House.
It's the final night at Ed's Auction House. Ed's dead, and so it falls to his family to auction off his last worldly possessions — the stuff that presumably even the revenuers and greedy family members didn't want. (And really, who could blame them? When I attended in 2012, John and Jolene Ketzenberger and I pooled our money so John could walk away with a 3 foot replica of a muskie lure. Either that, or a muskie lure for a very optimistic fisherman.)
The story unfolds as the actors and audience learn what items will be auctioned off. You'll hear the stories behind each of the items as the auctioneers make them up for a good 60 – 90 minutes of solid improv and prop comedy.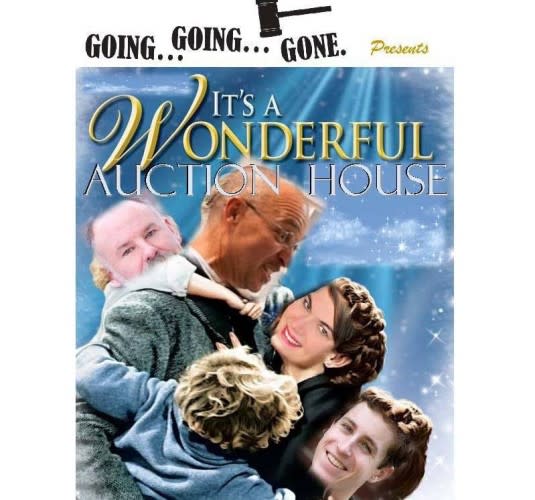 Bill McKinley is a Muncie, Indiana native — my hometown, although I don't think we ever met — and is a favorite on the New York cabaret scene, and has been heard in Disney attractions and films (Pocahontas and Mulan). He also recorded a CD of Disney songs, and has his own Disney-themed cabaret show, "Don't Tell Walt." Eryn Bowers is a ComedySportz veteran, and is the star of the new "Eri/yn" show. Mike Gospel is an improv actor from Chicago, and a Miami University graduate.
The It's a Wonderful Auction House show starts on Sunday, December 1, at the IndyFringe Basile Theatre (719 E. St. Clair St.), and then runs on the first Sunday of every month. Tickets are $15, or $12 for students and senior citizens. Visit the IndyFringe website for tickets or information on office parties and other private events