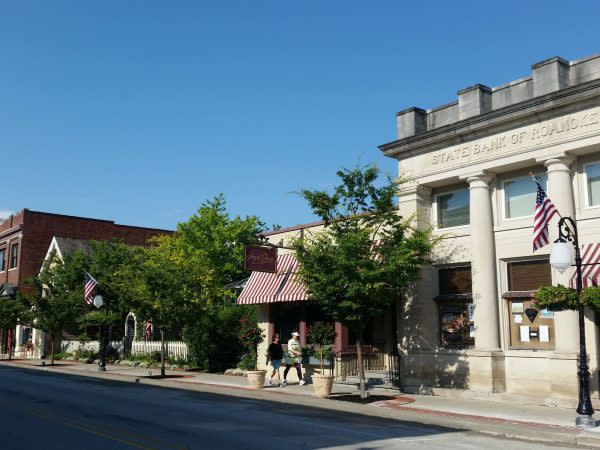 From a gorgeous lakeside village to a picturesque main street in a small town, these two boutique shopping destinations in northeast Indiana - the Village at Winona and the Town of Roanoke - are the perfect combination for a girlfriends shopping getaway like no other. Both locations are high on charm and overall appeal and have an amazing variety of high quality shops topped off with some serious dining options. Plus, it's just a lot of fun! I would plan to devote a day to each destination so that you have plenty of time to explore all that each location has to offer.
Village at Winona, Winona Lake
Start your trip at the Village at Winona in Winona Lake, just 45 minutes west of Fort Wayne on US 30. As you enter the Village, you drive right up to beautiful Winona Lake and there you will find a multitude of charming cottages that have been brilliantly arranged along the canal and filled with shops and eateries. What I love most about Winona is that it makes me feel like I'm on vacation. The public beach is just past the boutiques so feel free to pack a suit and reserve part of the day for swimming or renting a paddle board or pontoon from The Lake House. There's also a mountain bike trail nearby if you want to either bike or hike the trails - it's truly a versatile destination.
Whenever I'm in Winona I feel like I'm on vacation.
As for the shopping, plan to spend several hours making your way from one end of the Village to the other. I was a happy camper with the combination of shops featuring clothing, home decor, jewelry, artwork, bike/fitness items, bath and body products and food items. I have to say that I might have gone a little crazy during my shopping trip but I kept finding so many goodies that I couldn't live without including several dresses, jewelry and a ton of spices for my kitchen.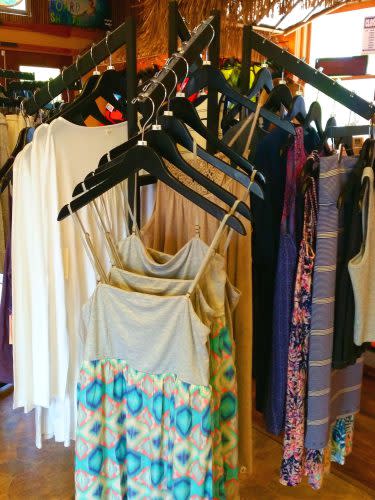 The Lake House is filled with beach inspired clothing and accessories. Rent paddleboards, kayaks and pontoons here.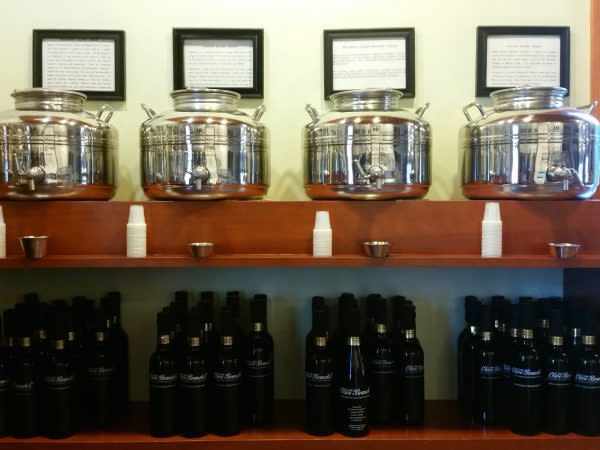 The Olive Branch has a great selection of olive oils and balsamic vinegar. Loved trying them before making my selection.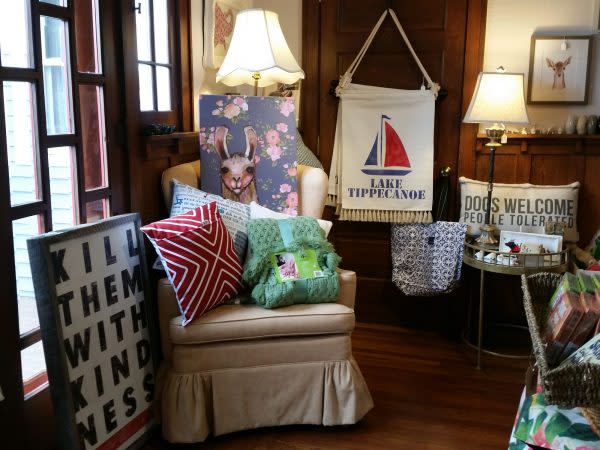 The Bungalow at Winona is filled with an enchanting array of home decor items, gifts and accessories.
When you get hungry, there are several options for lunch and/or dinner. I had a delicious cuban sandwich for lunch at the Light Rail Village Cafe and a cheese and charcuterie tray and patatas bravas for dinner at Cerulean. Another popular destination is the BoatHouse Restaurant where you can dine on the porch by the water.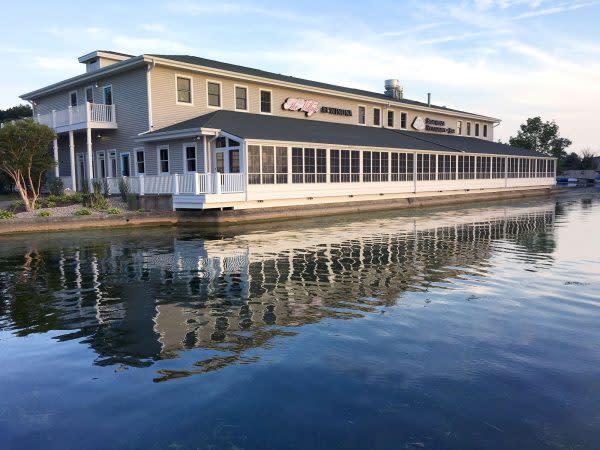 Dine at the BoatHouse right on the water's edge. Photo credit: Kosciusko County Visitor Bureau
There are so many cute shops and places to eat that I hate not being able to include them all. For a complete list of shops and additional details on the Village at Winona, visit their website. For information on the area and overnight accommodations, contact the Kosciusko County Visitor Center.
Roanoke
About 45 minutes from Warsaw and less than 10 minutes from Fort Wayne is the Town of Roanoke on US 24. Roanoke is not your average small town in Indiana. The town is widely known for it gourmet farm-to-table restaurant, Joseph Decuis, which brings visitors from around the country, but has grown into shopping destination with amazing boutiques lining its picturesque Main Street. To round out your trip, there's Two-EE's Winery and Zip Timber Lake with an 8-line zip line canopy tour less than 5 miles away to add to your visit. If you come on a weekend, try to spend Friday or Saturday evening at the winery to listen to live music on the outdoor patio or start the day early with their Farmers Market on Saturday mornings.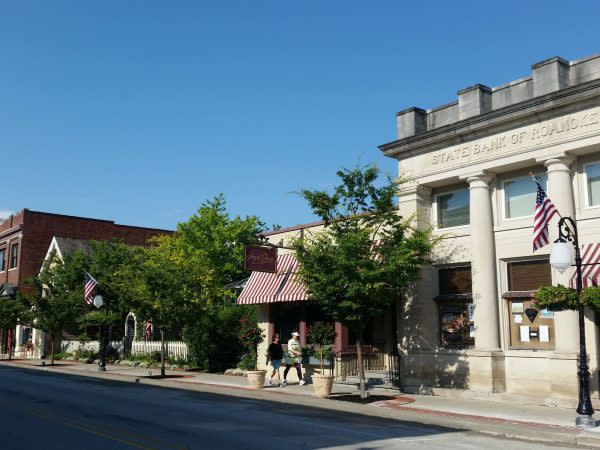 This picturesque downtown in Roanoke is the setting for some serious boutique shopping and dining.
The shops in Roanoke span from one end of this charming Main Street to the other with a few of the shops less than a block off in one direction or another. Park your car and you will be able to easily walk between stops without any trouble. The town offers a sophisticated yet captivating experience offering merchandise such as culinary tools, antiques, re-purposed furniture, home decor, bakery items, clothing, gift items, jewelry, original artwork and more. The best times to visit are Wednesdays through Saturday between 10 a.m. and 5 p.m. and definitely plan for several hours of perusing.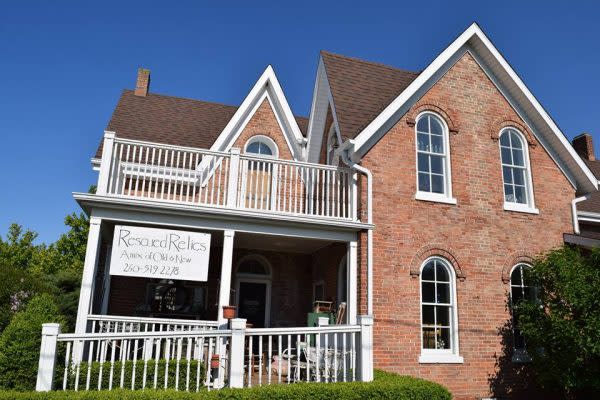 Rescued Relics is located just off the Main Street in this gorgeous 1860's brick house and filled with antiques and used furniture and home decor items.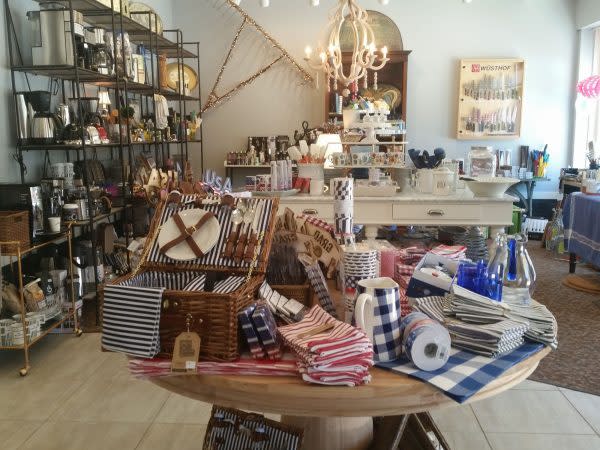 Fearless Cook carries culinary tools and kitchen items. I will be back again and again!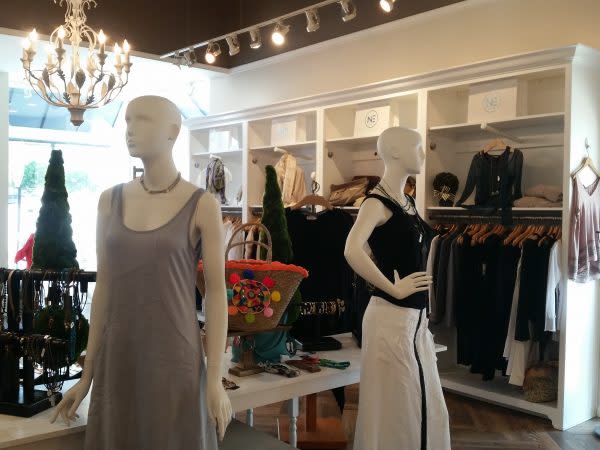 In the heart of downtown Roanoke, the North End Boutique features lavish clothing and accessories.
There are plenty of dining options during the day and evening. I had a three cheese toastie and cup of chili for lunch at Moose and Mollie's and a wagyu short rib for dinner at Joseph Decuis. If you are looking for a casual dinner option, the Village Inn is a favorite with the locals.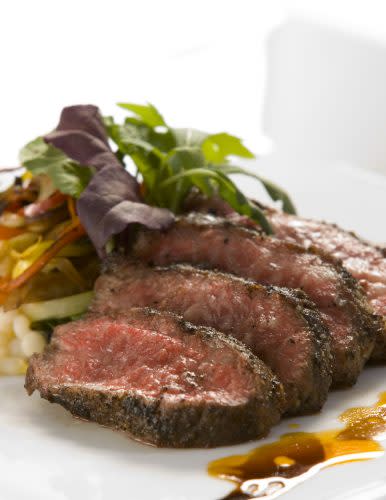 Don't miss your chance to have the wagyu steak at Joseph Decuis. I had to eat slow so that I could savor each bite. Photo credit: Joseph Decuis
This is just a sampling of the great shops in Roanoke. For a list of businesses in Roanoke visit the Discover Roanoke website and for places to stay and things to do contact the Huntington County Visitor Bureau.