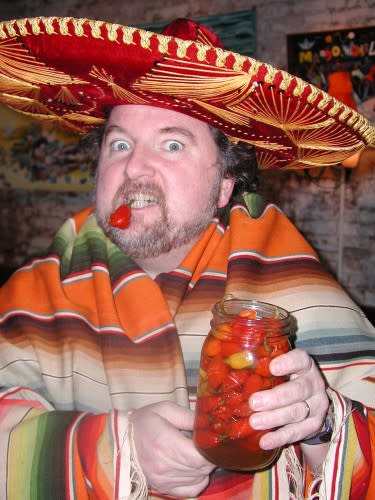 If the condiments in your refrigerator are named things like "Red Hot," "Fire in the Hole," and "Spontaneous Combustion," read on. If your friends make crazy concoctions of peppers and sauces just to see if you can stand the heat, this post is for you. If your name and photo are on the wall of one or more eating establishments for conquering the spiciest dish on the menu, then you'll want to head to Madison, Indiana from April 12 - 14 for the 17th Annual Hot Luck and Fiery Foods Marketplace at the Thomas Family Winery.
Arrive on Friday, April 12 by 7 p.m. to share in the "Hot Luck Picnic" where you can share your own fiery creations with other hotheads. Expect spicy food delights from Africa, South America and India as well as Texas and the American Southwest.
The Marketplace will take place Saturday, April 13 from noon to 6 p.m. Sample and purchase salsas, sauces, dried and fresh spices, hot breads, chili powder, vinegars and pepper plants as well as talk with vendors and take part in cooking demonstrations. If you've got a secret spicy salsa recipe, submit your entry by 1 p.m. for a chance to win the Grand Sombrero Salsa Competition. Bring the day to a relative cool-down with a house-raising performance by popular folk musicians Greg Zeisemer and Kris Luckett.
While Sunday may be a day of rest for the rest of your body, it doesn't have to be for your taste buds. The Hot Luck and Fiery Foods Marketplace activities will end on Sunday, April 14 with a Fiery Foods Jazz Brunch featuring spicy foods prepared by the flamboyant Hoboken Eddie and jazz by the Rob Houze Trio.
As they say in Madison..."Be there or be mild!"