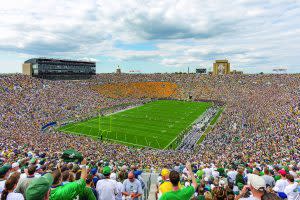 Notre Dame Stadium. (Photo by Matt Cashore)
When you think of South Bend you probably think of Notre Dame. The Fighting Irish, the story of "Rudy" and the famous line "win one for the Gipper". All are iconic and engraved forever in history.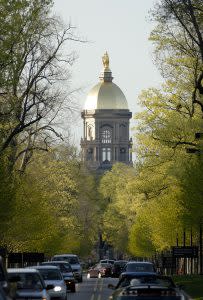 Photo provided by Visit South Bend Mishawaka
The university itself is an architectural wonder. Not to mention the art at the Basilica of the Sacred Heart and the Grotto of Our Lady of Lourdes. But the city has more than just the university to offer.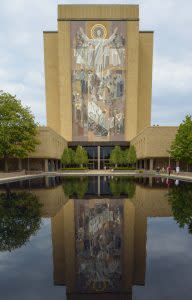 "Touchdown Jesus". Photo provided by Visit South Bend Mishawaka
South Bend has 5 major campuses with thousands of students who live there. And surrounding those schools, a city with museums and galleries filled with rich history. You can put it in reverse and take a drive back in time at the Studebaker National Museum. It has one of the nation's largest Presidential Carriage Collections in the country and you'll find the world's finest motorcars built in Indiana.
The Studebaker National Museum shares a campus with The History Museum and three historic homes. In one of the museum's permanent exhibits, you'll find items from the Oliver Mansion that aren't normally seen on the house tour. The elegant 38-room mansion is one of three historic must-seen homes. It's breathtaking from both the outside and inside.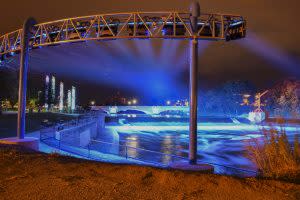 South Bend River Lights. Photo provided by Visit South Bend Mishawaka
A stunning new attraction is the River Lights. Interactive light sculptures along the St. Joseph River illuminate the city. The River Lights turn on thirty minutes before sunset.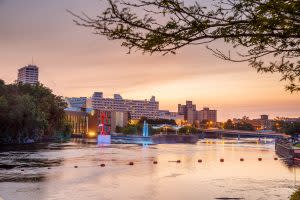 Photo provided by Visit South Bend Mishawaka
Lake effect weather isn't a problem for South Bend. There's plenty of outdoor recreation for all seasons. In the warmer weather, there's several golf courses, biking and hiking trails and even a skate park. In the snowy season, you could grab a tube or skis and hit the slopes.
If you're taking a family trip with the kids or grand kids, there's two don't miss attractions: HealthWorks Museum and the Potawatomi Conservatory Park and Zoo.
Potawatomi Zoo. Photo provided by Visit South Bend Mishawaka
And after all that time spent exploring, you might be a little hungry. You could grab some authentic Irish grub at Fiddler's Hearth or for traditional American fare, there's the elegant LaSalle Grill.
You could end your visit with a nightcap at South Bend Brew Werks, next door to the historic State Theatre.
Or do you prefer something sweet? The South Bend Chocolate Company has you covered. When you walk in, there are cases and cases of melt-in-your-mouth treats. Dark chocolate, milk chocolate, white chocolate, plain or mixed with fruit or nuts. Whatever you crave, they probably have it. The South Bend Chocolate Company produces more than 3,000 pounds of chocolate a day.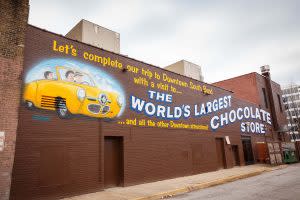 South Bend Chocolate Company. Photo provided by Visit South Bend Mishawaka
With all these things to see and do, South Bend continues to keep its past intact while forging ahead with revitalization.