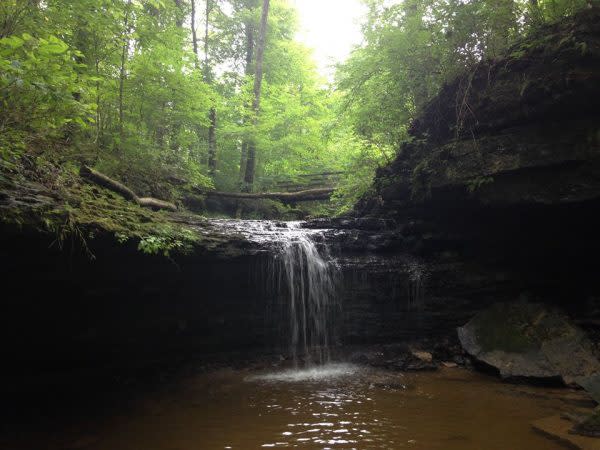 Am I a person who hikes miles in the wilderness, climbs mountains, enters a triathlon? That would be a "no". Even if you're not an outdoor adventurer, you'll enjoy a drive or stroll through these two southeast Indiana State Parks on a beautiful day. Bring the whole family, a few friends, your favorite person or just yourself for a day or a weekend – it's a perfect family trip.
The best places in southeast Indiana for a great getaway have to include Versailles State Park and Clifty Falls State Park in Versailles and Madison. These Southeast Indiana State Parks have beautiful scenery, deep gorges, creek beds (fossils!), hardwood forests (lots of leaf peeping potential), waterfalls or a lake, trails for hiking, biking or horses, plenty of wildlife (love the deer, foxes and eagles) and more.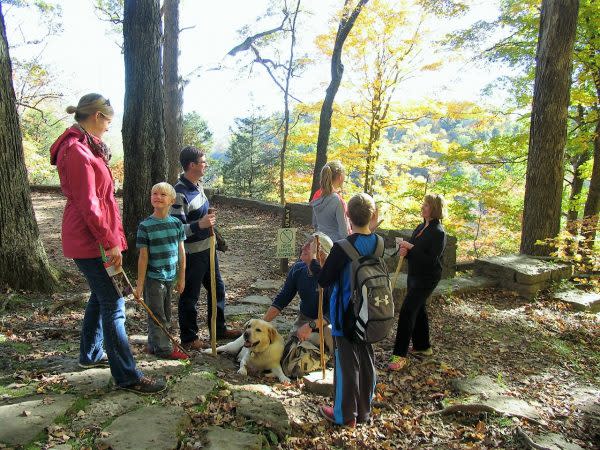 Family Fun at Clifty Falls State Park!*
Versailles State Park Versailles State Park is big - almost 6,000 acres which includes the 230 acres lake - making it Indiana's second largest state park. This park is full of history. In the 1930s, the federal government acquired 1,700 acres in anticipation of the arrival of the Civilian Conservation Corps (CCC) the following year. This was part of Franklin Roosevelt's New Deal designed to preserve natural resources while educating and putting young men to work during the Great Depression. They constructed some of my favorite parts of this park - the stone walls (remind me of New England), Oak grove Shelter (the largest building in the park & perfect for reunions/weddings, etc.) and the Group Camp (a collection of buildings that housed the CCC workers).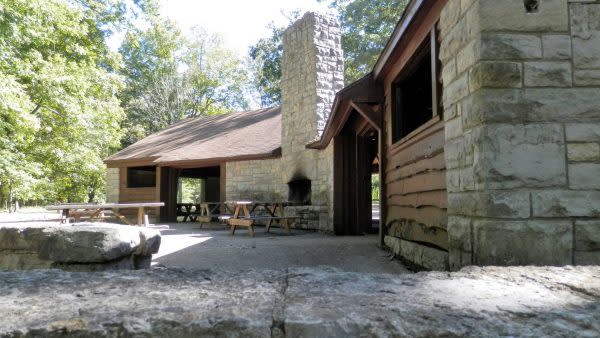 Oak Grove Shelter
The National Park Service gave the land to Indiana's Department of Conservation in 1943 for use as a state park.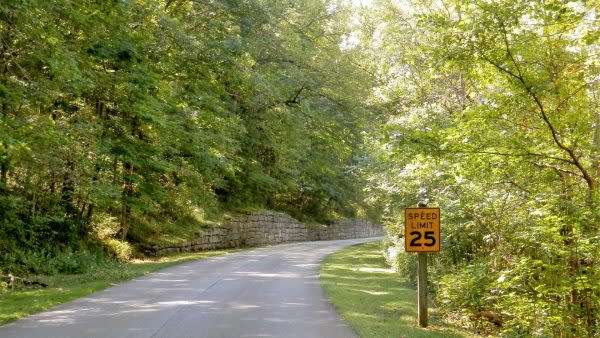 Beautiful Drive
The Bushing Covered Bridge crosses Laughery creek right near the entrance to the park. Constructed in 1885 and in continued use since, this Howe truss bridge is 176 feet long and a perfect spot for picture taking. Want more history? Morgan's Raiders passed through the park during the Civil War controlling the town for a brief time.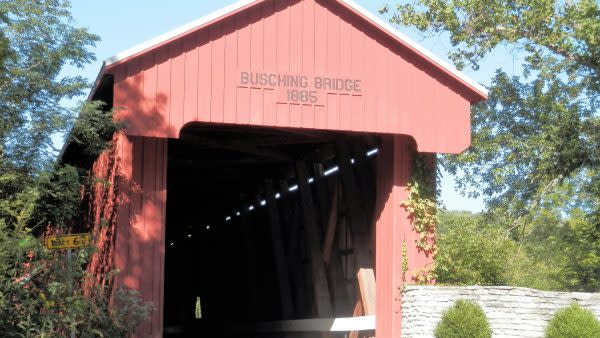 Bushing Covered Bridge
Today you can take a pretty drive through the thick hardwood forest which means lots of fall color! You can enjoy the lake at water level or catch a glimpse from the hillside.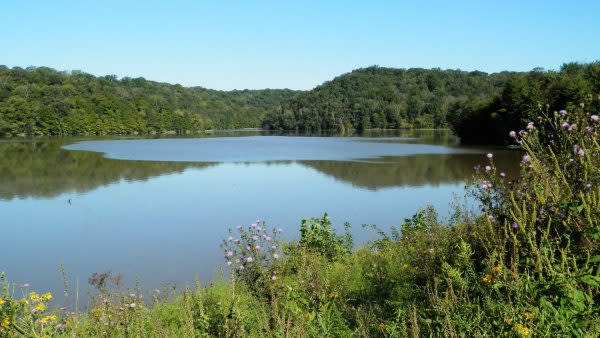 Bring Your Binoculars!
Bring your binoculars so you can search for Bald Eagle, Great Blue Herons and other water fowl. If you like to fish, try the pool right below the dam.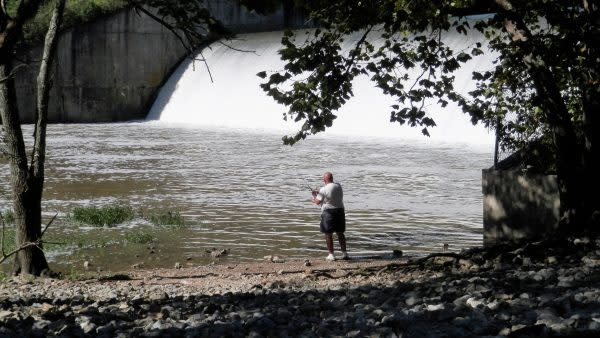 Fishing for the Big One
During the season, you can rent canoes, kayaks and rowboats but off season, you'll have to bring your own.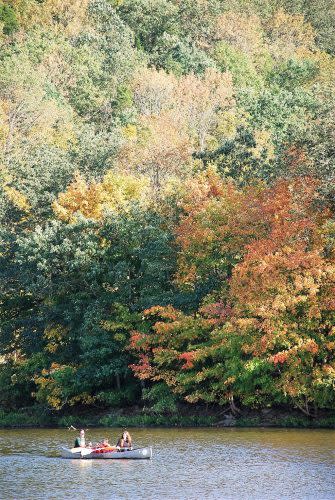 Don't you wish this was you!**
Trails: Hiking, Biking, Horseback Riding There are three hiking trails - 2 moderate (2.5 & 2.75 miles) and 1 easy (1.5 miles). The Easy Trail follows Timber Creek and crosses the creek 3 times. The #1 Moderate Trail includes upland woods and ravines, #2 Moderate Trail winds around Fallen Timber Creek/ravine.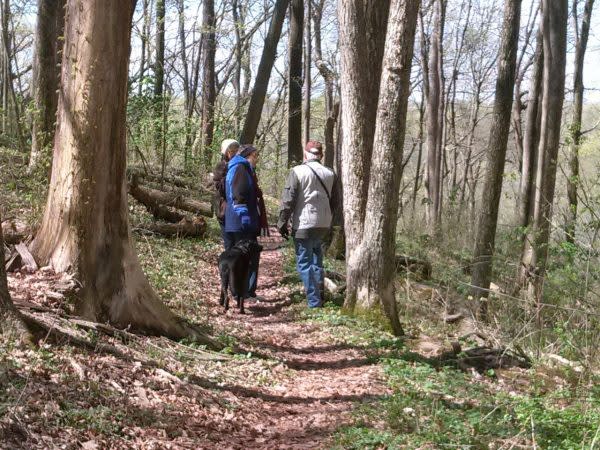 Take a Hike!**
Mountain Bike riders can choose from 9+ trails (1-6 miles) for varying levels of riders. Get more info.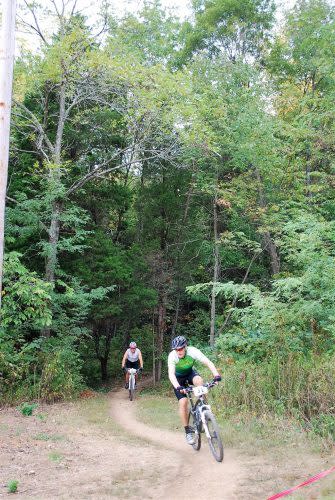 Mountain Biking**
Load your horses; there are more than 20 miles of Horse Trails in the park. There's a Day Trip Area that's open from dawn to dusk - horses must be off the trails at dusk. About a year ago, Versailles State Park completed construction of an overnight Horse Camp which is now open to visitors. My suggestion, call the park at 812-689-6424 for the details.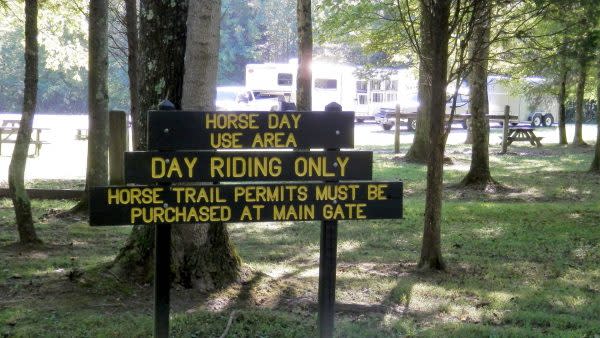 Horse Camp - Overnight, too!
Get more info at: Versailles State Park on Facebook and see what events the Friends of Versailles State Park are planning.
Make your reservations for Tent, RV & Horse Camp. Remember the Group Camp built by the CCC? It's available to rent for large groups and there's a Youth Tent area at Versailles State Park, too.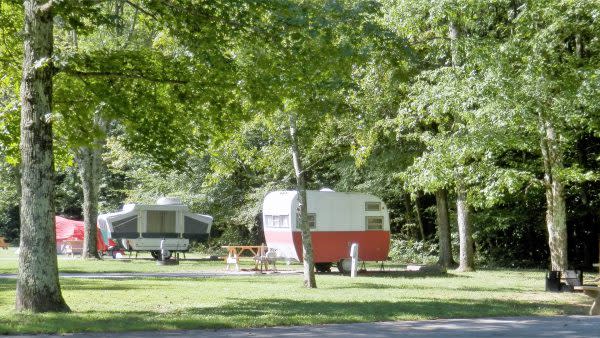 Tent & RV Camping
Clifty Falls State Park Not to be outdone, the second of our Southeast Indiana State Parks is one of Indiana's most popular. Clifty Falls State Park began as a local grassroots effort with the purchase of 520ish acres around Clifty Creek Canyon. In 1920, the property was given to the state at the suggestion of Richard Lieber (the father of the Indiana state park system) and Clifty Falls State Park (Indiana's third) was born. In 1965, adjacent land was acquired more than doubling the size of the park. It is now 1,519 acres.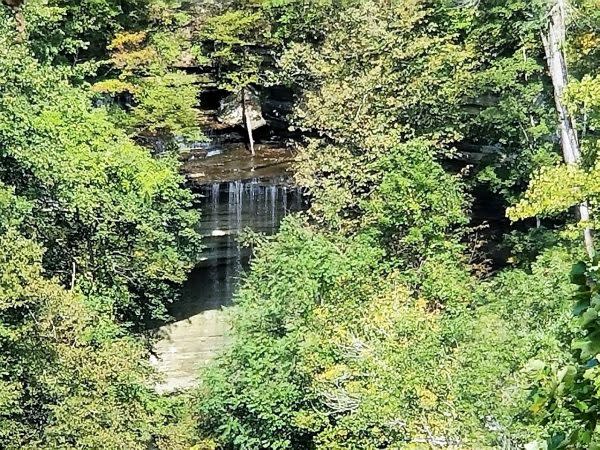 View from Lookout Point
In 1852, John Brough, president of the Madison & Indianapolis Railroad, attempted to construct an alternate railroad route through Clifty Canyon. It was expected to be completed in 3 months. A year later the project was so far over budget that it was abandoned. What remains of Brough's Folly (a 600 foot tunnel) can be accessed from Trail #5. The tunnel is open seasonally to protect the resident bat population.
This park has one of the most rugged terrains in the midwest. It was created in the Ice Age, features 425-million-year-old shale and limestone rocks (lots of marine fossils!), towering cliffs, plunging waterfalls (from 60 to 83 feet), 12 miles of hiking trails, unusual rock formations, stunning views, woodlands, wildlife, Nature Center and more. You'll find tent and RV camping, an Olympic size pool (seasonal), shelters, picnic spots, playgrounds and everything you need to stay awhile.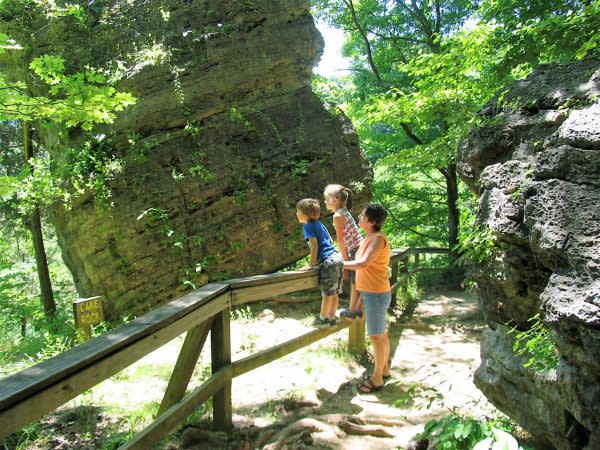 Rock On!*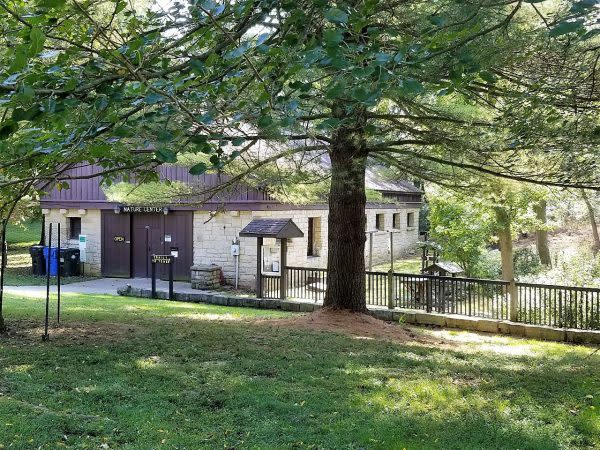 Nature Center
Hiking There are 10 trails ranging from Very Rugged (#2, #4), Rugged (#1, #3, #5, #8), Moderately Rugged (#6, #7), Moderate (#9) to Easy (#10). Now I know why I got 2 blisters hoofing it to the Observation Tower. It's Trail #1 (short but rugged) with a beautiful view of the Ohio River.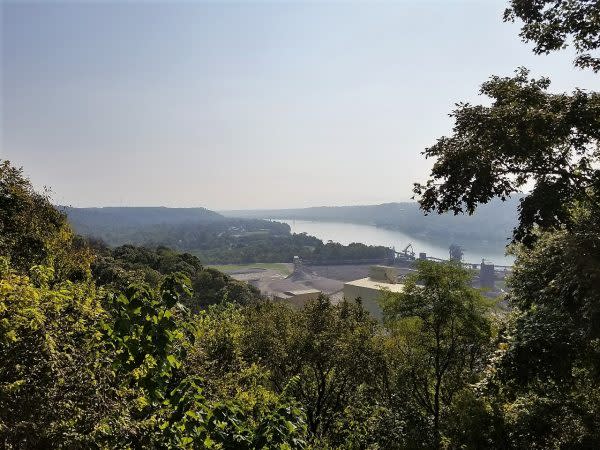 View from the Tower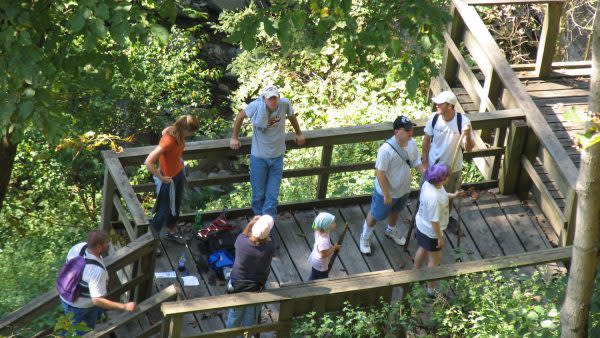 Hiking at Clifty*
My favorite is Trail #7 near the North Gate. It includes the Clifty Falls Overlook (love the waterfall view) with a short section that is ADA accessible.
Clifty Falls
Clifty Inn The first Clifty Inn opened in 1924. Remember the Civilian Conservation Corps? Eleanor Roosevelt stayed at Clifty Inn when she came to visit them. The old inn was replaced in 1964 and replaced again in 1974 after tornado damage. Clifty Inn was renovated a couple of years ago and this comfortable modern inn is definitely a visitor favorite. The Inn offers beautiful rooms & suites with riverside or parkside views and every amenity you'd expect.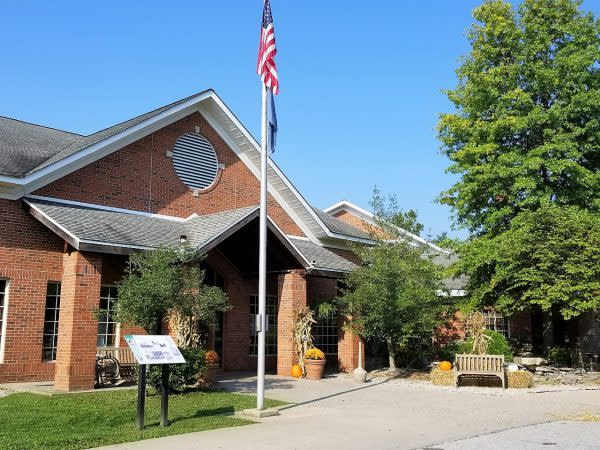 Clifty Inn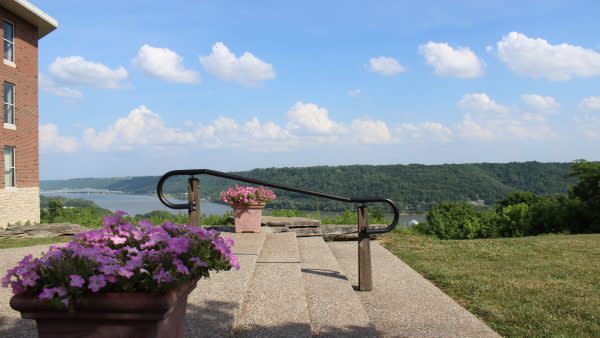 What a View!
There's an onsite restaurant (try the Hoosier Sugar Cream Pie!), indoor pool, gift shop, game room, deck, fire pit, conference facilities and is wheelchair accessible. It has a view of the river valley that is outstanding.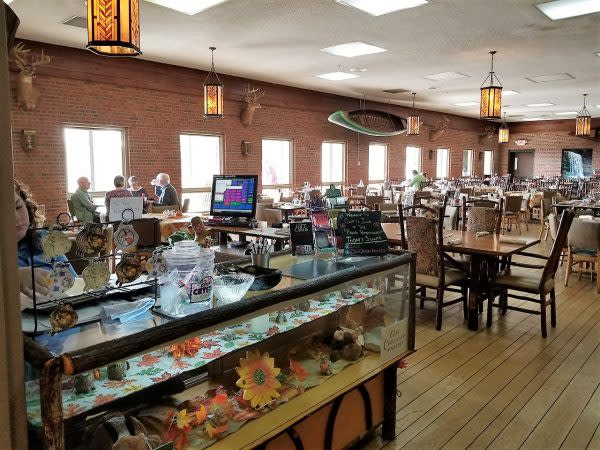 The Falls Restaurant at Clifty Inn
Make a reservation at the Inn and get the latest Clifty Falls State Park info.
Find more Indiana State Parks here.
Want to know what else there is to do around these Southeast Indiana State Parks? Check out this Trip Idea in Madison. Find more to do in Ripley County.
*photos courtesy of Visit Madison Inc **photos courtesy Katherine Peters Taul