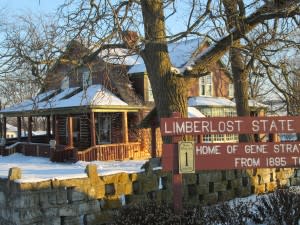 Geneva Stratton-Porter Limberlost cabin in Geneva. If you're looking for a quirky event to attend on Valentine's Day, check out the 'Midwinter Movie Night: a Limberlost Valentine's Day event' at the Limberlost State Historic Site Visitor Center in Geneva.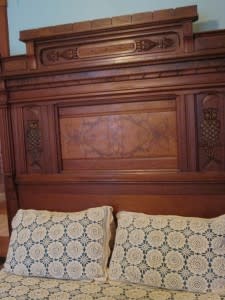 Wooden furniture pieces from Porter's home used local natural materials. Gene Stratton-Porter, one of Indiana's most famous authors, built the 14-room log cabin in 1895. The Porters lived here until the swamp was drained in 1913. She then built a new home on the shore of Sylvan Lake near Rome City. Today, both homes are part of the Indiana State Museum and Historic Sites.
The Limberlost State Historic Site, located along US Highway 27 in Adams County in northeastern Indiana, will feature a program by 'Professor Passion' (Limberlost naturalist Curt Burnette).
Professor Passion's program, designed to reflect Porter's love of nature and conservation, is called 'Particularly Peculiar Procreation Practices of the Animal Kingdom'. I said it would be quirky, didn't I?
The event also includes the viewing of a movie of one of her most famous books, A Girl of the Limberlost. When 'A Girl of the Limberlost' was published in 1909, the novel propelled Porter to the status of one of America's most successful female authors. She wrote many other titles, mostly with a view of conservation of nature, before her death in 1924.
The Valentine's Day program is planned for 6:30-9:00pm and the cost for both events is $5.00. Seating is limited and reservations are required. Refreshments will be served.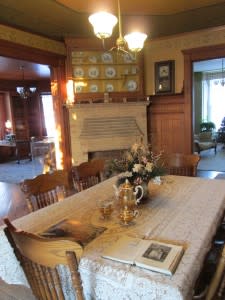 The dining room at Porter's home is elegant and homey. The author's home place is open year-round but closes normally at 5pm. I'd recommend arriving early enough to tour the 14-room log cabin Geneva and her husband built near the Limberlost Swamp in 1895.
I have visited this place several times, first as a child with Girl Scouts and later as a writer when I studied her life and success. My latest visit just a few days ago caused me to be struck anew by the home's lovely simplicity and design.
The homey feel of the cabin is accented with numerous wooden pieces of furniture and trim, much of which would have been native to the area. Paintings by Geneva are displayed throughout the cabin, as well as photographs of the author and her family.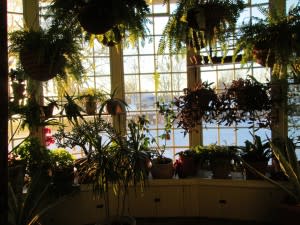 Porter's conservatory is maintained by volunteers. I particularly loved the dining room. The large corner cupboards around the room are filled with dishes that would have been used at the time. The conservatory at the west end of the room inspired my black thumb to try growing something again this year!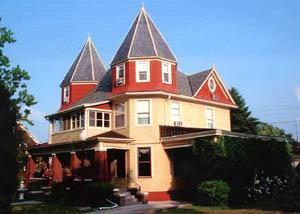 Schug House Inn was built in 1907. If you'd like to spend the night in the area, book an overnight stay at the Schug House Inn, just 10 minutes away in Berne. Built in 1907, it is named for a family that lived there during the past century.
The owners, John and Jane Minch, have filled the house with Cherry, oak and walnut furniture, mostly antique.
Lighting, pictures and other accents are also period and give the impression of the house's appearance in its infancy.
The Minches remodeled the home so each bedroom has its own bath, television and phone.
I loved special features like pocket doors, inlaid floors and a second-story enclosed porch with wicker furniture. Even though it was too chilly on a recent wintry day to sit on the porch, I could imagine relaxing there in warm weather, viewing the street below with slow-moving traffic and horse drawn carriages from Old Order Amish who live in the area.
The house is often rented to groups for a weekend, such as families, businesses or churches. Breakfast ranges from fresh fruit to locally made cheese, homemade pastries and beverages. It's a quiet locale and accommodations are comfortable and inviting.
The renovated cottage at the rear of the property makes the writer in me see it as a possible quiet retreat.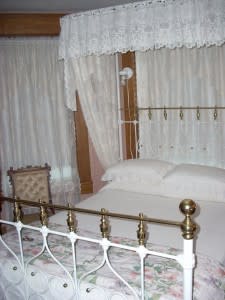 Canopy bed at Schug House Inn offers look and feel for the past in quiet comfort. If you've nothing yet planned for the day when people recognize love in their lives, reserve a spot at the Schug House Inn. After an evening laughing at the Limberlost Visitor Center, an overnight stay at the Schug House Inn will leave you feeling relaxed and restored.
The Schug House Inn is located at 706 W. Main Street in Berne (one block west of the clock tower). 260.301.6393 or 260.589.2303 Schughouseinn@comcast.net
For more information about the Limberlost State Historic Site call Burnette at 260.368.7428 or Cburnette@indianamuseum.org.
Limberlostshs@indianamuseum.org www.Indianamuseum.org/Limberlost Hours: Tues- Saturday 9 am- 5 pm. Sunday 1-5 pm (closed in winter) Closed Mondays. Open most holidays. Call ahead to confirm.
Admission cost: 5.00 adults $4.00 seniors $2.00 children Indiana State Museum and Historic Site members are admitted free.