When I first heard about the tiny town of Story in Brown County, I was intrigued. The whole town had been converted into an inn and it had become a popular wedding venue with a restaurant, hotel, tavern, garden, historic barn and some cottages. So, when I was spending some time in the Indy area last year, I decided to take a side trip for an overnighter in Nashville with a stop in Story, Indiana to check it out.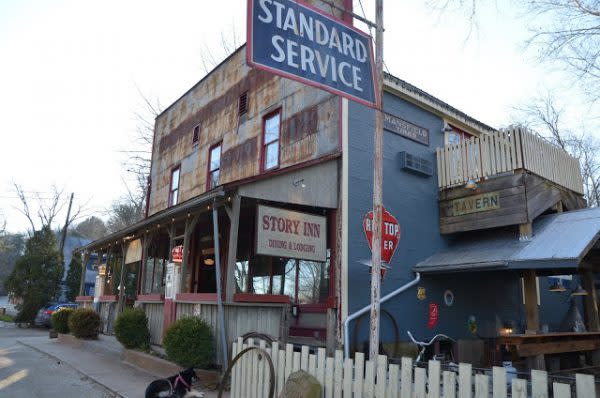 The Story Inn includes a dining room on the main level, tavern in the basement and guest rooms on the second floor. Other structures in the small town also serve as guest rooms.
It was my first time in Brown County and I realized quickly what all the hype was about. It was charmingly touristy - lots to see in and do, but not over the top. It had the small town charm, but with so many cute little shops, cafes and attractions. It was the kind of place that makes you want to relax and stroll around rather than feeling like you need to go-go-go.
After a day in Nashville, I drove over to the Story Inn on a long and winding road. There's just one way in and the road that once led out of town now dead ends just past town. It's isolated and peaceful. Fourteen structures make up the town of Story, Indiana.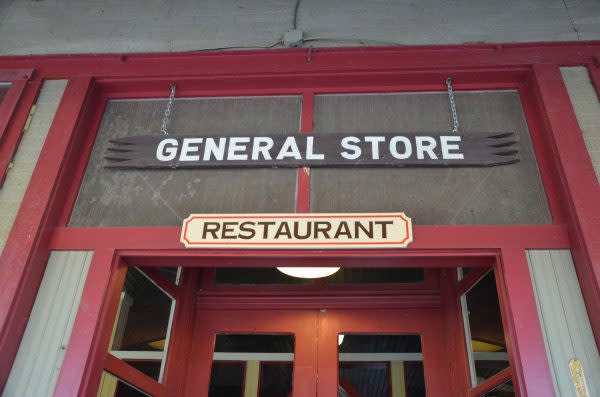 The entrance to the restaurant at the Story Inn.
The community dates back to 1851 as a lumber town founded by George Story with a church, grain mill, blacksmith shop, two general stores, a post office, butcher shop and some homes. After the Great Depression the population dwindled. Between 1930 and 1940 half of the people living there had left town. It became pretty much a ghost town after the main road was cut off until a couple opened a bed and breakfast in the old general store, but soon it was vacant again. In 1999 it was purchased by Rick Hofstetter who purchased the entire town. It feels to be frozen in time as you drive in. Everything has been lovingly and beautifully restored, so it's the best of both worlds.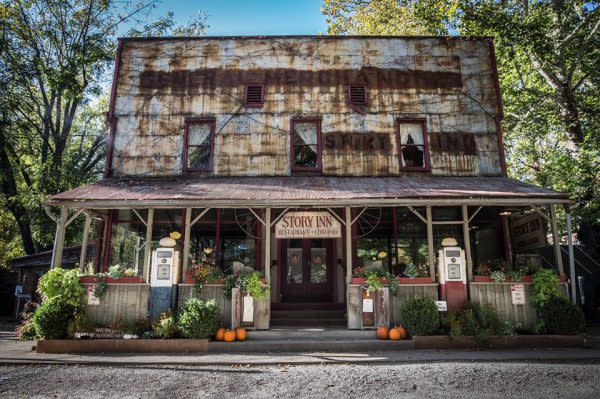 As I arrived I was greeted by a dog and then Hofstetter. As we chatted I asked how many people lived there. Three. The answer was three. Then he went on to add "Three humans and four dogs." You can't find a little town more charming that that.
I didn't stay at the inn, but enjoyed a magnificent meal there of Indiana trout with Chorizo Avocado Salad and Saffron Risotto. They focus on using local ingredients and grow some of the food used in their dishes in the on-site garden. They also offer local brews and beverages.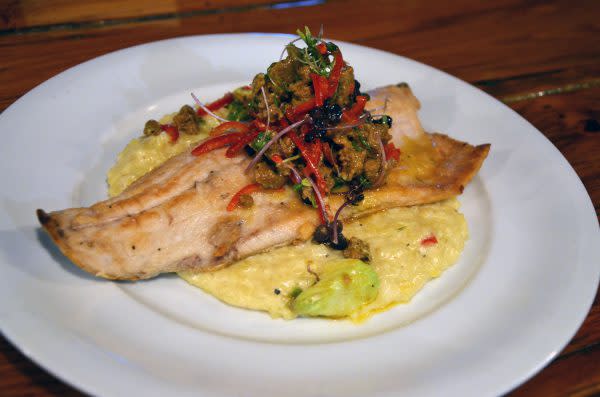 We enjoyed a gourmet meal at the Story Inn of Indiana Trout with Chorizo Avocado Salad and Saffron Risotto.
The accommodations are designed to be distraction-free, so there are not televisions, phones or alarm clocks. Wifi is available in the dining room and tavern.
The grounds are also home to the annual Indiana Wine Fair, an annual May event the features wines, beers, distilled spirits, food trucks and artisan vendors.
For more information, visit storyinn.com.