Few experiences are as signature to autumn in the Hoosier State as finding your way through a corn maze. There are dozens of mazes around Indiana, leading to impressive corn maze designs. In 2018, we have mazes that pay tribute to cancer survivors, Indiana sports teams, gummy bears, John Deere tractors and the Netflix hit show Stranger Things. Below are some of our favorites for the fall season.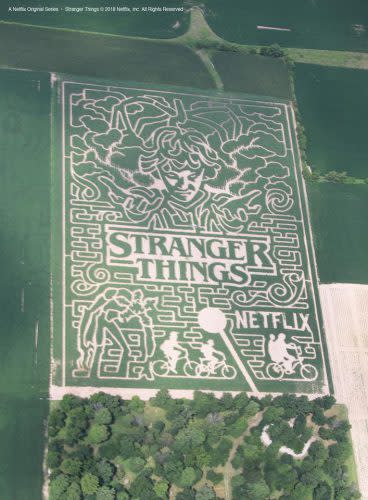 Exploration Acres
Exploration Acres, Lafayette With the success of the Netflix series, which is set in the fictional town of Hawkins, Indiana, it was pretty much a sure thing that a Stranger Things corn maze was going to generate some attention! Exploration Acres in Lafayette is home to Northwest Indiana's largest corn maze and this year's design takes visitors into "The Upside Down."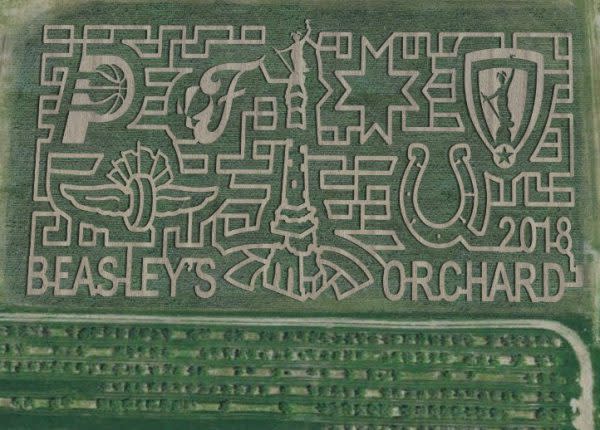 Beasley's Orchard
Beasley's Orchard, Danville Located in Danville, Beasley's Orchard is a favorite of locals in the Indy area, offering u-pick apples and pumpkins and great apple cider. Make sure to visit for the 31st Annual Heartland Apple Festival on October 6-7 & 13-14! The Corn Maze at Beasley's is very pro Indy sports in 2018! Featuring the Pacers, Colts, Indianapolis Motor Speedway, Fever, Indians, and Eleven, this maze is an Indy sports fan's dream come true!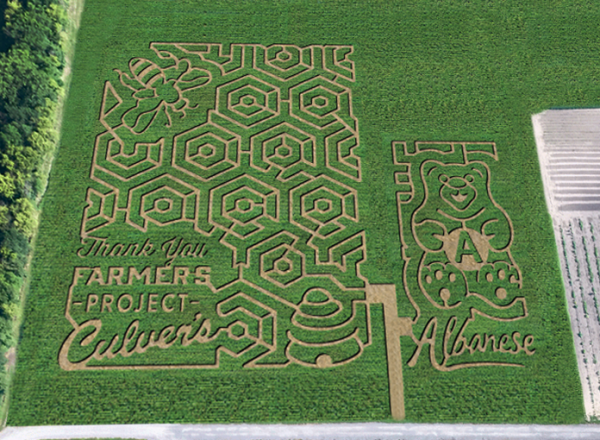 County Line Orchard
County Line Orchard, Hobart This Northern Indiana farm is a local favorite! Selling 20 varieties of apples grown on-site, this is a must-visit fall spot in Northern Indiana. County Line Orchard pays tribute to farmers each year with its corn maze, and this year it honors honey farmers! The maze also pays homage to Albanese Confectionery which produces the world's best gummies just down the road!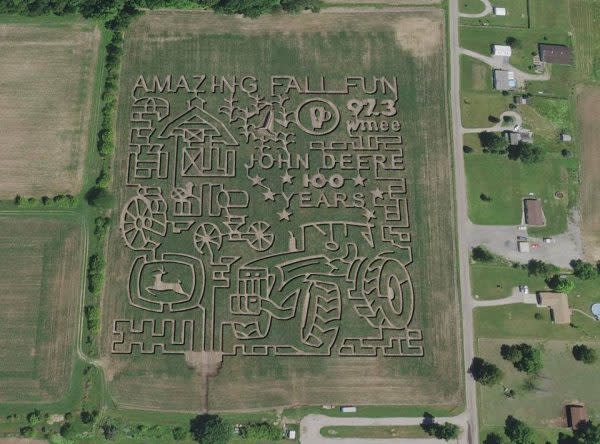 Amazing Fall Fun
Amazing Fall Fun, Waterloo Amazing Fall Fun in Waterloo is home to Indiana's largest corn maze, and in 2018 the maze pays tribute to the 100th anniversary of John Deere. This farm is also home to hay rides, a hay maze, a pumpkin patch and a plethora of other fall-themed activities for families.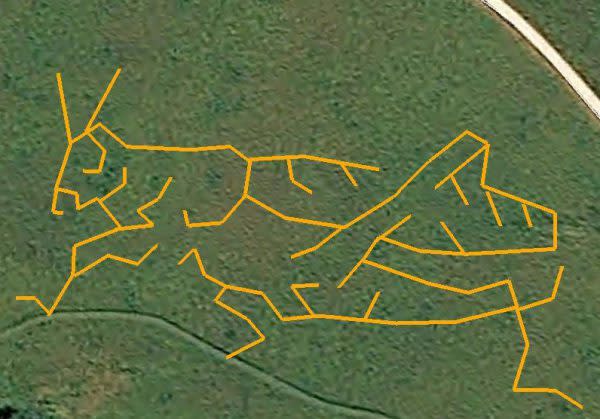 McCloud Nature Park
McCloud Nature Park, North Salem Home to the annual Fall Colors Festival, McCloud Nature Park is an incredible nature escape in Hendricks County. While it doesn't have a cornfield, this nature park has an annual prairie maze, which this year is designed like a grasshopper. Find more fall fun in Hendricks County.
Conner Prairie, Fishers An interactive history park, Conner Prairie is incredible to visit year-round, but in the fall, there are even more reasons to explore. The annual Headless Horseman festivities should be on your bucket list, and Conner Prairie's 11-acre corn maze is always a treat. This year, the maze features the Headless Horseman. Take a ride in the 1859 Balloon Voyage to get a birds-eye view of the maze and make sure to stop at the Apple Store to get some delicious cider, apples, and more!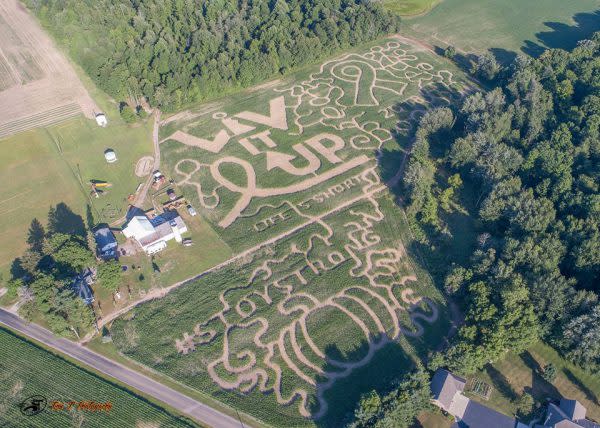 Ridenour Acres
Ridenour Acres, Angola Ridenour Acres offers what residents named the best corn maze experience in Northeast Indiana. The corn maze offers two different levels - beginners or advancee. The beginner level takes 10-15 minutes to complete while the advanced level takes 40-50 minutes. You are welcome to try both mazes if you wish. The maze honors and was designed by Olivia Stoy, a local teen battling T-Lymphoblastic Lymphoma. Proceeds from the maze will help families like Stoy's in need of help with medical bills.
Shipshewana Corn Maze Located in the downtown area of Shipshewana, the Shipshewana Corn Maze is a favorite in Northern Indiana! The maze features Jayco RVs in 2018, celebrating the local company's 50th anniversary! The maze is the primary attraction, but there is much more to enjoy, including a petting zoo, a human hamster track, putt-putt, human foosball and much more!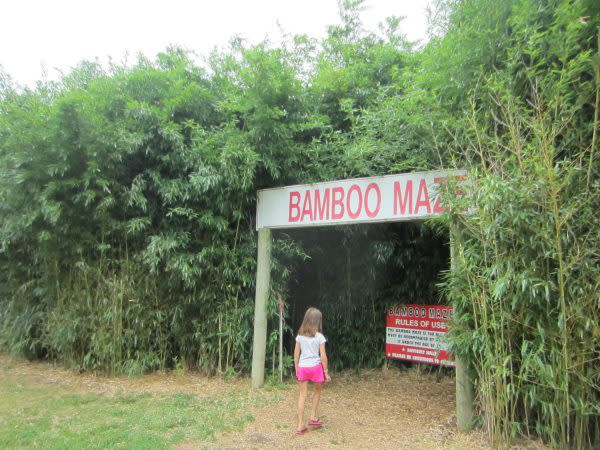 Huber's Orchard, Winery & Vineyards
Huber's Orchard, Winery & Vineyards, Borden Huber's Orchard, Winery & Vineyards is another place that is amazing to visit all year round! Home to U-Pick produce and so much more, Huber's is also home to a unique maze, this one made of bamboo!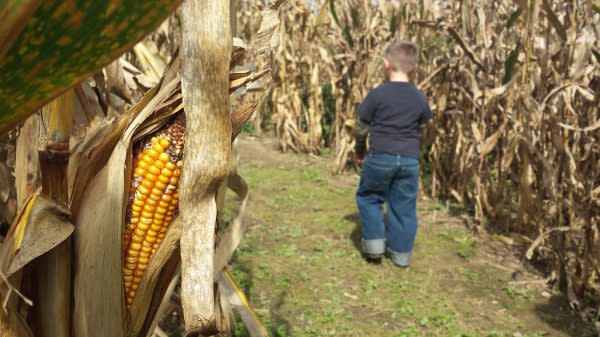 Greendell Landscape Solutions
Greendell Landscape Solutions, Mooresville Greendell Landscape Solutions has a uniquely Indiana corn maze this year! There will be Indiana trivia and history questions to guide visitors through the maze. The maze is part of Greendell's annual Fall Festival, which runs throughout the month of October. Other activities include a pumpkin patch, straw pyramid, tire climb, and an Angry Birds Slight Shot. On October 6 & 7, they will host Fall Wines & Vines with Mallow Run Winery.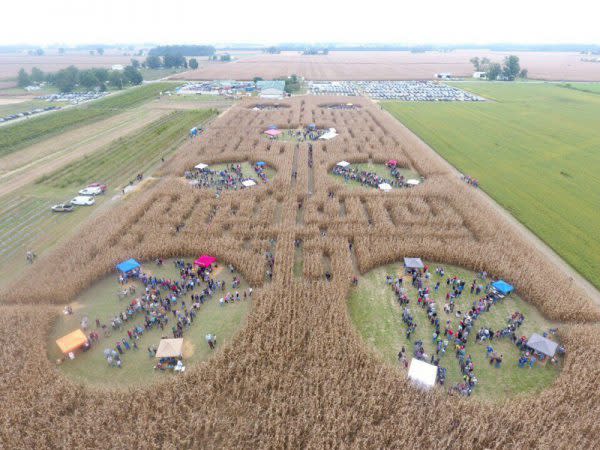 450 North Corn Maze Beer Fest
Third Annual Corn Maze Beer Fest, Columbus Join 450 North Brewing to sample beer from 60 Independent craft breweries within a 6-acre Corn Maze! Work your way through the maze to find your favorite breweries hidden throughout. Amazing live music all day on 2 huge stages from top local and regional acts. Don't miss this unique event on October 6.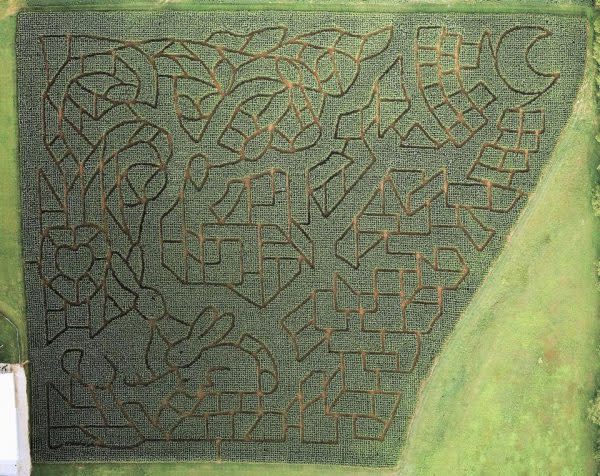 Wendel Farms Corn Maze
Wendel Farms, Brookville A true family farm in Franklin County, the Wendel's lost a very young Son in law this year to cancer so they created their maze in his honor. The son-in-law was known for saying "I love you to the moon and back," so that's what the maze is this year. It features two bunnies, a tree, and a crescent moon with lots a maze in between. Now everyone can go to the moon and back with their little ones.