Fort Wayne, Indiana is home to festivals almost every weekend in the summer! From unique ethnic festivals to art celebrations and food festivals, there is a weekend for everyone to enjoy. Plus, almost all of the summer festivals happen in Fort Wayne's downtown festival park, Headwaters Park, which provides easy and convenient access to all of downtown Fort Wayne's other great family-friendly activities.

Top 10 Summer Festivals in Fort Wayne
1. You won't want to miss Fort Wayne's favorite summer party since 1969, the Three Rivers Festival, complete with family-friendly fun with arts, amusement rides, food vendors, a parade, fireworks, and more!
2. Kick off the month of June with Germanfest, a week-long celebration of German Heritage and Essen, Trinken, und Gemülichkeit (eating, drinking, and having a really good time).
3. Discover some of the best film productions in the midwest with Hobnobben Film Festival, Fort Wayne's premiere multi-day, multi-venue film festival.
4. Ready to eat? Fort Wayne is home to many festivals that feature great food, but BBQ Ribfest is one festival focused all on the food! From brisket, ribs, pulled pork, BBQ chicken, and more - BBQ Ribfest is a BBQ lover's paradise!
5. Opa! Celebrate Greek culture and heritage with Greekfest and enjoy a large variety of Greek cuisine and entertainment including live music, dancing, and much more!
6. Looking for some musical gear? Then you don't want to miss Gearfest, the largest music tradeshow open to the public in the United States. Gearfest features a gear expo, entertainment, a flea market, and more.
7. To experience Fort Wayne's arts and food community, make a trip to Taste of the Arts. Taste of the Arts in downtown Fort Wayne's premiere arts and food festival.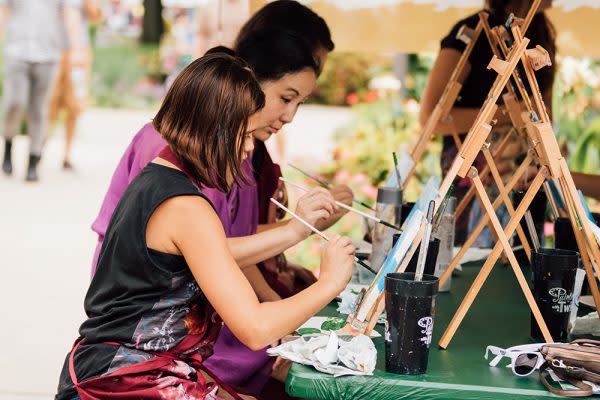 8. Fort Wayne is situated on three rivers, making it the perfect destination for some river fun including, Dragon Boat Races, a fun festival featuring teams of 20 paddlers racing 300 meters down the river.
9. Celebrate the art of the street performer with Buskerfest. Enjoy quirky and unexpected live art including staged acts, buskers, mimes, and stilt walkers roaming the crowd.
10. Music lovers will rejoice for Middle Waves Music Festival, Fort Wayne's premiere music festival featuring local, regional, and national acts and headliners.
Bonus Festival: For an early fall festival, enjoy Johnny Appleseed Festival featuring food, demonstrations, crafts, entertainment, children's area, farmers market, and more. You'll have to see to believe why this festival continues to be a favorite festival for visitors and residents!