Just before Thanksgiving break I was in downtown Indianapolis and decided I needed a little pick-me-up, and nothing gets you in a good mood like chocolate. I knew just the place to stop to satisfy this craving: South Bend Chocolate Company. Because it was the closest one to me, I stopped by the location on the Circle. I walked in and was overwhelmed by the options even though I had been there before.
I was kindly greeted and decided I felt like trying something new to drink. I asked the man behind the counter for his recommendation of a hot beverage. Immediately he suggested the Mexican hot chocolate. Uncertain as to what that included I asked and learned that it was a hot chocolate drink with chili and cinnamon. I was hesitant, but was assured that it had more of a cinnamon taste than chili pepper. I decided to trust his judgement.
In addition to the drink I went with a raspberry truffle and coffee mocha meltaway. Even as I type this my mouth is watering, tempting me to drive to get more of the deliciousness.
When I got home I was able to devour these delicious treats and discover the wonder that is Mexican hot chocolate. To all of those who were hesitant like I was, try it. It was so amazing. Speaking of hot chocolate, I think I am off to go make some (less fantastic) hot chocolate. Have a great day and stay warm!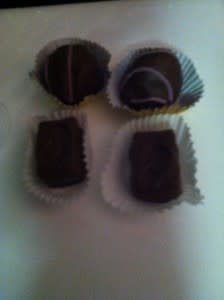 The raspberry truffles (above) and mocha coffee meltaways (below) shortly before I devoured them.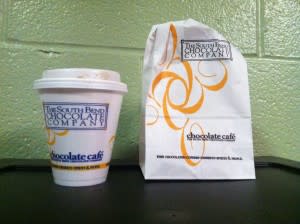 The amazingness before unwrapping the instant mood uplifter