There are enough cultural trails in Indiana, usually centered around an industry, like the Southern Indiana Wine Trail, or a geographic area, like the Hendricks County and Morgan County Cultural Trail.
So I'm picking a cultural trail of my own, based on my very own favorite subject: authors.
I'm picking my own four day trip around Indiana, where we can visit different cities and counties, paying homage to the different famous and not-so-famous authors who called the Hoosier State their home.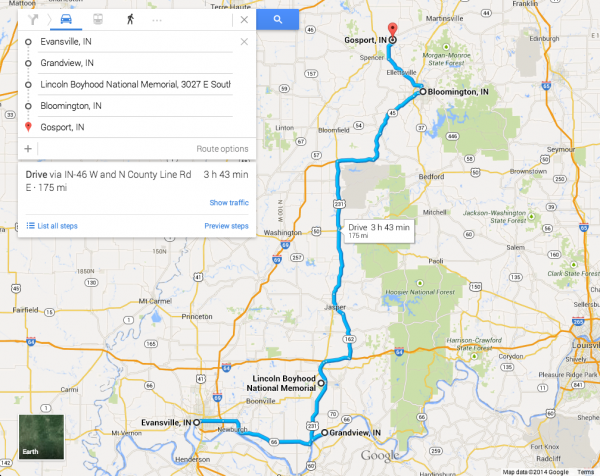 This map shows our basic route — Evansville, Grandview, Bloomington, and Gosport.
We want to get started early, so head down to Evansville and spend the night at the Cool Breeze Bed & Breakfast in historic Evansville. Each room has its own TV and private bathroom, and the entire place has wifi and off-street parking. Joss Whedon even stayed here, calling it As good a bed and breakfast as I've had. It's all terribly British; reminded me of my travels as a youth.
After you've had breakfast with Katelin and David Hills, it's time to visit our first author.
Marilyn Durham, Evansville, Vanderburgh County
We'll start the day in Evansville, IN, home of Marilyn Durham, author of the Western novel, The Man Who Loved Cat Dancing, which was made into a movie by the same name in 1973, starring Burt Reynolds and Sarah Miles.
Miles wrote three novels total — Dutch Uncle and Flambard's Confession were her other two — and still continues to live in Evansville.
The University of Southern Indiana library has a collection of her papers, including drafts, proof sheets, corrected galleys, and newspaper clippings about her life and books.
Swing through G.D. Ritzy's on the way out of town for a quick milkshake. Now we're on our way to see our next author.
Bill Peet, Grandview, Spencer County
You may not know who Bill Peet is, but you've surely seen his work. Bill Peet was a children's book illustrator and story writer for Disney Studios. He's worked on Snow White and the Seven Dwarves, Pinocchio, Fantasia, Dumbo, and Cinderella, to name just a few.
After breaking with Disney in 1967, he went on to become a children's book author, writing such noted books as Kermit The Hermit and The Caboose Who Got Loose.
Peet loved traipsing through the woods to find animals he could capture and sketch, so stop along the river and bask in the nature and history that turned Bill Peet into one of the skilled artists and writers that brought Disney magic to people in the 1940s and 1950s, as well as many beloved children's books in the 1960s and 1970s.
We didn't stay for long, so we'll backtrack a bit and then head north to our next author's site.
Abraham Lincoln, Spencer County
Alright, I'm cheating a bit. Abraham Lincoln may not be an author per se, but the Gettysburg Address and the Emancipation Proclamation are two of the most important written works in our country's history.
While Kentucky may be the birthplace of Lincoln, and Illinois is the place where Lincoln started his political career, Indiana was his boyhood home, and the place where he learned the values he led our country with. It's worth a stop at the Lincoln Boyhood National Memorial.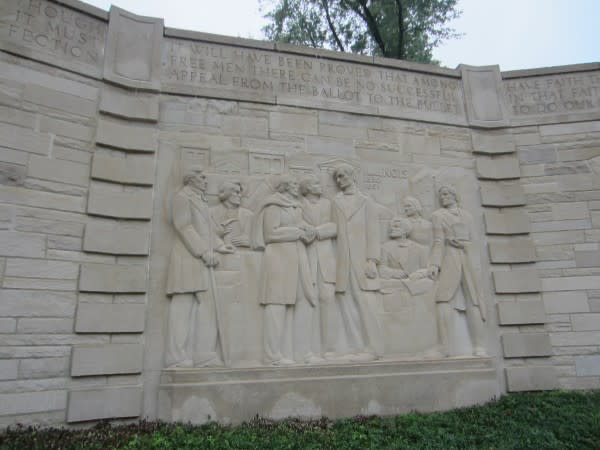 Lincoln Boyhood National Memorial
From there, we head up to Bloomington, and a late lunch.
My favorite for lunch in Bloomington is always the Irish Lion. Of course, there's also Scholar's Inn Gourmet Cafe, Farm Bloomington, or even Anyetsangs Little Tibet.
Except I keep hearing about Feast at 581 E. Hillside. We'll eat there, and then head over to the Scholar's Inn for dessert and coffee. Then we'll meander over to the Book Corner and Caveat Emptor for some book browsing. I'm sure we'll find several books by our next author.
Meg Cabot, Bloomington, Monroe County
Meg Cabot is a novelist with a few dozen books for both young adults and adults, and is best known for The Princess Diaries, Boy Meets Girl, and the Heather Wells mystery series.
Meg graduated from Bloomington High School in 1985 (same year I graduated from Muncie Central), and studied art at Indiana University. So after lunch, we'll meander through the IU Art Museum. I doubt she'll have any art there, but remember, we're paying homage — genuflecting, basking, and reflecting — so we only have to be in the places where our authors were, not necessarily lay bouquets at their childhood homes.
Besides, in Meg's case, someone may actually still live there, and we don't want to creep them out.
We'll also visit Showalter Fountain and Nick's English Hut, two favorite places of Meg's while she was at IU.
After that, we need to hop on SR 46 and head north to Gosport in Owen County.
James Alexander Thom
James Alexander Thom is a historical fiction and historical nonfiction writer from Gosport, Indiana, which is about 30 minutes north of Bloomington. He graduated from Butler University in Indianapolis, and taught a journalism class at Indiana University.
Thom is well known for his books Long Knife (a novelized biography about George Rogers Clark), Panther In The sky (a novelized biography of Tecumseh, the Shawnee Indian chieftain), and Follow The River, which became a made-for-TV movie in 1995. Thom has written 11 books in all, his latest being — what else? — The Art and Craft of Writing Historical Fiction in 2010.
Since Gosport is fairly small — less than 900 people — there won't be too much to see or do. We'll run by the Dr. H.G. Osgood House. Dr. Osgood was a prominent Indiana physician in the mid-1800s. He served in the Fifth Indiana Volunteer Cavalry in 1863 and 1864.
It's been a long day, and we're getting pretty tired. We have two choices, we can either stay at the Canyon Inn in McCormick Creek State Park, just a few miles from Gosport, and have dinner there, or head back to Bloomington and stay at the Scholars Inn Bed & Breakfast. It's just down the block from the Scholar's Inn Gourmet Café and Wine Bar. Either that, or we can hit one of Bloomington's other restaurants, like Mama Bear's Pizza near IU's campus. Or if you really wanted to stay with the theme, we could visit the Artists' Colony Inn in Nasvhille, IN, and eat dinner at Big Woods Brewing Company just a few blocks away.
Get some sleep though, because tomorrow we're heading up to Indianapolis for two days of author tracking and research.