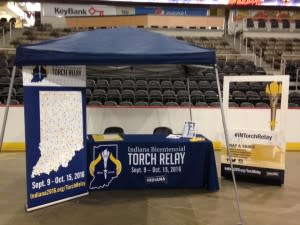 Torch Relay Booth at Indy Fuel's Open House
In preparation for the Bicentennial Torch Relay, the torch relay booth is going on tour! Our promotional bicentennial booth will be travelling around the state this summer to festivals, fairs, and community events. While the traveling booth won't include the actual torch, it will have the selfie station photo booth, information about how the torch is made, the Torch Relay route and more. In addition, the official vehicle of the Torch Relay, the Indiana-made Subaru Outback, will be participating in several parades.
The Bicentennial Torch Relay will also have a large presence in the Visit Indiana Bicentennial Pavilion at the Indiana State Fair! The Bicentennial Pavilion will be home to the fair's biggest celebration of our state's 200th birthday!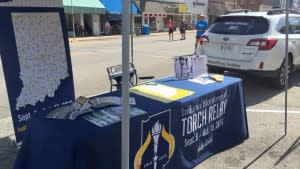 At the Liberty 4th of July Festival with a Bicentennial Subaru
Some of the events that the Torch on Tour will be attending include the Kosciusko County Fair, Tippecanoe County Fair, Delaware County Fair, Hendricks County Fair, the Frankfort Hot Dog Festival, and the Festival of the Lakes. Check out the full list of events here.
If you are attending any of these events, make sure to stop by to learn more about the Indiana Bicentennial Torch Relay and pick up a free poster of the relay route!
If you're interested in other heritage or bicentennial events, visit here.