The brand new Hamilton County Dining Guide- check it out!
From brunch to dessert, Hamilton County Tourism's new Dining Guide has suggestions for anything and everything your taste buds desire. It's the first time Hamilton County Tourism has produced a full-blown dining guide for visitors (or locals, no shame in being a tourist in your own town!) and it's a treat.
The new guide explores the best brunch spots, must-try eats and drinks, the ever-growing brewery scene and even a list of award-winning dishes. Restaurant listings are categorized for convenience by location, cuisine type, price and more. It's like a whirlwind culinary tour of Hamilton County, Indiana!
Looking to eat local? Look no further. Hamilton County has five seasonal farmers markets coming up this summer, plus you-pick berries and more at Spencer Farm in Noblesville. Locally owned restaurants are on the rise too and the chefs know how to impress with farm-to-fork creations (i.e.,- The Local's lamb burger with feta basil mousse).

The Local Eatery & Pub in Westfield brings the idea of farm to fork to life.
If you visit Hamilton County and want to take some delicious eats home with you, pick up some of these portable food souvenirs: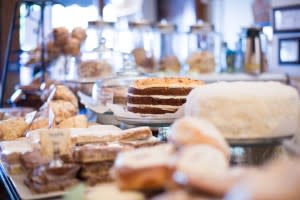 Have a case of sweet tooth? A trip to Rosie's Place on the Noblesville Square will do the trick.
Request your own copy of the Hamilton County Dining Guide at VisitHamitlonCounty.com or view the guide online.
Bon Appetite!