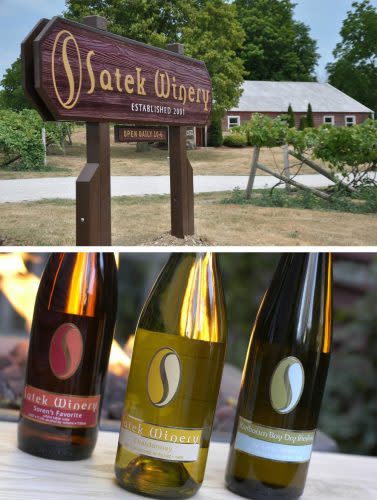 In the past few years, there has been an explosion of new wineries across the northeastern part of the state, so it was only a matter of time before I planned a tasting tour. My friends and I headed out over several weekends to hit the wineries in the area from Fremont all the way down to Huntington. The wineries are fairly close together so it makes it easy to travel between facilities without a long break in between. We thoroughly enjoyed the experience and have already started to make plans to do it all over again. I would recommend visiting up to three wineries per experience so that you are able to enjoy the wines and the atmosphere without overdoing it.
What we found on our visits is that each winery has its own unique personality and specialty types of wines. Only two of the wineries charged for tastings, but the fee is minimal and you get your fee credited back if you purchase several bottles, which we did. In addition, make sure you ask about their specialty wines as sometimes they are not offered for tasting but might be their best wines.
Three of the wineries included on this tour made the list of "Best Winery Experiences in Indiana" so you will definitely want to include those wineries in your stops.
---
Briali Vineyards, 102 W State Rd 120, Fremont
Briali is located in the lower level of the now closed Country Meadows Golf Course and it has more of a speakeasy/bar vibe than a winery. We loved it! It's easy to see why folks love Briali with its gorgeous stained glass window, music themed memorabilia on the wall and BB King video playing on the TV. Owner, Brian Moeller, has a sophisticated list of wines to taste and we found several bottles to take with us. Briali Winery is just off the Toll Road and Interstate 69 so it's convenient to reach from either direction.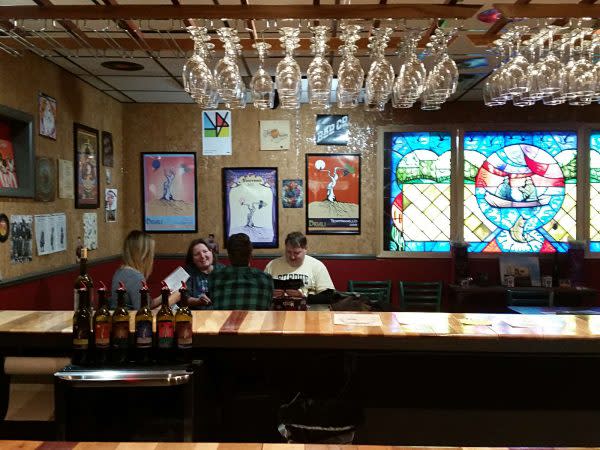 Briali Vineyards
---
Byler Lane Winery, 5858 County Road 35 Auburn - Website
Byler Lane is situated just south of Auburn and about 20 minutes north of Fort Wayne. The day we went the winery was hopping. Not only is it popular with visitors, but it draws a healthy regular crowd from the locals. Byler Lane is actually named after two families who came together with the land and a love of wine. They are a fairly new winery and it's decorated in a sophisticated barn chic decor - in fact they took apart 4 separate barns for the winery's construction. We spent quite a bit of time here as there was plenty of seating and it had a great vibe with live music that didn't overpower the experience.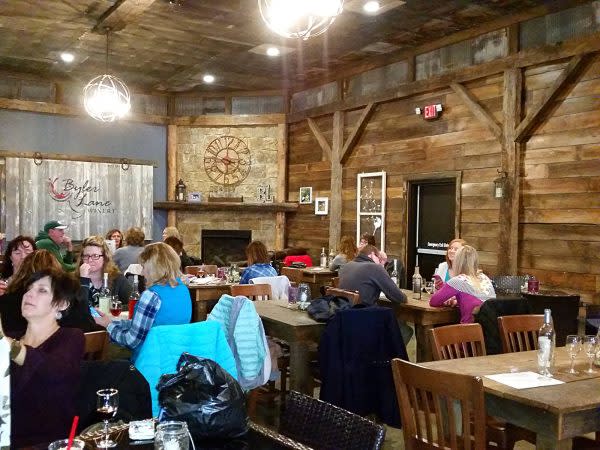 Byler Lane Winery
---
Country Heritage Winery, 185 Co Rd 68, Laotto - Website
The first thing I noticed about Country Heritage is that this place is huge! It has several rooms to accommodate visitors and that includes a large open back room used for musical acts and special events and a separate farm shop that's on the property. Country Heritage has a long list of wines to taste and there's no cost for the tastings. Make sure that you ask about their wines that are not available for tasting - I brought home a bottle of Marquette after a recommendation by a staff member and it was fantastic. Country Heritage is definitely one of the wineries that you will want to grab a glass or bottle and hang out for a while. Country Heritage was voted #3 in the list of Best Winery Experiences in Indiana.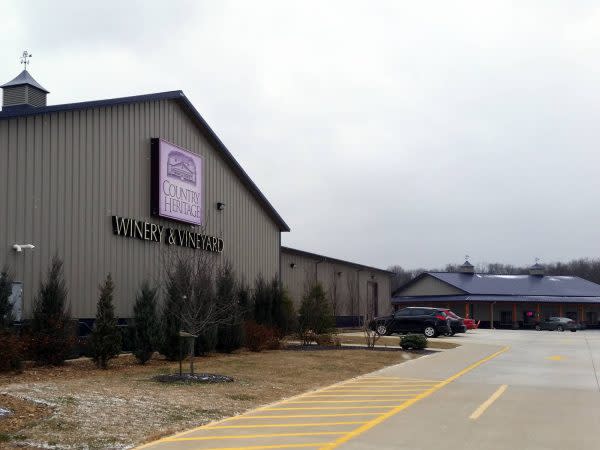 Country Heritage Winery
---
Hartland Winery, 425 County Road 23, Ashley - Website 
Hartland Winery is the newest of the northern wineries and is just a few miles west of Ashley, the town known for its smiley water tower. Ashley is typically a quiet town so it was encouraging to see a great crowd on a Saturday afternoon. Hartland has a list of regular and seasonal wines that they rotate throughout the year. We found several favorites especially among their dry reds.  The winery is bright and country-themed and there was a musician playing during our visit so we grabbed an additional glass and took a seat in a sunlit corner while we enjoyed the afternoon.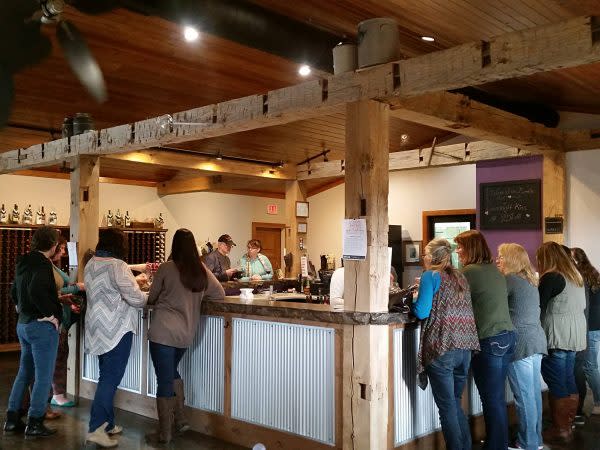 Hartland Winery
---
Satek Winery, 6208 N. Van Guilder Rd., Fremont - Website
Satek is the oldest winery in northeast Indiana and it shows in their selection of decorated wines. We were lucky to have one of the winemakers assisting us and he was very helpful in describing each to us. Many of their grapes come from a vineyard in the area, including the grapes for their ice wine. There's no charge for tastings, but there's an additional charge to taste the ice wine and we loved it. Satek is also just off the Toll Road and I-69 and there was plenty of signage to lead us right to it. There's not a lot of space to hang out so this is more of a taste and keep moving place, although we made up for it by purchasing a lot of wine. Satek Winery was voted #7 Best Winery Experience in Indiana.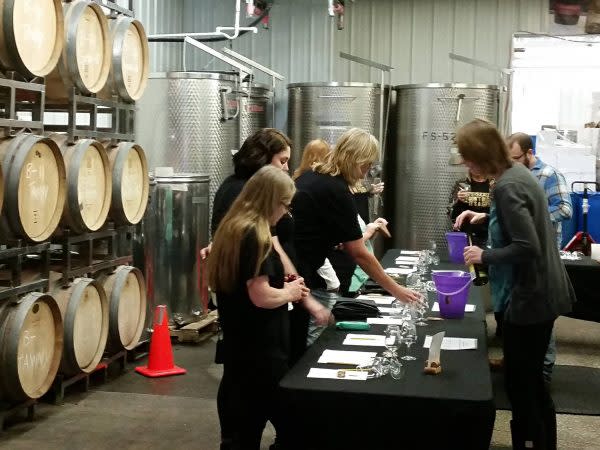 Satek Winery
---
Two-EE's Winery, 6808 North US 24 E, Huntington - Website
Two-EE's Winery is located less than 15 minutes southwest of Fort Wayne and I-69 on US 24 and the first thing you will notice when you pull up is that this place is gorgeous. With the large stone gabion walls outside and the large sparkly chandelier as you enter, you will be impressed with the industrial chic design that sets it apart from many of the other wineries in the area. We quickly took a place at the tasting room bar which is also sparkly and it faces a large window that allows you to see the production room in action. The wines were amazing and we loved the slushy. There's a large heated patio just outside the tasting room if you want to grab a bottle or a slushy and hang out. The patio is also home to their Weekend Uncorked concerts that happen after hours during the warmer months. Two-EE's Winery was voted #1 Winery Experience in Indiana and these concerts draw in the crowds.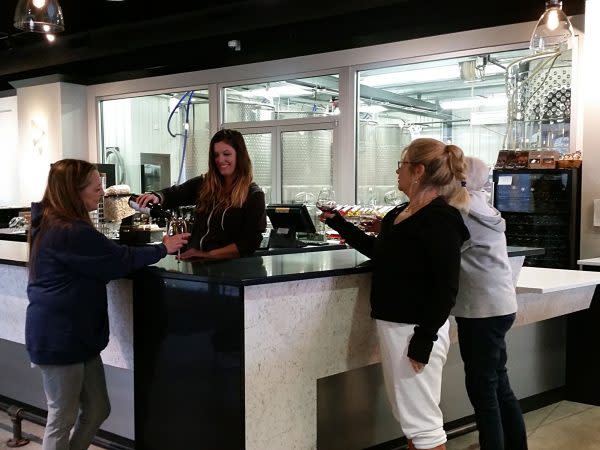 Two-EE's Winery
---