Welcome to the new flavors of Purdue Memorial Union on the West Lafayette campus!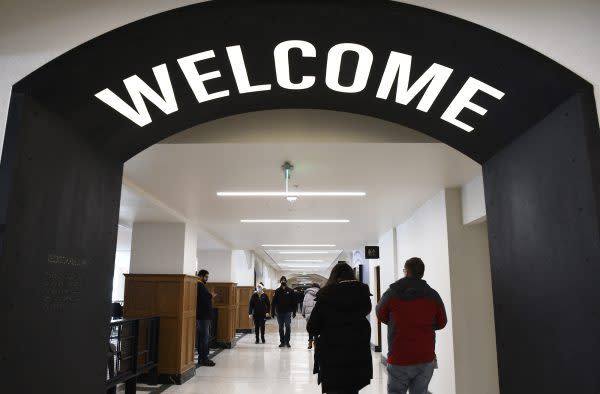 The newly remodeled Purdue Memorial Union's 67,000-square-foot space was recently reopened after an extensive renovation.
History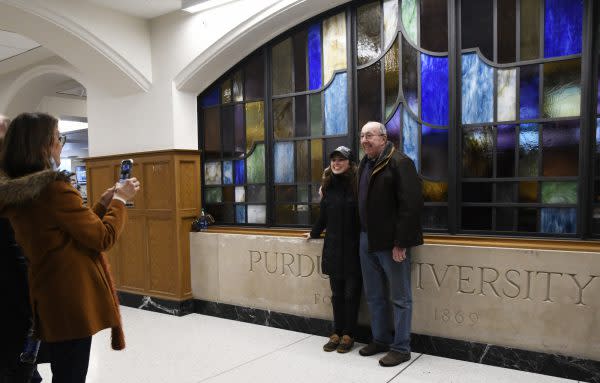 History surrounds Purdue Memorial Union with eleven restaurants and bright, open spaces for gatherings. Stages, pool tables, and old and new architectural elements dot the surroundings. In the restaurants, think "local, fresh, natural" and delicious!
Eleven Restaurants
"This is so different," alum Brian Barlow '84 said. His group was headed into Walk On's Sports Bistreaux for lunch before a game. At least three TVs are in sight from every seat at this Drew Brees franchise. Sports photos fill in the spaces between the action on the screens.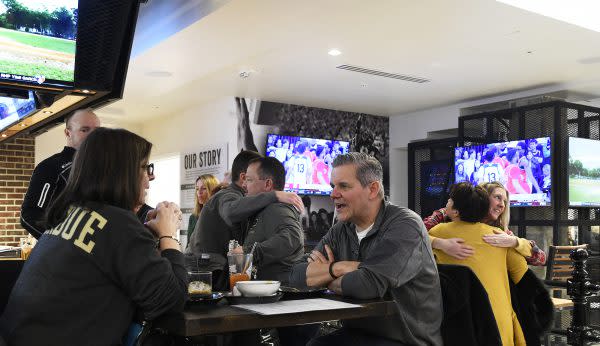 Immerse yourself in sports while dining on favorite Cajun menu items like Mozzarella Logs, Grown-up Grilled Cheese and Boom-Boom Shrimp Po'boy sandwiches. Server Grace Almester '22 suggested the "warm and yummy" Beignets and the Krispy Kreme Bread Pudding for dessert. Save room for these sweet treats!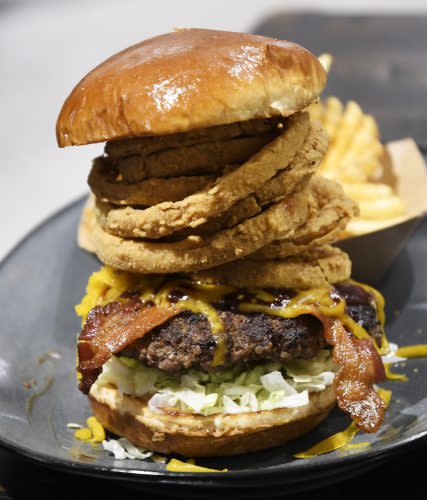 Hickory Burger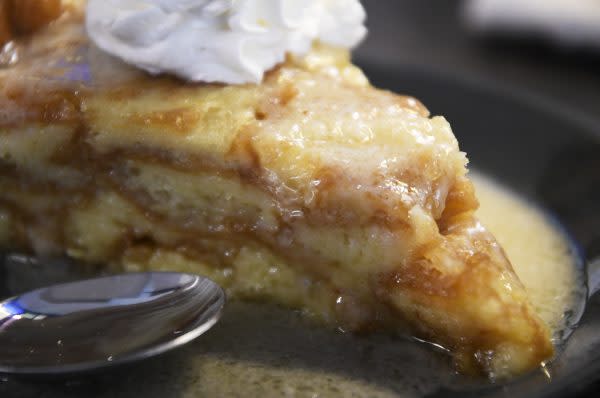 Krispy Kreme Bread Pudding
For a more casual bite to eat, head in any direction in the big open circle for fresh, on-the-spot meals. BBQ District is "one of the biggest hits on campus," says my tour guide, senior Connor Smith.
Chef Bill Kimm's Asian-American fare is "absolutely delicious." Another student said she eats at Sushi Boss "weekly – sometimes more. It's kind of embarrassing!" The "Boss's Special" is a favorite of customers.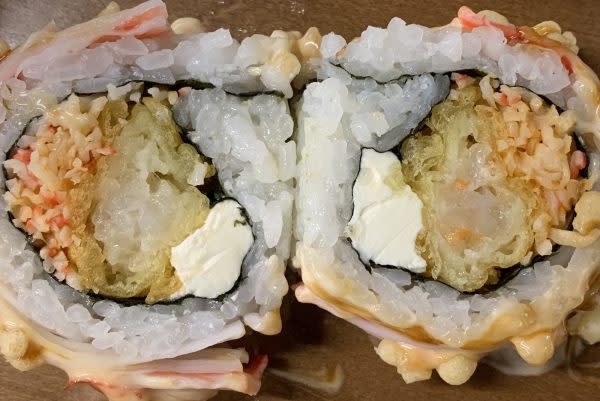 Boss's Special at Sushi Boss
Zen "is one of my favorite places in the Purdue Memorial Union," said Taylor, a sophomore from South Carolina. Her poke bowl was full of bright, fresh vegetables. Starbuck's is also a favorite stop for students and visitors.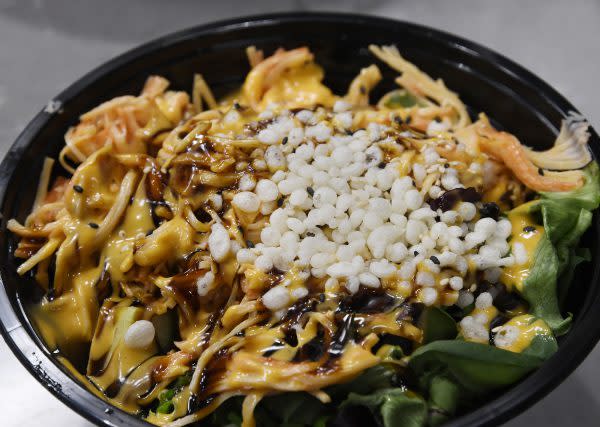 Poke Bowl at Zen
The Union is "packed during the week – the lines aren't that bad," said Wilson. Outdoor terraces provide additional gathering spaces. Stop in to meet friends, eat or stay for hours. Whether you want a meal, a snack, or a beverage, this relaxing space is a destination for all Purdue alumni, friends, and fans!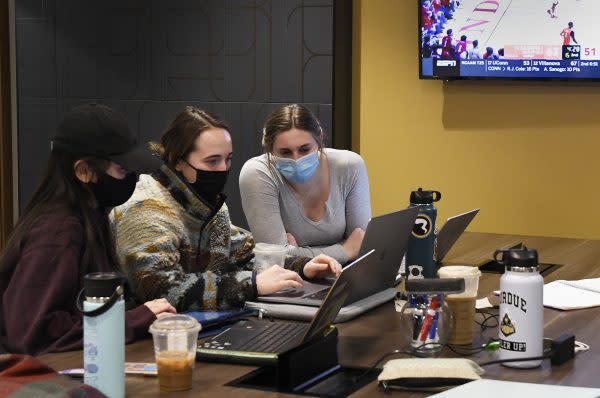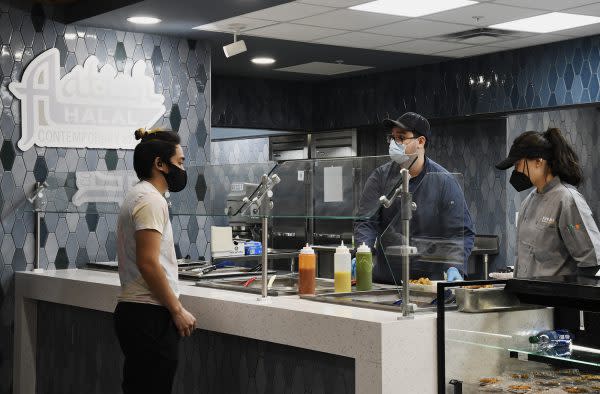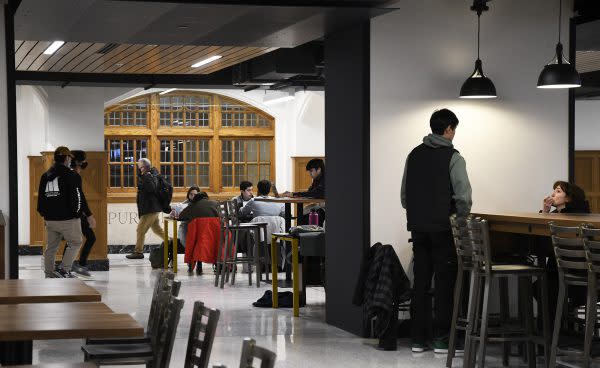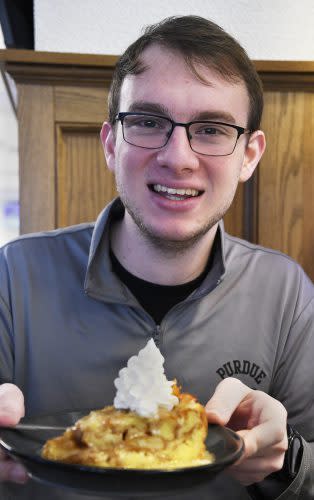 Connor Wilson '22, Rockville, IN, enjoying Krispy Kreme Bread Pudding at Walk-On's Sports Bistreaux.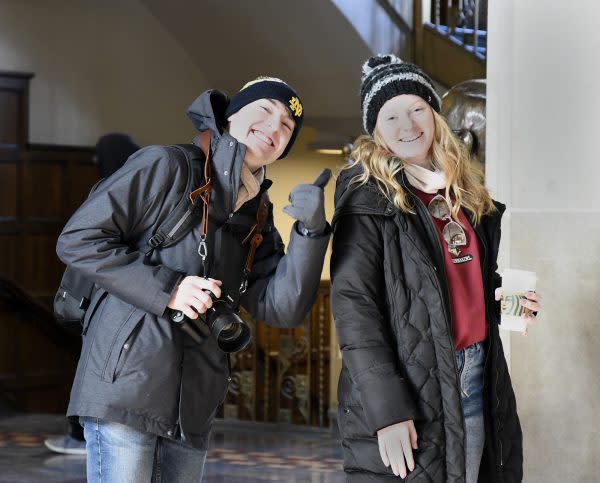 Keenan Fitzharris '22 and Cassie Chandler '23 enjoy wandering around the Purdue Memorial Union.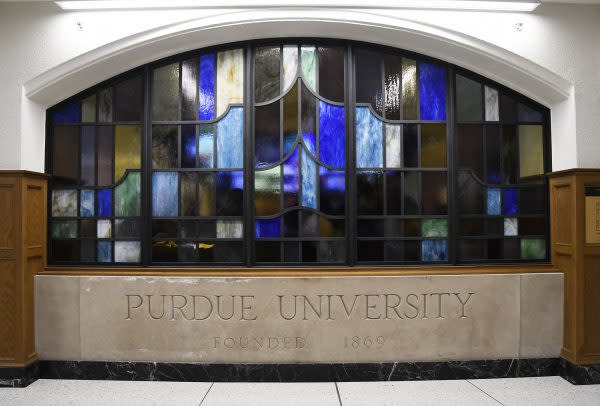 New and old: new stained glass adorns limestone from the old Grant and State Streets entrance to campus.