February is Black History month, and if you are looking for stories about the people and places that have shaped Black History in Indiana, the list below is a great place to start. From the world's first African-American sports superstar to America's first female millionaire to Grand Central Station of the Underground Railroad, African-Americans have helped weave the fabric of Indiana, and Indiana has helped shape Black History in the United States.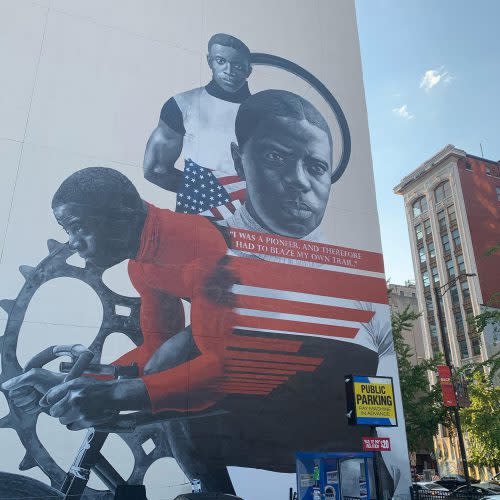 Marshall "Major" Taylor grew up in Indianapolis, overcoming racial barriers to become a world champion bicyclist at the turn of the 20thcentury. The Indiana State Museum has an exhibit celebrating his life and career. The 7,000 square-foot immersive exhibits include personal artifacts and memorabilia, as well as a Velodrome. Learn more about the exhibit, Taylor's incredible mural in Indianapolis and his story.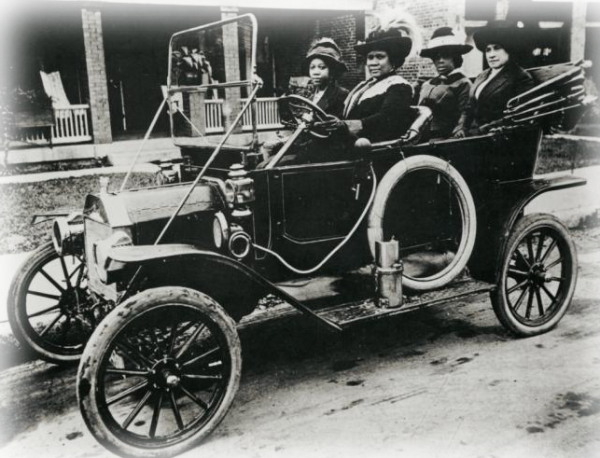 Entrepreneur and philanthropist Madam C.J Walker rose from poverty to become the wealthiest African American woman of her time. Walker used her fame and fortune for activism and provided substantial donations to African American organizations and colleges around the United States. The company's headquarters is now known as the Madame Walker Legacy center, which serves "as an enduring symbol of not only African-American pride and achievement but also pride for women and quite frankly, all citizens of the world by perpetuating the legacy of our nation's first self-made woman millionaire." Learn more about Walker's stories and the tributes to her that you can visit in Indy.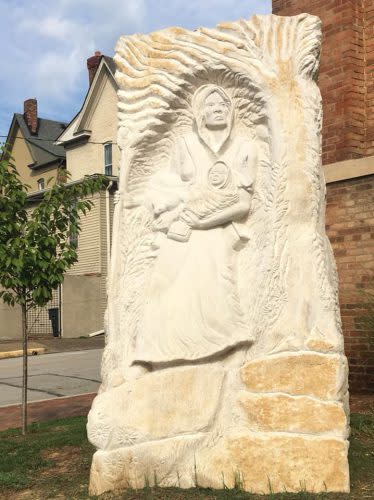 Lucy Higgs was born into slavery but escaped in 1862 with her infant daughter and found refuge with the Union 23rd Regiment in New Albany. Aunt Lucy, as the soldiers called her, found herself at the front lines of the Civil war, tending to wounded and dying soldiers. Visitors can explore an exhibit about her life at the Carnegie Center for Art and History. Learn more about the statue erected in Higgs Nichol's honor in New Albany.

Mari Evans
Mari Evans is a Black Arts movement pioneer, an author, a poet, TV personality, amongst other things. Her most famous book of poetry, "I am a Black Woman," was published in 1970. Mari has received multiple awards, including the National Endowment for the Arts Creative Writing Award. Her mural can be viewed on Mass Ave. in downtown Indianapolis.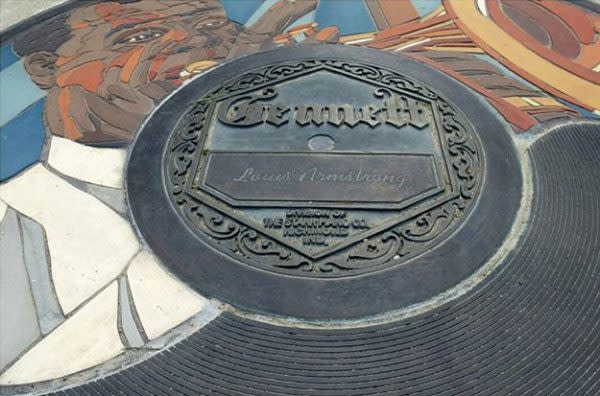 Gennett Records was once a piano factory that turned into a recording center. They have a long history of jazz, blues, and country recordings that recorded artists from Louis Armstrong to Duke Ellington to Artie Shaw. Visit the site of the old Starr piano factory that pays tribute to the legends of music who once recorded there under the Gennett label! Learn more about the Starr-Gennett Walk of Fame.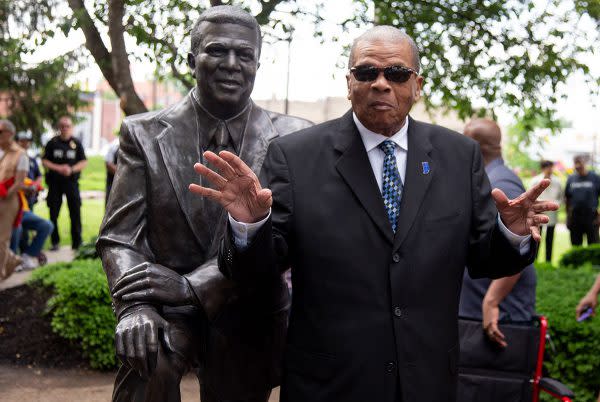 The real Hurley Goodall at the statue's dedication, image courtesy of Robbie Mehling.
Local Civil Rights icon and state representative Hurley C. Goodall. Goodall was born May 23, 1927, in Muncie's Whitely neighborhood. He was the first paid African American firefighter in Muncie and was elected as Muncie's first African American representative in the Indiana General Assembly. Learn more about Goodall's life and contributions to Indiana and the statue erected in his honor in Muncie.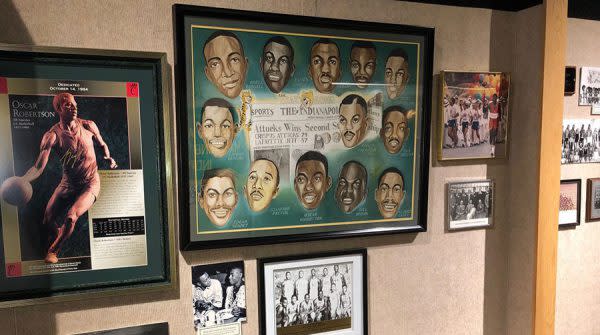 The Crispus Attucks Museum is located on the Crispus Attucks Medical Magnet High School campus and focuses on the African American experience. The museum is filled with collections of East and West African art, and the historical treasures from the first all-black high school in the state of Indiana. Crispus Attucks produced one of Indiana's most famous basketball teams, which starred NBA legend Oscar Robertson. Learn more about the museum and the school's history.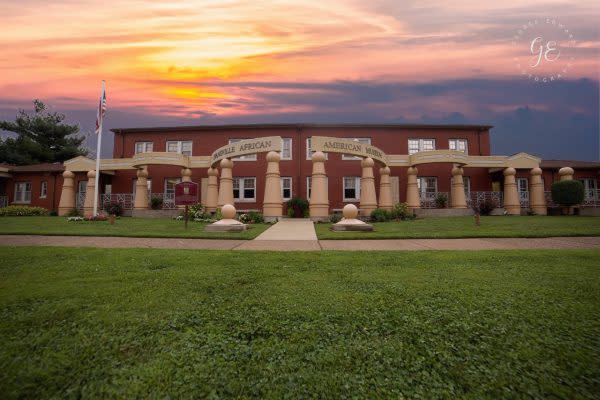 The Evansville African American Museum used to be part of a housing development called Lincoln Garden. The museum now highlights the contribution of African Americans through exhibits, lectures, and workshops while keeping its history intact. Learn more about the museum.

The Benjamin Harrison Presidential Site has a new exhibit honoring the Black Civil Rights movement leaders of Harrison's time. The No "Compact of Silence:" Black Civil Rights Advocates in the Harrison Era special exhibit recognizes and celebrates the work of valued advocates of color who lived and worked around the time of Harrison's Presidential term between 1889 to 1893. Check out the exhibit to learn more!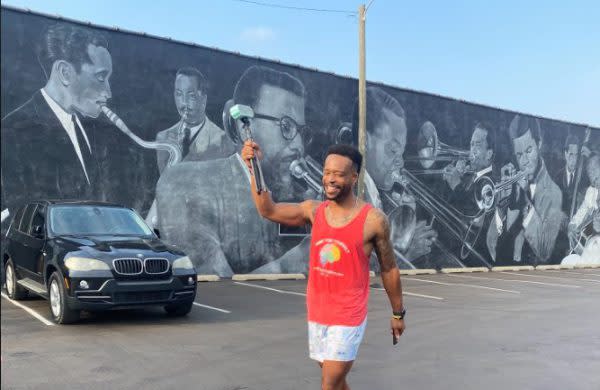 If you prefer a more personalized experience, we suggest Through 2 Eyes. Sampson Levingston is a lover of Indiana history who knows all about the Hoosier state. He has guided over 200 walk & talk tours since he began in 2020. Take a tour of historic Indiana with him to learn more about African American History in Indiana.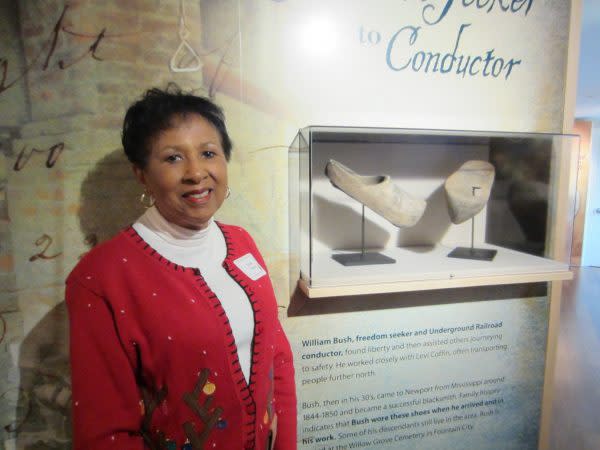 The Levi and Catherine Coffin house played an essential part in the Underground Railroad. Even though Indiana was a free state, enslaved people were not safe here. The Coffin house served as a safe haven for thousands of freedom seekers, including William Bush, who remained in Newport, where he helped other freedom seekers with the Underground Railroad. Visit the Coffin house and catch a tour with Eileen Baker-Wall, great-great-granddaughter of William Bush!