March is Women's History Month! There is no shortage of incredible women who have shaped the fabric of our nation's culture, and that is even more apparent in the Hoosier State. Indiana has produced so many successful women, from legendary entertainers to civil rights activists to abolitionists who helped enslaved people escape through the Underground Railroad. If you're looking for some strong female inspiration, Indiana's got you covered. Continue reading to learn about these important women from Indiana.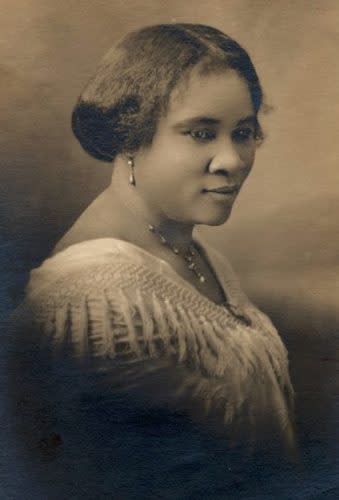 Madam CJ Walker Madam CJ Walker built an empire beginning in 1905 by selling her unique scalp conditioning and healing formula, called "Madam Walker's Wonderful Hair Grower." As she grew her business, she settled in Indianapolis and became a philanthropist working to further the well-being and careers of Black women across the country. Born the child of formerly enslaved parents, Madam Walker lived to be one of the wealthiest Black people in the United States during her time and was the first woman in US history to be a self-made millionaire.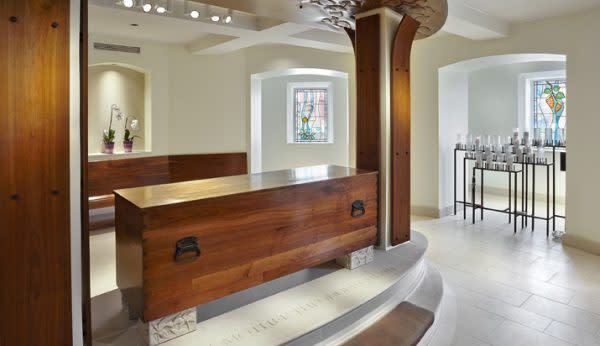 The Shrine to Saint Mother Theodore Guerin is located at Saint Mary of the Woods College, near Terre Haute.
Saint Mother Theodore Guerin Saint Mother Theodore Guerin faced a great amount of tragedy in her family, having lost two brothers in house fires and her father robbed and murdered. Her losses strengthened her religious faith, and she joined the Sisters of Providence of Ruillé sur-Loir, France. Saint Mother Theodore relocated to Indiana and established schools for girls, two orphanages, and a free pharmacy before her death. On Oct. 15, 2006, at St. Peter's Square in Rome Mother Theodore was canonized and received the title, "Saint" from the Catholic Church. She is designated in the Vatican's official record as Saint Theodora. Her life still continues to inspire. She is remembered as a woman devoted to prayer, an educator, caregiver, and leader. Her love and respect for nature is still evident in her beloved woods. You can visit her final resting place at the Shrine of Saint Mother Theodore Guerin at Saint Mary-of-the-Woods near Terre Haute.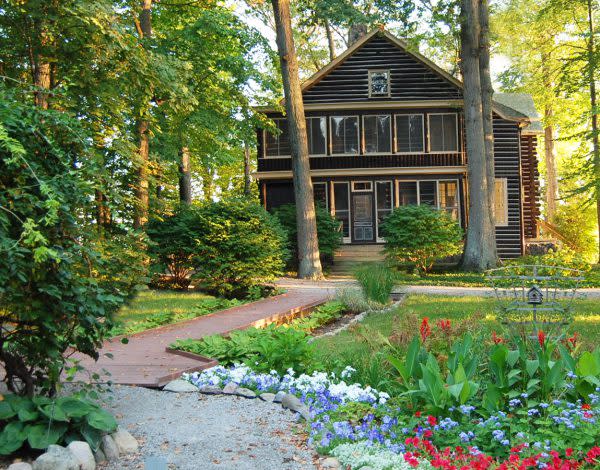 Gene Stratton-Porter State Historic Site
Gene Stratton Porter Gene Stratton Porter was a nature photographer, conservationist, and is Indiana's most widely-read female author. In 1912 she moved to Sylvan Lake in Rome City, Indiana, and built "The Cabin at the Wildflower Woods," which still holds her preserved history today. Stratton-Porter's two homes in Geneva (Limberlost) and Rome City (Gene Stratton-Porter) are both Indiana State Historic Sites. Learn more about Gene Stratton Porter.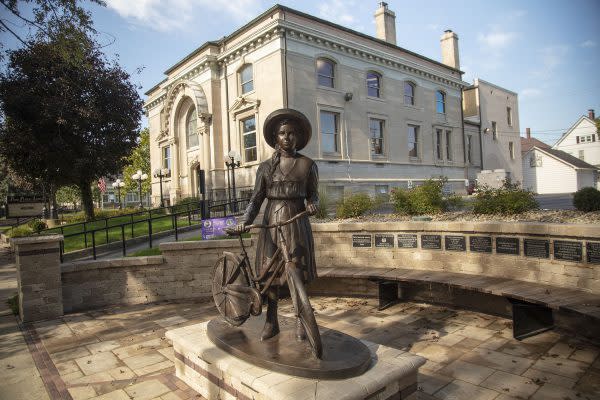 A statue honoring Marie Stuart Edwards can be found in Peru, Indiana.
Marie Stuart Edwards Marie Stuart Edwards was an American suffragette from Lafeyette, Indiana who helped found the National League of Women Voters in February 1920. By the next year, approximately 2 million women had joined. Edwards served as the first Treasurer of the league, and eventually became the organization's first Vice President in 1923. Learn more about this important Hoosier.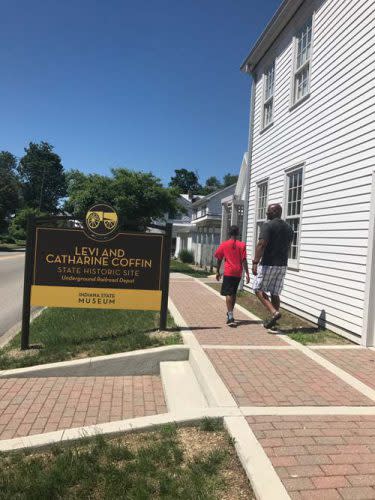 Catharine Coffin and her husband Levi played a very prominent role on the Underground Railroad, helping freedom seekers on their journey north.
Catharine Coffin Catharine Coffin and her husband Levi were Quakers who helped as many as 2,000 enslaved people through the Underground Railroad over 20 years in Newport, Indiana. Catharine organized the Antislavery Sewing Society that made clothes for the "fugitives," and even created costumes for them. After the Civil War, the Coffins worked on the Western Freedmen's Aid Society, which helped educate and provide basic living needs for formerly enslaved people. The Coffin home was known as Grand Central Station on the Underground Railroad and is an Indiana State Historic Site. Learn more about why Coffin is one of the most important women from Indiana.
Florence Henderson Florence Henderson was known as "America's Favorite TV Mom" thanks to her role as Carol Brady on the Brady Bunch. She was born in Dale, Indiana. During her decades-long career, she portrayed many characters, hosted talk shows, and was even a contestant on Dancing with the Stars in 2010. Learn more about Florence Henderson.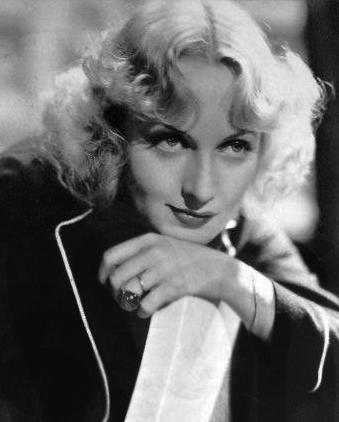 Carole Lombard Carole Lombard was an actress from Fort Wayne, Indiana who was featured in some of the most successful film comedies in the 1930s. She began her career in silent films in the 1920s, and eventually signed a seven-year contract with Paramount. She was also married to fellow movie star Clark Gable until her untimely death.  Learn more about Carole Lombard.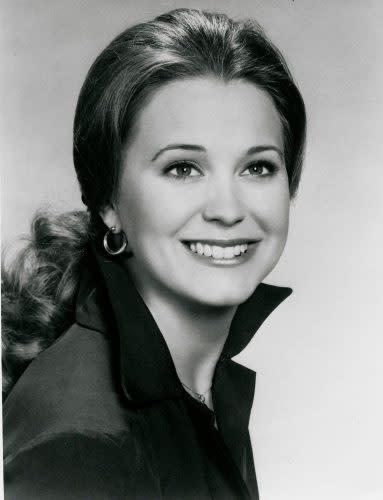 Jane Pauley Jane Pauley, born in Indianapolis, is one of the most respected journalists in the United States and has a broadcasting career of over 40 years. She is currently the lead on CBS Sunday Morning and is known as a powerful advocate for mental health. Learn more about Jane Pauley.
Janet Jackson Janet Jackson is a legendary singer, songwriter, and performer, and the youngest of the 10 Jackson children. Born in Gary, Indiana to a family of performers, Janet worked hard to create her own path in the entertainment industry. She is the only artist in the history of the Hot 100 to have 18 consecutive top ten hit singles. Janet is now one of the top ten selling artists in the history of contemporary music and helped pave the way for Black female creators to succeed. Learn more about Janet Jacket.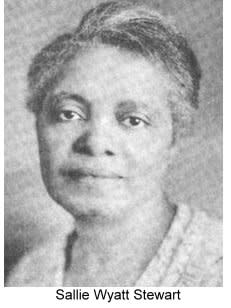 Sallie Wyatt Stewart Sallie Wyatt Stewart was a teacher from Evansville, Indiana who became an organizer for the Black community in her town. She was the president of the Indiana Federation of Colored Women from 1921 to 1928, and later became president of the National Association of Colored Women. Learn more about Sallie Wyatt Stewart.
Photo by @mike_millspaugh
Frances Slocum Frances Slocum was born into a Quaker family and captured at five years old by Delaware warriors. She was raised in Indiana and fully assimilated to Miami Native American culture. Sixty (60) years after her abduction, Frances was found by her brothers living in Peru. While she did not wish to return to Pennsylvania, she stayed in touch with her brothers by writing to them. The Mississinewa Reservoir and State Forest in Indiana contain the Frances Slocum State Recreational Area and Lost Sister Trail. Learn more about Frances Slocum.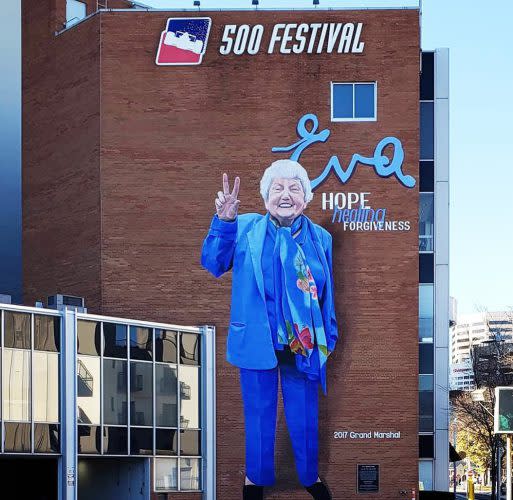 Photo by @Visitindy
Eva Kor Eva Kor was a survivor of the Holocaust and was forced to take care part in the pseudoscientific medical "experiments" that were done on twins at the Auschwitz camp. Eva relocated to Indiana in the 1960s, and eventually created a nonprofit organization, "Candles," for other survivors of the horrific experiments. She traveled throughout her life to give presentations on the power of forgiveness, among countless other philanthropic works. Learn more about Eva Kor.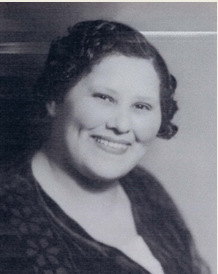 Katherine "Flossie" Bailey, courtesy of America's Black Holocaust Museum.
Katherine "Flossie" Bailey  Katherine "Flossie" Bailey was a civil rights activist from Indiana who worked in the anti-lynching movement. She created her local chapter of the NAACP in Marion, Indiana, and was named president. Bailey was eventually a recipient of the national NAACP's Madam C.J. Walker medal. Learn more about Katherine "Flossie" Bailey.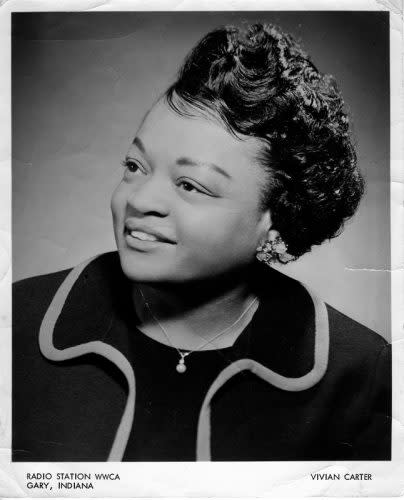 Photo by Indiana History Blog
Vivian Carter Vivian Carter was a radio DJ in Gary, Indiana after World War Two. Along with her husband, she founded the Vee-Jay Records company. This was the first successful Black-owned recording company in the US. Learn more about Vivian Carter.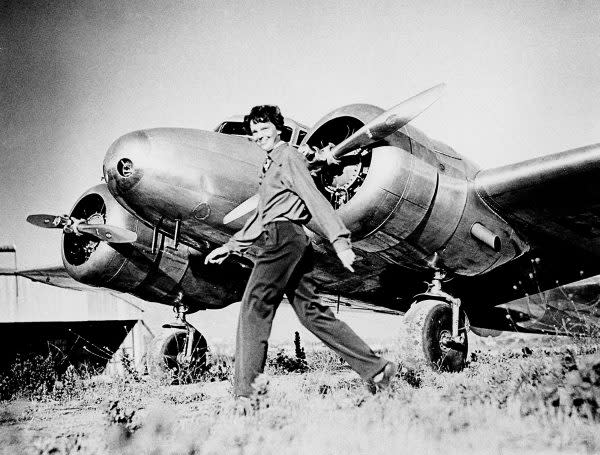 Amelia Earhart Amelia Earhart was the first woman to fly across the Atlantic, the first woman to make a solo transatlantic flight, and the first person to fly solo anywhere in the Pacific, among other accomplishments. Earhart was on the faculty of Purdue University for two years at the time of her death. The Purdue Research Foundation provided the funds for her flight around the world. Learn more about Amelia Earhart.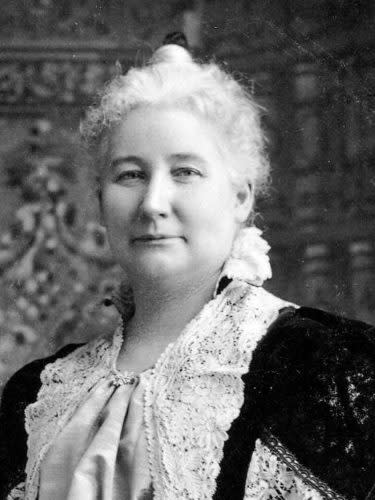 Photo by Indy Star.
May Wright Sewall May Wright Sewall was a leader of the women's suffrage movement in Indiana and nationwide. From 1882 to 1890, she was chairman of the executive committee of the National Woman Suffrage Association.  In 1888, she helped found the National Council of Women and was eventually president from 1897 to 1899. Learn more about May Wright Sewall.
Anne Baxter Anne Baxter was an actress from Michigan City, Indiana in the final years of Hollywood's Golden age. She was nominated for an Emmy and won both an Academy Award and a Golden Globe. Learn more about Baxter.
Vivica A. Fox Vivica A. Fox is an actress, producer, and television host who was born in South Bend, Indiana. She is best known for her roles in Independence Day, Kill Bill: Vol. 1, and Why Do Fools Fall in Love. Learn more about Fox.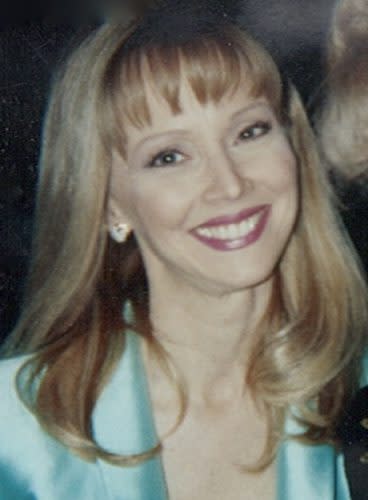 Shelley Long Shelley Long is an actress from Fort Wayne, Indiana who is best known for her role as Diane on the sitcom Cheers. She won two Golden Globes and an Emmy for her portrayal. Long has a connection with another famous Hoosier woman, as she, like Florence Henderson, also portrayed Carol Brady, in The Brady Bunch Movie and A Very Brady Sequel. Learn more about Long.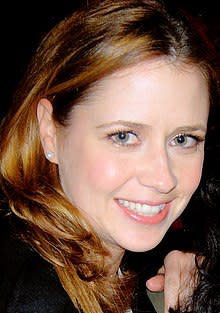 Wiki photo
Jenna Fischer While she was raised in St. Louis and is well known "resident" of Scranton, Jenna Fischer was born in Fort Wayne. She is best known for her hilarious role as Pam on the sitcom The Office from 2005 to 2013. She was nominated for an Emmy in 2007. Learn more about Fischer.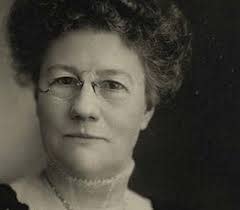 Ida Husted Harper A prolific writer and suffragist (lived in Muncie, Indy, Terre Haute, D.C.) that wrote a few books with Susan B. Anthony. Ida Husted Harper was a journalist and suffragist from Fairfield, Indiana. She was asked by Susan B. Anthony to write Anthony's three-volume biography, as well as several other important writings. Harper also served as secretary of the Indiana chapter of the National Woman Suffrage Association. Learn more about Ida.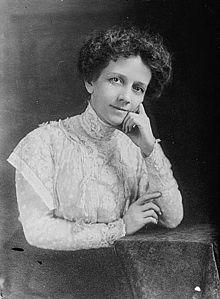 Albion Fellows Bacon Albion Fellows Bacon was a reformer and writer from Evansville, Indiana who most notably worked to improve public housing standards. She drafted a law in 1908, led a yearlong campaign for it, and eventually was able to get it passed in 1913 statewide. Learn more about why Bacon is one of the most important women from Indiana.
Loretta Rush Loretta Rush is Chief Justice in Indiana's Supreme Court. She became the first female chief justice in the history of the Indiana Supreme Court in 2014 and was reappointed in 2019. Learn more about Rush.
Katie Hall Born in Mississippi, Hall earned her MS from Indiana University, Bloomington before settling in Gary. A social studies teacher in Gary, Katie Hall got involved with local politics in 1962 and eventually would win a seat in the US House of Representatives in 1982, becoming Indiana's first black woman from Indiana elected to the US Congress. During her time in Congress, she is best known for leading the charge to get Martin Luther King Jr. Day recognized as a federal holiday. She served until 1985, and she retired from Gary public schools in 2004 and passed away in 2012. Learn more about Hall.
Julia Carson Julia Carson was a member of the Indiana legislature for two decades and was eventually elected to the US House in 1996. She served in the House of Representatives from 1997 until her death in 2007. She was the first Black person and the first woman to represent Indianapolis in Congress. Learn more about Carson and why she is one of the most important women from Indiana's history.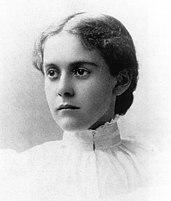 Alice and Edith Hamilton  Alice and Edith Hamilton were sisters from Fort Wayne, Indiana who became well-known academics in the late 1800s and early 1900s. Alice was a physician, research scientist, and author. Edith was an educator, author, and internationally known classicist. Learn more about the Hamilton sisters.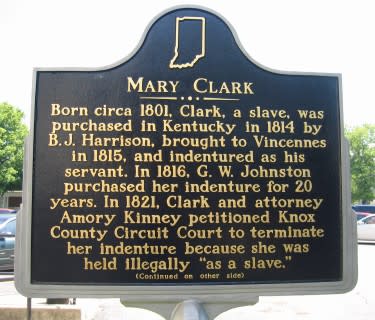 Polly Strong and Mary Clark  Polly Strong and Mary Clark were women from Indiana who fought for their freedom. Polly Strong was born into slavery, and Mary Clark was considered an "indentured servant" by the man who initially freed her from slavery. Learn more about these women and how they shaped why we've included them among the most important women from Indiana's history.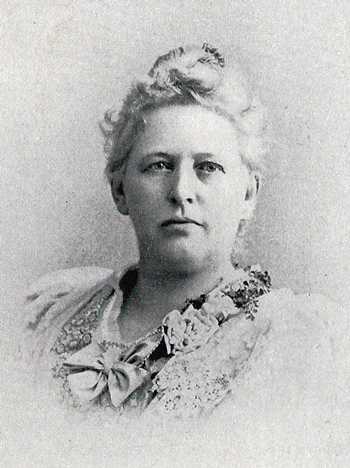 Hellen M. Gougar  Hellen M. Gougar was a lawyer, journalist, and women's rights advocate from Lafayette, Indiana. She was one of the first women to become a lawyer in her county and was the president of the Indiana Woman's Suffrage Association. Learn more about Gougar.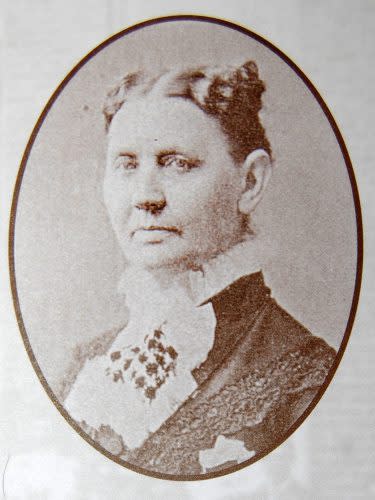 Amanda Way Amanda Way was a woman's suffrage leader from Winchester, Indiana. She was called the "mother of 'The Woman Suffrage Association' in Indiana" by Susan B. Anthony and Elizabeth Cady Stanton. Learn more about how Amanda became one of the most important women from Indiana's history.