Are you into craft beer but looking for a place that has food that is as good as the beer? you'll want to make your way to this Valparaiso Brewery. Rather than typical bar food, this unique downtown spot serves up Asian fusion specialties. We made our way there recently to check out some of the specials during the South Shore Restaurant Weeks. The special menu was for two people for $35 and it allowed us to select one appetizer and two entrees and was a nice way to try out the food on our first visit there.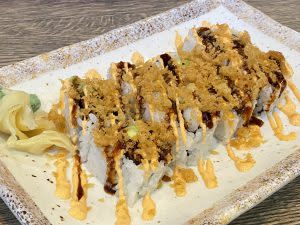 The "I Should Have Been A Cowboy" is one of the popular sushi options on the Asian fusion menu at Blockhead Beerworks.
Blockhead Beerworks in Valparaiso serves some amazing food! We tried out the "Should Have Been A Cowboy" sushi roll, which I really loved. It included shrimp, avocado, unagi sauce, bacon, spicy mayo, and crunchies. For entrees, we got the Drunken Noodles with the addition of chicken and also the Yakisoba noodles with veggies, scallion, sweet & salty sauce, and sesame and with chicken added. The Drunken Noodles definitely had a kick to them, so if you're not big on heat, you can request to have them prepared with "light spice."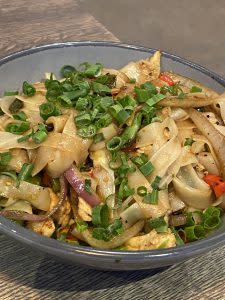 Drunken Noodles are among the Asian fusion menu options. The spicy dish can also be requested with light spice.
Other menu items include starters of edamame, Korean BBQ fries, wings, and Philly egg rolls, a variety of sushi rolls that can be modified to be gluten-free, steam buns, noodle bowls, pho, and ramen. For the little ones, they have a kids' menu of butter noodles, pizza sticks, or a kid's noodle bowl of ramen with an option to add chicken.
On Sundays, you can enjoy items from the brunch menu from 10 a.m.-3 p.m., which includes truffle fries, bacon & eggs fried rice, Avo toast, and the Blockhead B & G - two biscuits with pho gravy, a sunny side egg, togarashi home fries, and chives.
Although beer is the star on the beverage side, there's much more to choose from - wine, sake, cocktails, and a green tea shot. There's also an additional menu of brunch drinks, among them a bloody Mary and a beermosa. The draft menu had ten of their own beers - ranging from pale wheat to a brown ale to some heavy stouts and they offer guest brews from other local craft breweries, as well. Our beer flight board was a cute, colorful one made of Lego bricks. They'll soon add distilling to the resume.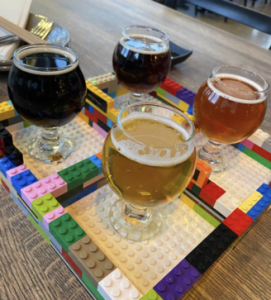 I chatted with the general manager for a few minutes who explained that Blockhead Beerworks is part of a restaurant group that also includes Ricochet Tacos, which is also located in downtown Valparaiso, and Tomato Bar Pizza Bakery which has locations in Valparaiso, Crown Point, and Schererville.
Located in a corner building on Washington St., it's just off the main square in an area that offers many shopping and dining options, and Central Park Plaza, a venue that has a stage for summer concerts, a green space for events, and a pavilion that is home to a farmer's market in the warmer months and an ice rink in the colder months.