If it's going to be cold and snowy, you might as well have some fun with it. I have many fond memories of hitting toboggan slides in the Chicago suburbs as a teen and with my own kids, nieces and nephews when they were young. They closed in 2004 so when I learned about the toboggan run at Pokagon State Park near Angola, I was very excited and it brought back a flood of memories of fun winter days.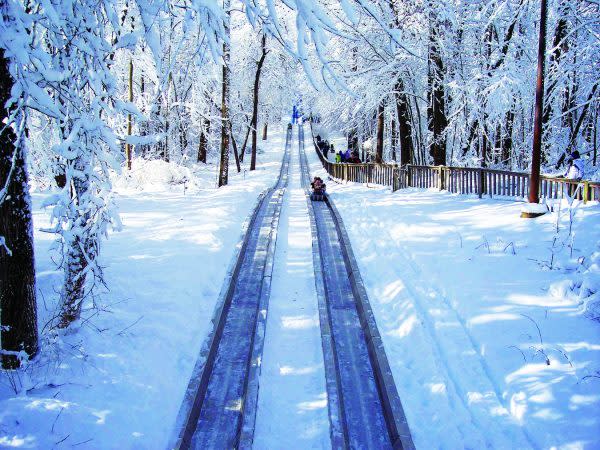 What's really cool about the dual toboggan run at Pokagon State Park is that it's refrigerated, so if it happens to warm up and the snow melts you can still enjoy a day there. The run opens every year on Black Friday (day after Thanksgiving) and runs Saturday and Sunday through February 27 this season.
To make your way down the toboggan run, you first head up to a 30-foot tower and then go down a 90-foot vertical drop. It takes about 20 to 30 exhilarating seconds to make it down the quarter-mile track and the top speed to make that descent has been recorded at 42 miles per hour. About 90,000 visitors make their way down the run each season.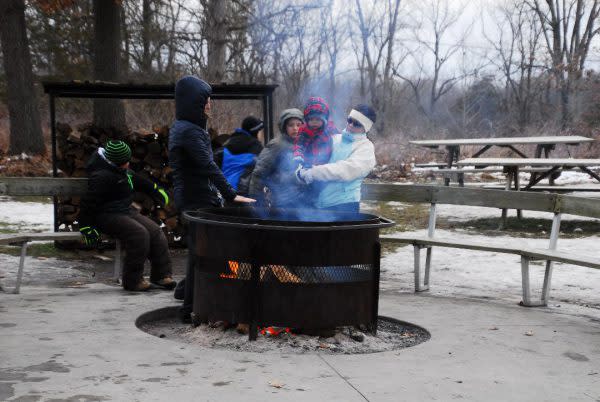 Warm up by the fire in between runs down the toboggan slides.
The toboggan run was one of a number of recreational construction jobs that happened around the country as part of the Civilian Conservation Corps projects in the 1930s. It was built in 1935.
There is a park entrance fee of $7 for Indiana residents and $9 for out-of-state vehicles in addition to the sled rental of $20 per hour. You cannot bring your own sled and must rent a sled to use the toboggan run. NEW THIS YEAR: Gloves must be worn to ride the toboggan run.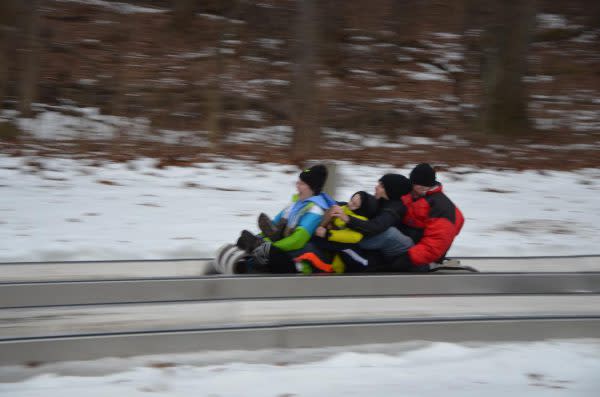 Hours are 10 a.m. - 6 p.m. on Saturdays and 10 a.m.-5 p.m. on Sundays. When we were there, they had fires going to help keep you warm in between runs.
The park also has a lodge, the Potawatomi Inn Resort and Conference Center, so it's a nice spot to go for a winter weekend getaway with the family.
The toboggan run at Pokagon State Park is one of just a few remaining in the Midwest.
I loved the cozy feel of the lodge, which had a roaring fire going in the big fireplace as families sat at nearby tables playing board games or individuals sat tucked into big comfy corner chairs reading. It also overlooks Lake James and you get a great vantage point for lovely views from the inn. For more information, visit here.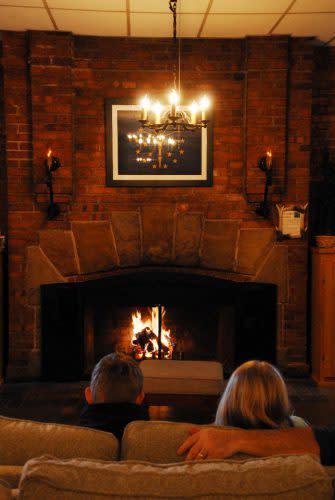 Pokagon State Park is a great place for a winter weekend getaway with the family.