When you work and live in a town named Santa Claus, everyday life can be somewhat surreal.
For example: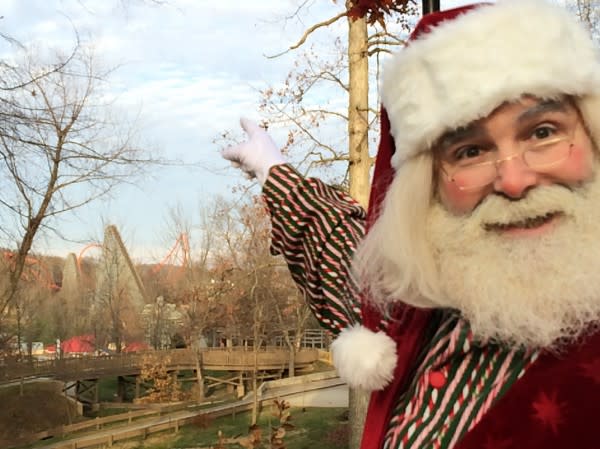 If you're a wrestling fan, you may recognize Mick Foley behind the beard. Jolly ol' Saint Mick may be a WWE Hall of Famer, but at heart he's a softy who loves Christmas and amusement parks. Mick was in town last weekend to enjoy our holiday festivities and asked for a sneak peek at our new Thunderbird steel roller coaster. As one of Santa's helpers, Mick knows a really good gift when he sees one.
Little known fact: Mick Foley is a Hoosier. Although he's been a New Yorker most of his life, he was born in Bloomington.
And now on to the real Santa Claus, who spends his summers here in town, visiting with children each day here at Holiday World. And sometimes in the local grocery story.
Santa was tickled pink when a Travel Channel crew visited us back in May to shoot a new holiday special.
Of course, it was a tad warmer back then ...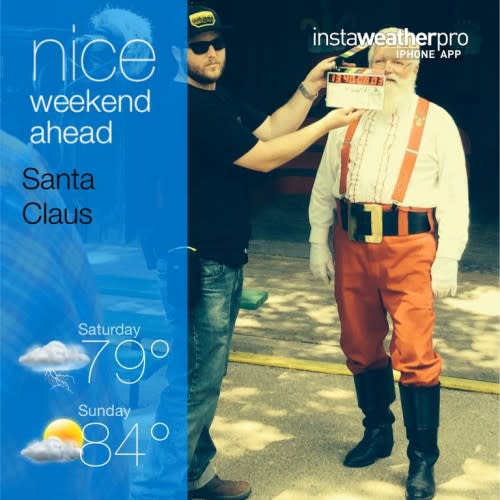 The Travel Channel show - Christmastown, USA - airs this Sunday, December 14, at 6pm CST (which is 7pm EST). We don't have the inside scoop about exactly what might have ended up avoiding the cutting room floor, so here are a few possible spoilers: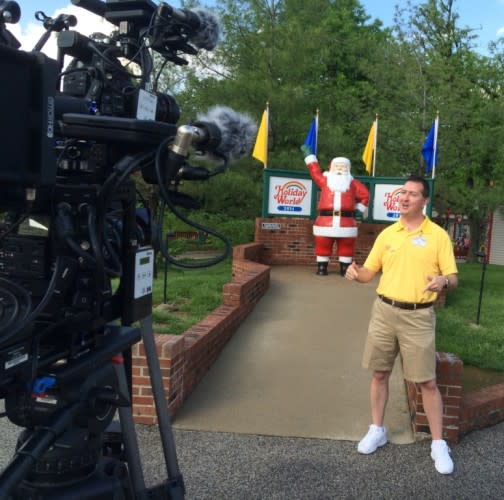 That's park president Matt Eckert. Does he look like he's singing? Yes, as a matter of fact, he burst into song with a rousing chorus of Jingle Bells when asked.
Because that's what park presidents do in Santa Claus, Indiana.
During Santa's chat with the Travel Channel, he compared a ride on The Voyage with that famous sleigh ride he takes each December 24.
One thing led to another and ...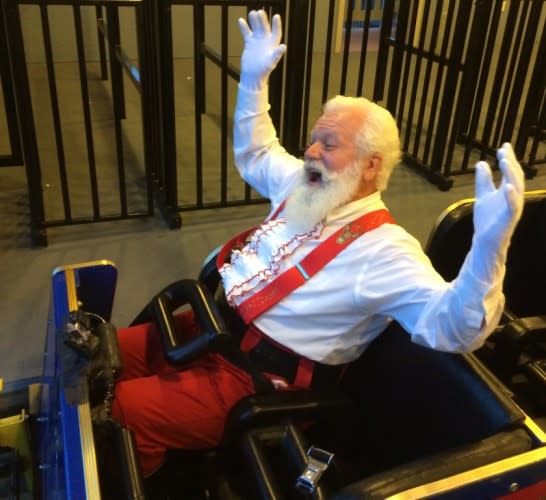 Upon closer examination of Travel Channel's website, we came upon this photo in a Christmastown, USA slideshow, which gives us hope they're planning to show Santa enjoying his second-favorite sleigh ride.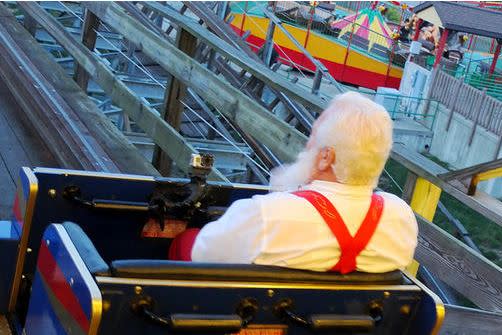 Santa hooted and hollered joyfully throughout his ride (and had to run a comb through his snowy-white beard upon return).
We hope you're able to catch Travel Channel's Christmastown, USA on Sunday evening. It will be fun to see our festive town - and several other themed communities - helping to get the viewers worldwide filled with the holiday spirit. Most of all, all of us here at Holiday World wish you and your family a Very Merry Christmas!