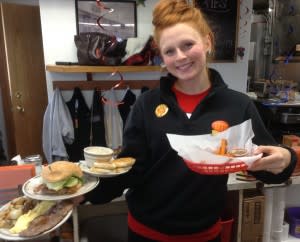 Some people want to tell you about the best thing that happened to them on vacation. I'm telling you the worst thing – not living closer to Triple XXX Family Restaurant in West Lafayette.
I had heard about this 119-year-old family-owned diner while researching places for our upcoming weekend get-away to West Lafayette in the northwestern part of the state where my alma mater, Purdue University is located.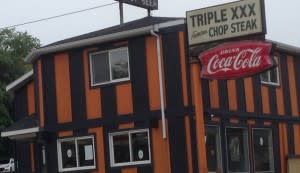 This place has several neat factors. Recognized as Indiana's oldest drive-in was one thing that caught my eye. Triple XXX Family Restaurant is the last 'XXX Thirst Station' of the 100 root beer drive-ins around the country established in the 1920s. Even though we visited when weather was too cool to sit in our car to be served, I liked the idea of visiting a historic drive-in locale.
The knowledge that breakfast was served all day (yay!) and that the owners only use 100% sirloin chopped steak to form its 700-1000 2-ounce burgers daily on a Hollymatic Super 54 Patty Former was the clincher.
What I had not reckoned on when my husband and I planned a visit to the restaurant was the cozy, neighborly feel of the Triple XXX Family Restaurant.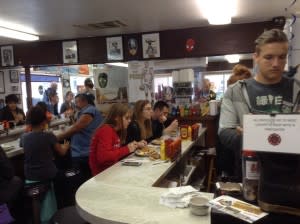 We arrived at 9:30 on a Sunday morning and nearly every seat of the 48 stools (no tables) situated inside was taken. Customers of all ages -- children through seniors -- sat elbow to elbow, apparently not minding the closeness. Why should they?
They seemed to be familiar with each other and quite probably had met there regularly for years.
Although we didn't know anyone, we found two seats and looked at the menus. Our waitress, Karlie, quickly brought water glasses and recommended several unusual-sounding items. We were in for a treat!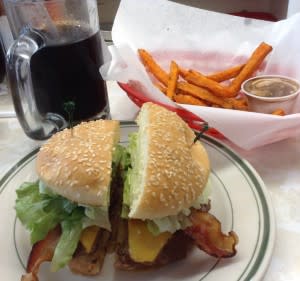 Despite it being too early for lunch by some people's standards, I ordered the Duane Purvis Burger. Named after the All-American football player who played football for the Purdue Boilermakers in the 1930s, this cheeseburger made with chopped sirloin is topped with peanut butter. What a fascinating combo! This sandwich was voted into the Final 4 during the 2012 'Super' 46 Sandwich Competition when the Super Bowl was held in our state capital. The restaurant has also been named among the 'Great Burger Joints' in the US.
My husband doesn't love peanut butter like I do, but after tasting a bite, he agreed to finish it for me. I commenced to dig into sweet potato fries, dipping them into a concoction of marshmallow cinnamon sauce.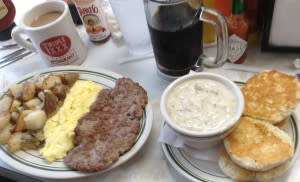 John finished his chopped sirloin steak with biscuits and gravy.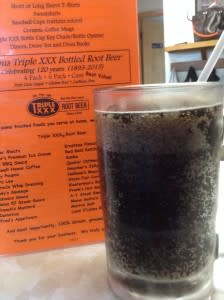 Of course, root beer is a mainstay here even for breakfast. We ordered two mugs. Delicious! Karlie brought us root beer jelly and didn't have to twist our arms to get us to try root beer cake.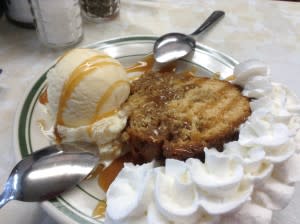 Having never heard of this flavor or seen the recipe, I'm now a devoted fan. Pies are also available —apple, cherry, blackberry, lemon.
And no, we didn't eat everything we ordered. Karlie boxed up what we could not finish, while assisting other customers always with a smile. Other trained staff was available to help.
It's maybe no surprise Guy Fieri of 'Diners, Drive-Ins, and Dives' visited the Triple XXX Family Restaurant to feature it on his show.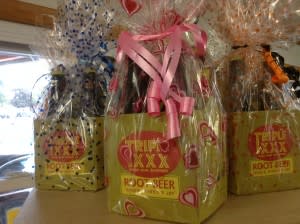 Gift idea: Give someone a 4-pack of Triple XXX root beer. They'll thank you!
The Triple XXX Family Restaurant is the neighborhood eatery every person dreams of.
Note: The only payment form at Triple XXX Family Restaurant  is cash.
For more information of places to visit in West Lafayette click here.