Paramount Theatre Festival of Trees, Anderson, Indiana
At the Paramount Theatre, they're bringing back the local favorite, the Festival of Trees. With decorated trees, wreaths, Larry Davenport's world-famous train village, musical concerts, a visit by Santa Clausweek-long children's entertainment, ballroom dancing. The building and trees are decorated by local designers and area students. You'll see wreaths and holiday decorations everywhere.
Other events include:
Tuesday, 11-26: Holiday Ballroom Dance
Saturday, 11-30: Children's Magical Christmas, 9:30 am
Sunday 12-1: Anderson Ballet Folklorica, 2:30 pm
Tuesday, 12-3: Gruenewald House Style Show, 11:30 am
Tuesday, 12-3: Jazz Bands, 7:00 pm
Wednesday, 12-4: Anderson City Choirs, 7:00 pm
Thursday, 12-5: Madison County Choirs, 7:00 pm
Friday, 12-6: Bonnie and Sheri's Dance & Gymnastics, 7:00 pm
Saturday, 12-7: Lapel Community Band, 7:00 pm
Tickets are $5 for adults, and children 5 and under are $1. For more information, visit the Anderson Paramount Theatre website.
Lanthier Winery Festival of Trees, Madison, Indiana
Lanthier Winery of Madison, Indiana is once again holding its Festival of Trees, one of the largest holiday displays in the nation.
More than 105 trees greet the thousands of visitors to the little southern Indiana town along the Ohio River. Located on the Lanthier Winery grounds, visitors can tour the outside display at no charge
You can also visit the 123 Mill Street cellar, whose halls will be decked with boughs of, well, everything.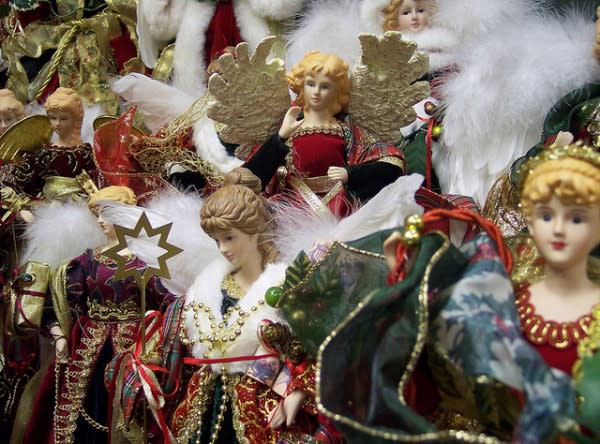 Lanthier Winery Festival of Trees
You can even sample several of Lanthier's award-winning wines, including some limited release holiday wines.
Families are welcome to visit, although children must be accompanied by adult.
Lanthier's Festival of Trees hours are 11:00 am to 5:00 pm, every Wednesday through Sunday in December. There will be extended hours on the premier weekend (last weekend of November) and first weekend in December. For more information, call 812-273-2409. You can also visit the Lanthier Winery website.
To see photos of past Festival of Trees, visit Lanthier's Flickr page.
Photo by Lanthier Winery (Flickr)