In the revived downtown of Pendleton sits one peculiar, yet oh-so-fantastic donut shop - Quack Daddy Donuts. Quack Daddy offers patrons well made, unique made-to-order donuts six days a week. With 118 total combinations, Quack Daddy Donuts, will not disappoint fans of the fried confectionary.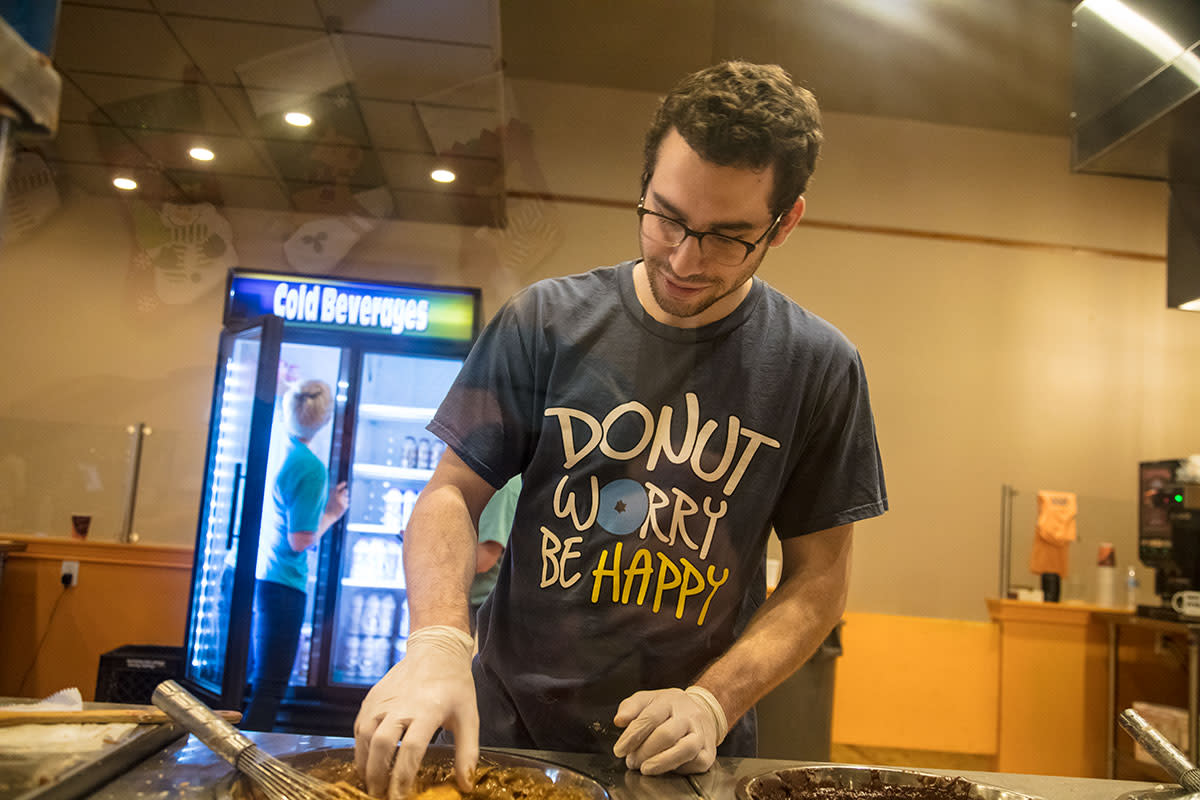 All donuts are custom made.
Quack Daddy opened to the public on January 26, 2015. Founded by two Anderson based lawyers - Bryan Williams and Lisa DeLey - Quack Daddy Donuts was launched after the couple returned from a vacation where they ate at a small donut shop making seriously good donuts. Wishing to share the experience with the good folks of Pendleton and Madison County, Williams and DeLey went beyond the donut and opened Quack Daddy Donuts to not only serve good quality donuts, but blend a passion for the community, the simple pleasure of life such as donuts, and a strong desire to encourage people to have fun together.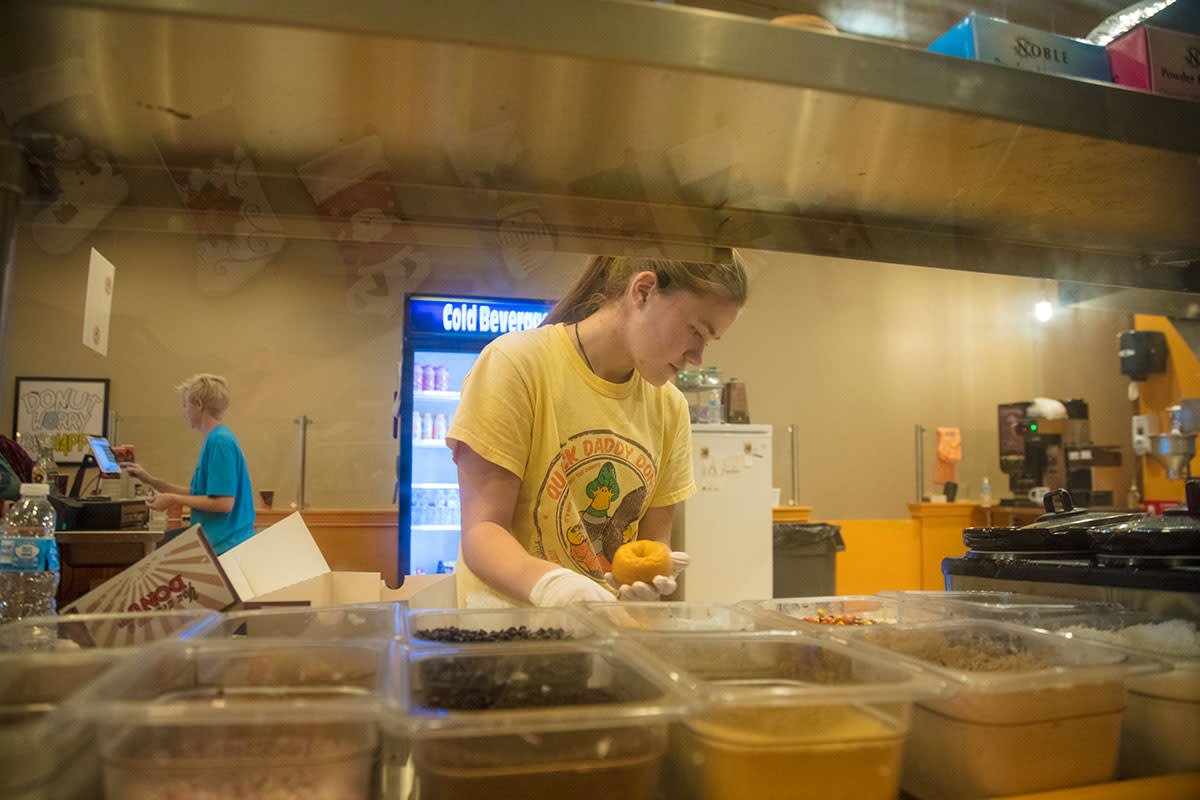 The many options at Quack Daddy Donuts - all made to order.
Quack Daddy Donuts' uniqueness stems from the quality of their donuts and the customization that comes with each and every order.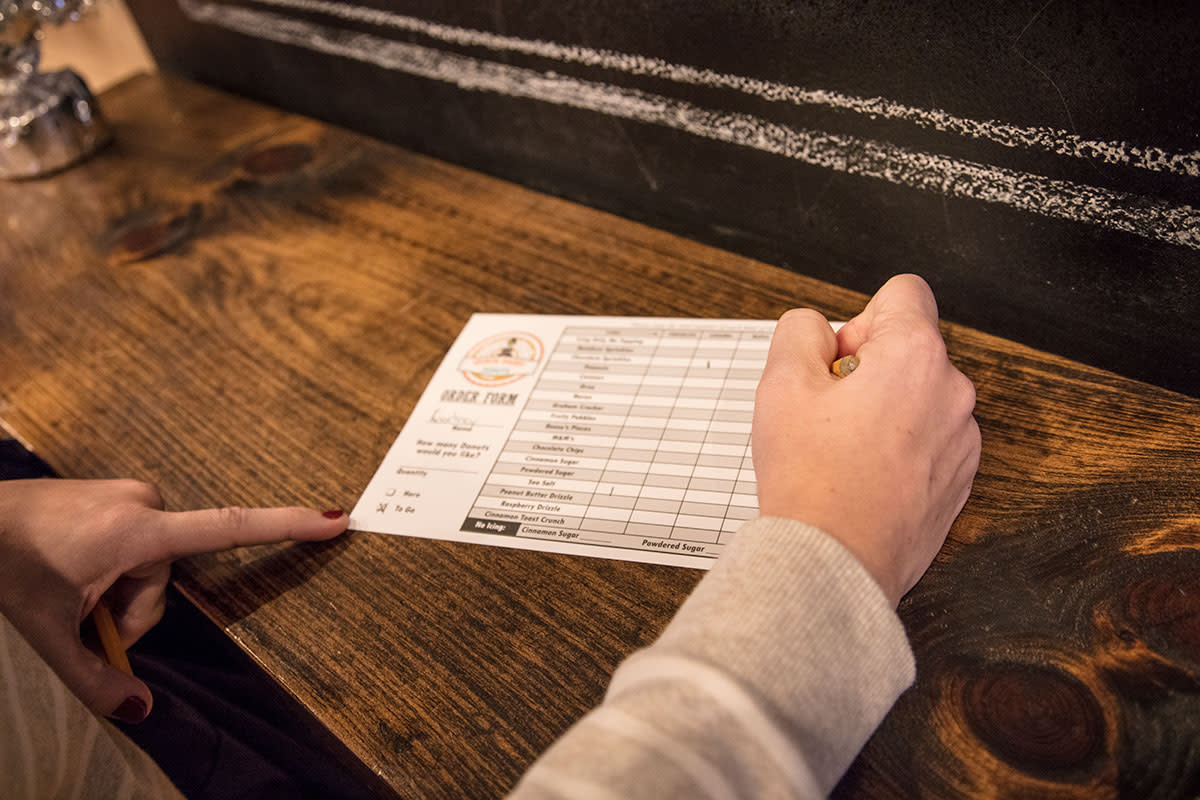 Customized grid for ordering.
When entering the Quack Daddy Donuts, patrons take a card with a grid - across the top, customers choose an icing: chocolate, carmel, maple, vanilla, glaze, or strawberry.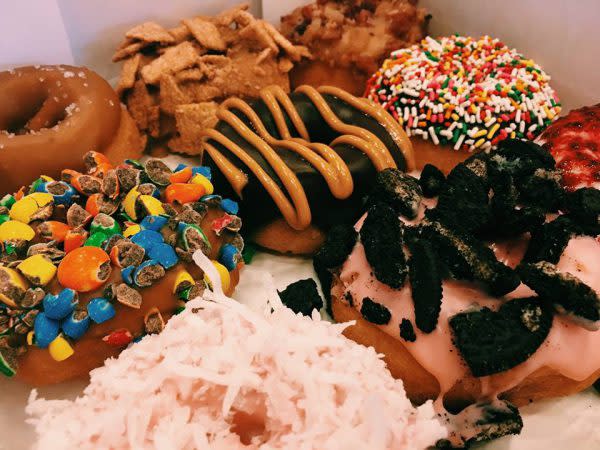 Down the side, choose one of fifteen different toppings: sprinkles, peanuts, coconut, oreo, bacon, graham cracker, fruity pebbles, Reese's Pieces, M&M's, chocolate chips, cinnamon sugar, powdered sugar, sea salt, peanut butter drizzle, or raspberry drizzle. From there, customers mark the quantity and pass their card to the donut makers, who then assemble their custom donut, or more often than not, donuts.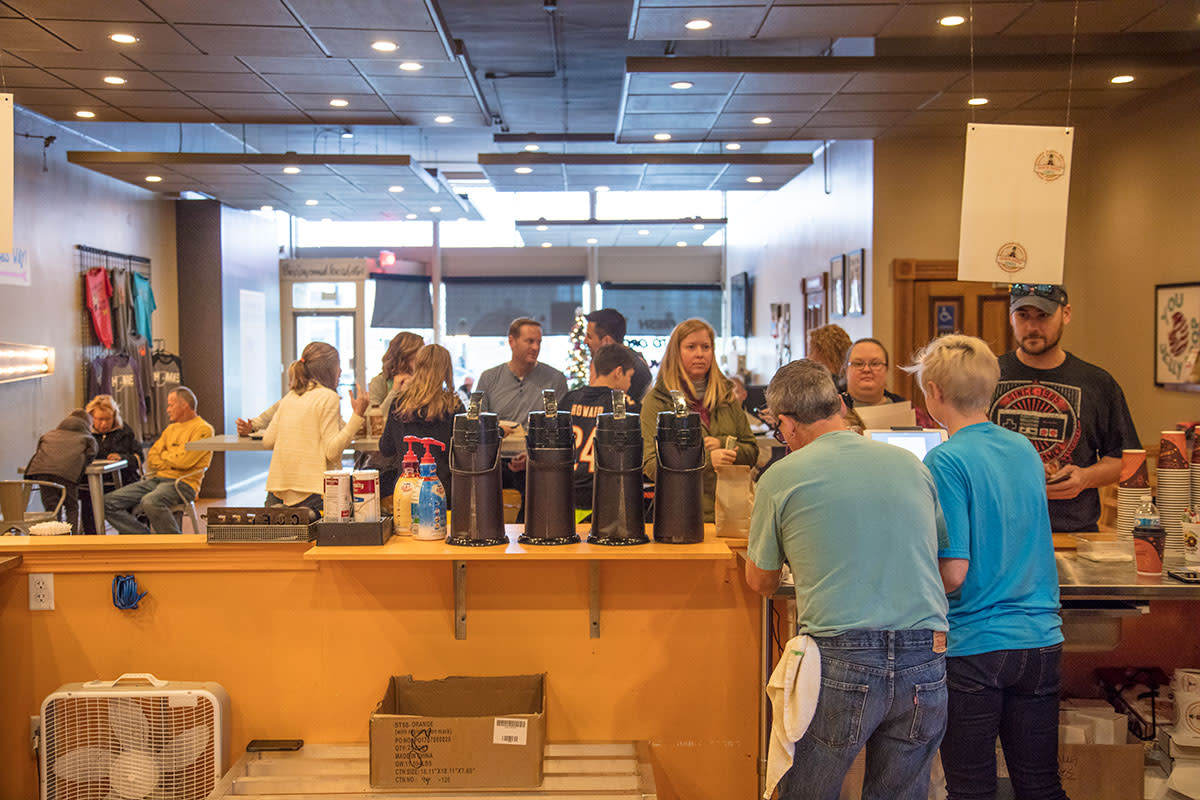 Coffee, milk, and chocolate milk in a frosted mug!
Quack Daddy Donuts also serves coffee, milk, chocolate milk (bonus: in a frosted mug), orange juice, and water - making a visit really worth it for breakfast.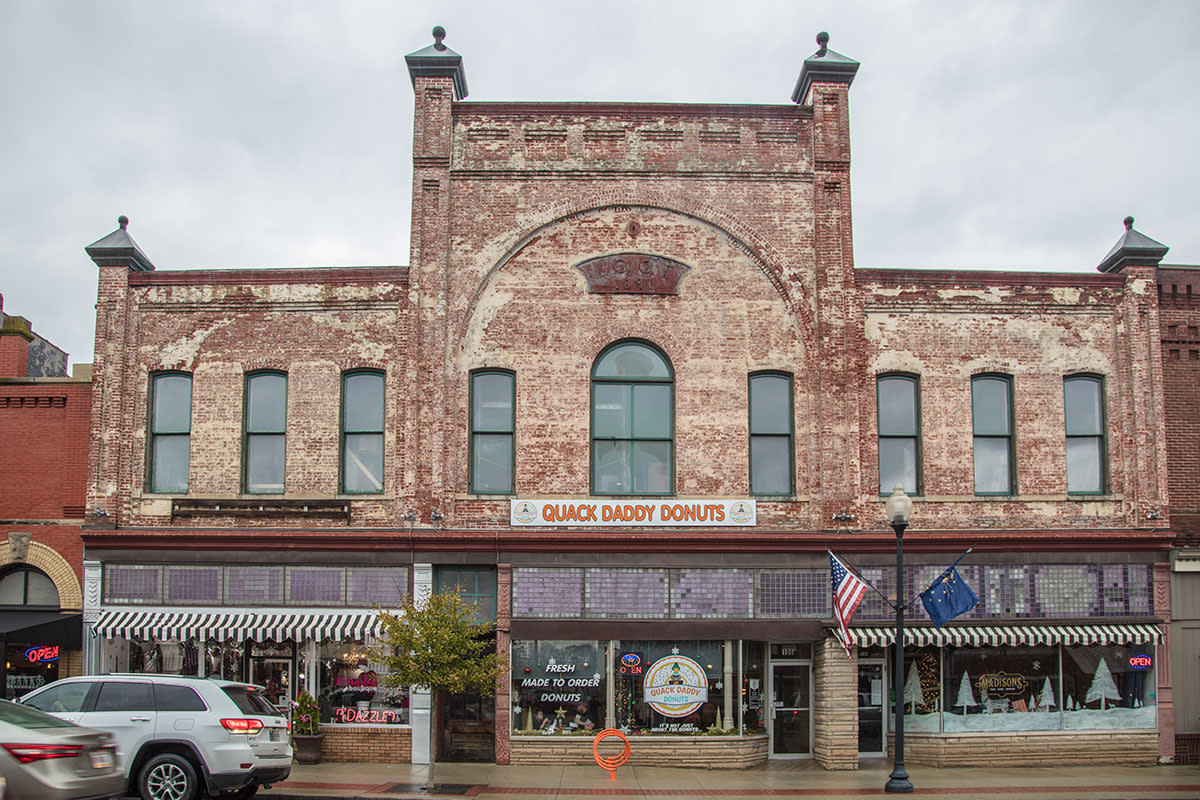 Quack Daddy Donuts in Downtown Pendleton
Quack Daddy Donuts opened in the old 1890 International Order of Oddfellows Building in downtown Pendleton. Pendleton's downtown has experienced a bit of a revival in recent years. With most of its historic structures still intact, new shops, restaurants, bars, and other businesses have inhabited - and restored - the old buildings along State Street (Highway 38). Pendleton is easily accessible from Anderson, Indianapolis, Muncie, Noblesville, and New Castle.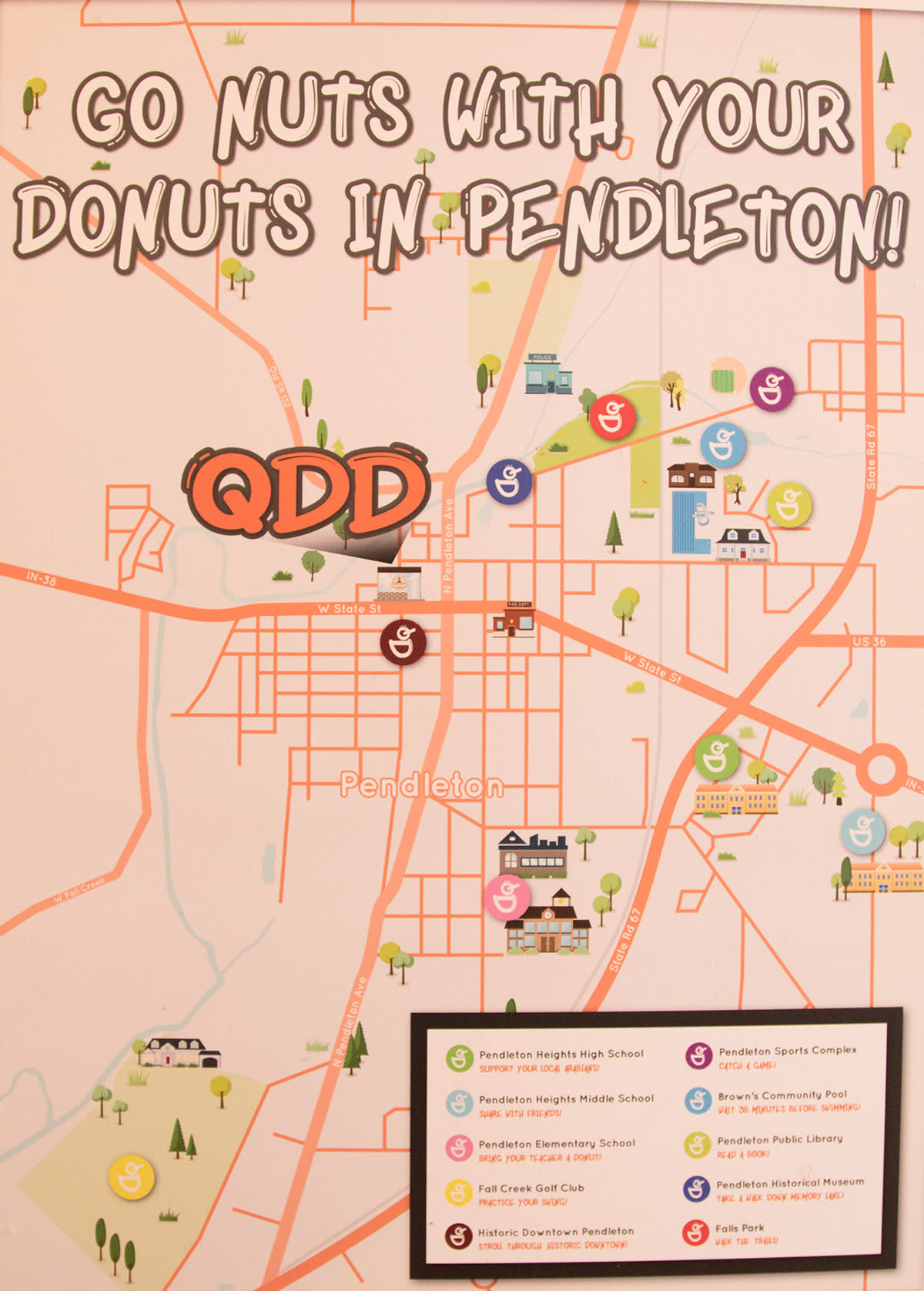 A revived Pendleton
After chatting with Dave Ellison, Quack Daddy Donuts' manager, he emphasized that the shop was "not just about the donuts," but more about bringing something positive and fun into downtown Pendleton, for people of all ages.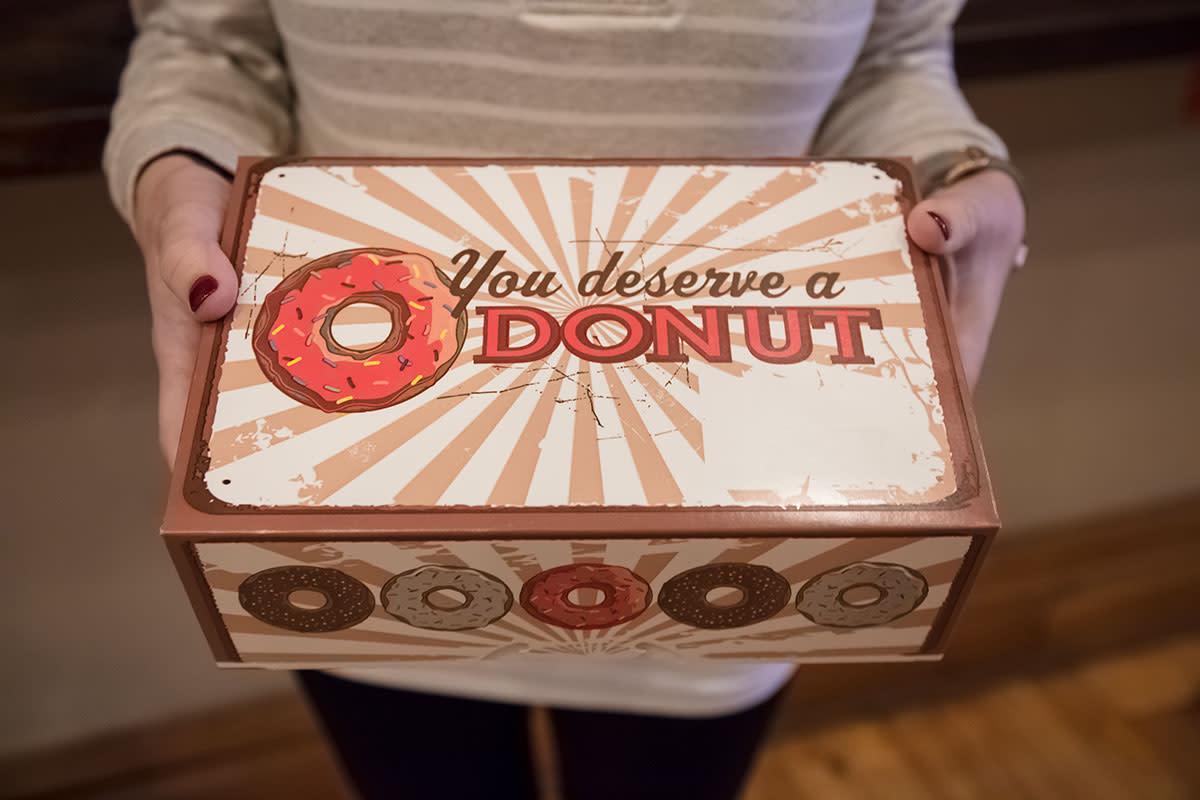 Yes, yes you do!
As far the, how shall we say, unique name - the Quack Daddy in Quack Daddy Donuts is an homage to the numerous ducks that inhabit the famous Falls Park nearby. Cleaned up and opened to the public in 1920, Falls Park has offered swimming, sports, golf, and other recreational amenities to visitors for over 100 years.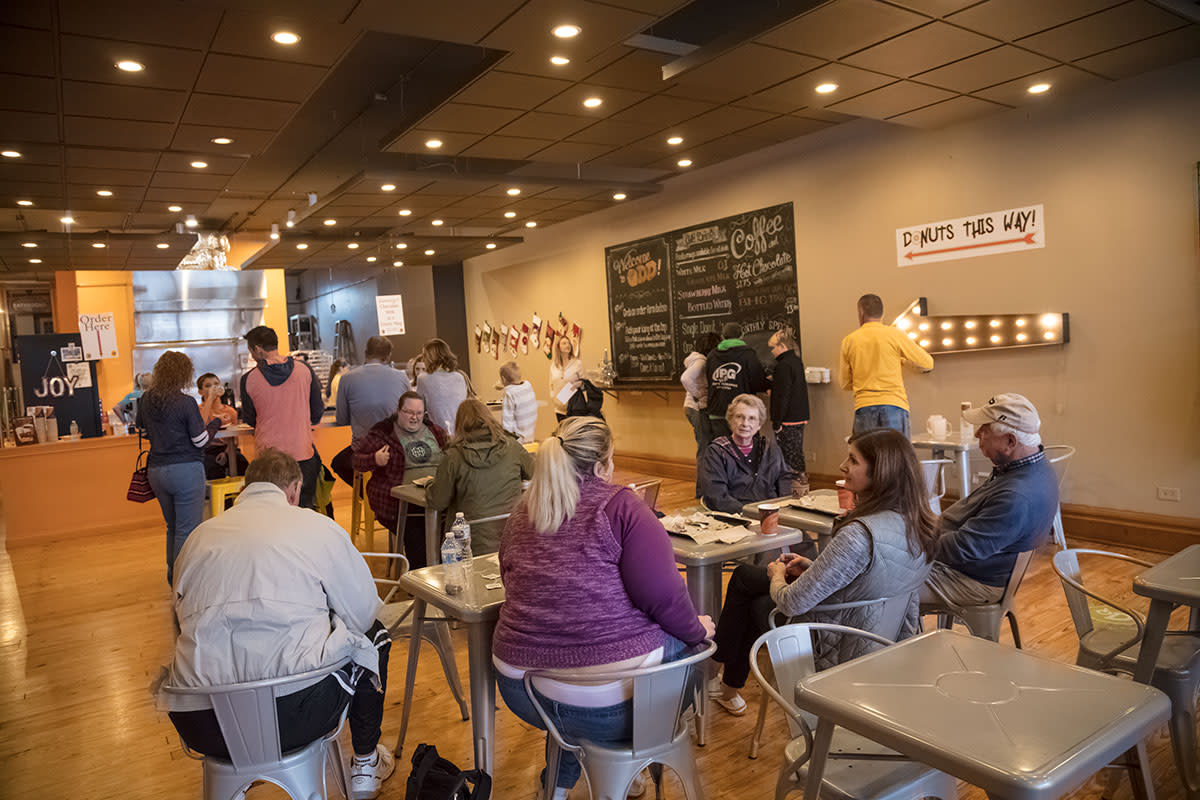 Saturday...the busiest day of the week at Quack Daddy Donuts.
Quack Daddy Donuts is open Mondays through Thursdays from 6:30 to 11:30 AM and on Fridays from 6:30 to 8:00 AM. On Saturdays, Quack Daddy Donuts' busiest day of the week, the shop is open all day from 8:00 AM to 8:00 PM. Advanced orders can be placed by phone at: 765.221.9174.
Address: 106 West State Street, Pendleton, Indiana