School districts in Indiana have closed, meaning that many families are spending a lot of time at home. Luckily, some Indiana attractions offer educational and entertaining virtual vacations that you can experience in the comfort of your own home. From tours of art museums full of amazing sculptures and paintings to a big city tour that follows an abundance of local attractions, these virtual vacations will entertain for hours. Keep reading for the full list below.
For information about Indiana Governor Eric Holcomb's roadmap to safely reopen Indiana, click here.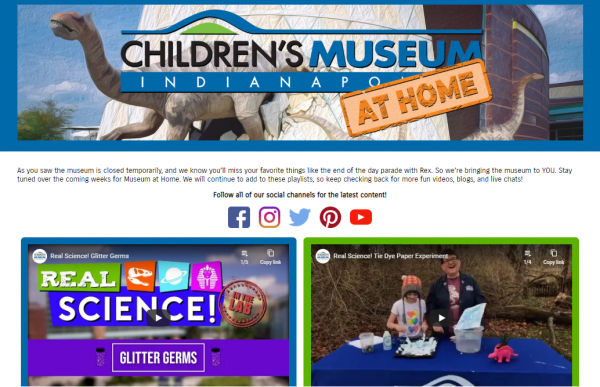 The Children's Museum of Indianapolis, named the best of its kind in the United States, has gone digital with the "Museum at Home" experience. The "Museum at Home" page will feature all kinds of fun videos, blogs, and live chats. Educators and experts will bring engaging live content, like their tie-dye paper experiment! The Children's Museum of Indianapolis will also have storytime for the smaller kids, which includes a story read by Andrew Luck! New videos will continue to be added over the next few weeks, so keeping checking this link for new content.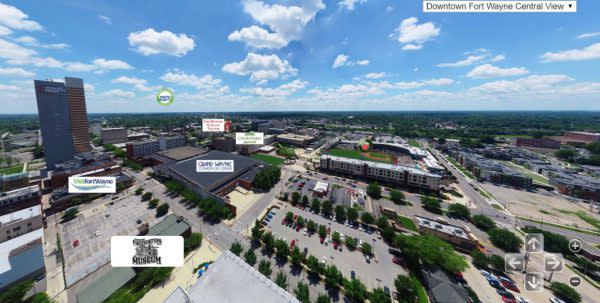 Fort Wayne was named as one of the top 5 cities in the United States to visit with kids. While you're stuck inside, why not visit Fort Wayne's streets, activities, and attractions on this 360 virtual tour? Step right inside Parkview Field, gaze for candy at DeBrand Fine Chocolates, and surround yourself with nature in the Foellinger-Freimann Botanical Conservatory. You'll forget all about cabin fever as you move through this sprawling urban city.  Click here to tour Fort Wayne.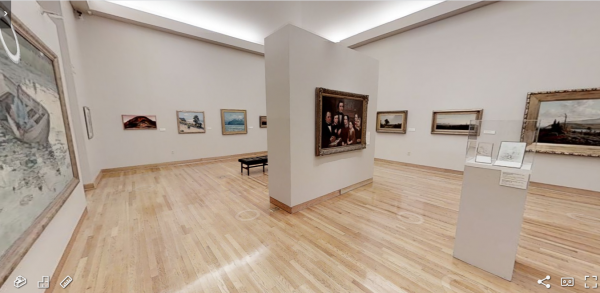 The Brauer Museum of Art, located on the campus of Valparaiso, offers an educational and culturally riveting online experience for kids and adults alike. The wholly immersive VR tour takes you through a variety of nationally recognized collections of 19th, 20th, and 21st century American Art. This art museum happens to be the home of the most extensive known collection of works by Junius R. Sloan. Click here to take the virtual tour.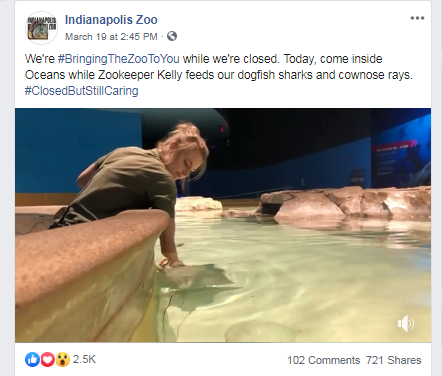 The Indianapolis Zoo is #BringingTheZooToYou with an insider's glance at its animals & staff. Their behind the scenes videos give a glimpse into a never before seen side of the wildlife at Indianapolis Zoo. So far, videos include brown bears playing together, an introduction to two new gazelle calves, and Kazi the warthog getting some relaxing backscratches! Follow their Facebook page for a new video added each day.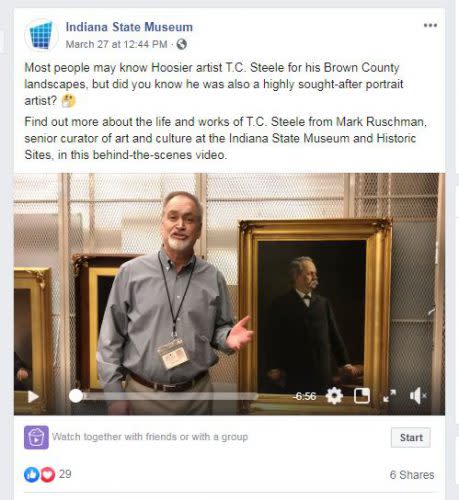 The Indiana State Museum and Historic Sites are theming each day of the week with fun social media content! From educational activities on Tuesday to demos on Thursdays, you won't wont to miss a single moment. Since date nights are currently on pause, "Adults Night In" on Saturday's at 7:30pm will feature more adult oriented content. The Facebook page of each historic site will also be sharing behind-the-scenes tours and fun facts! Click here for the experience.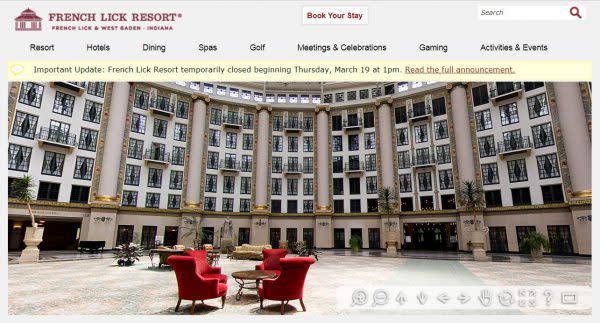 Located at French Lick Resort and named one of the best historic resorts in America, West Baden Springs Hotel was once known as the "Eighth Wonder of the World". The six story free-span dome is breathtaking, regardless of whether you experience it in person or online. You can virtually tour West Baden Spring Hotel's incredible atrium, lobby, library, and pool. Click here to take the tour of this world class facility!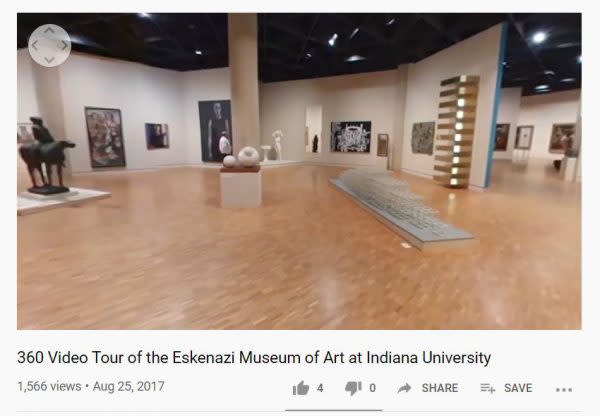 A trip through time and around the world is part of the experience at Eskenazi Museum of Art. Luckily, you can now do it at the click of a button with the museum's 360 YouTube video tour. You can walk through all three floors of this stunning art museum located on the campus of Indiana University. Paintings by Monet, Picasso, Pollock, and more can be found. The museum has since been renovated, but the fantastic artworks can still entrance you. Interact with the video by clicking on the video and moving the camera with your mouse. Click here to take a video tour of the Eskenazi Museum of Art.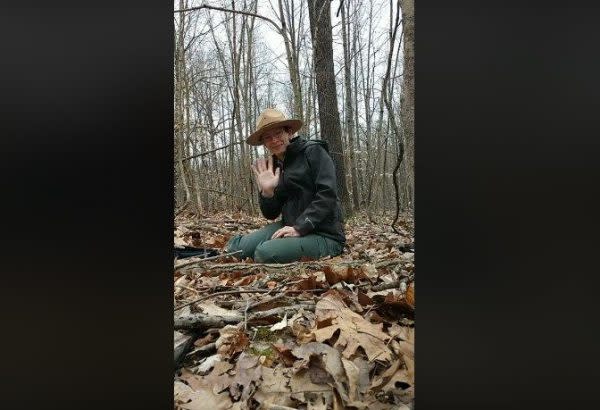 Monroe Lake is home to an incredible natural environment and a diverse set of animals. The park's interpretive naturalist, Jill Vance, is broadcasting several live Facebook programs to educate viewers about particular points of interest in the park. You can even get up close with snakes! The archive of videos can be found in each program's Facebook event or under the videos tab on the Facebook page, including Salamander Search and  Slithering Snakes. Check out two of their upcoming events, Geodes and Salt Creek Wildflowers. Follow Monroe Lake's Facebook page to stay up to date on the information.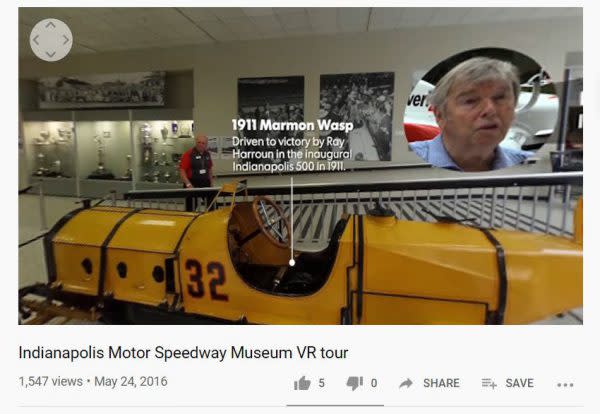 Venture into sports history at this Indianapolis Motors Speedway Museum VR Tour guided by racing historian Donald Davidson. He details some incredible memorabilia, including the 1911 Marmon Wasp that Ray Harroun drove to victory at the first-ever Indianapolis 500. Mr. Davidson also illuminates the Borg-Warner Trophy, a 110-pound trophy presented in the winner's circle since 1936 that contains sculpted bas-relief likeness of every winning driver. Take the VR Tour here.
There are many options to take a virtual vacation of Holiday World & Splashin' Safari from the comfort of your couch! First, you can experience 360° POV interactive rides on many of their coasters, including The Voyage, The Raven, The Legend, Thunderbird, Wildebeest, and the NEW for 2020 Cheetah Chase! Holiday World & Splashin' Safari will also be posting videos on their Facebook page regularly to help keep Holidog's friends active and moving! Holidog will be leading workouts to get those wiggles out. Follow their Facebook page to keep up with the videos.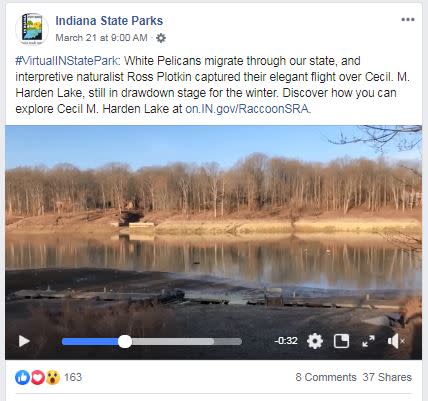 From Indiana Dunes to Turkey Run, Indiana's State Parks are an incredible dive into the beauty of nature. Since most are stuck at home on their couches, the state parks still want us all to be able to experience the outdoors. Multiple #VirtualINStatePark videos will be posted on their Facebook page each day. There aren't many times you can see Pelicans migrate, and waterfalls flow inside of your own house! Click here to watch all of the enveloping videos.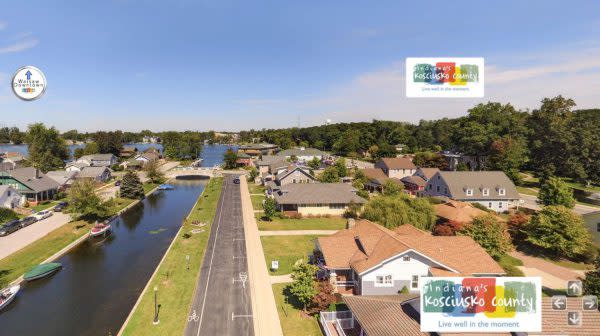 Kosciusko County, affectionately nicknamed K-County, is full of outdoor recreation, lake life, attractions, dining, shopping and more. This aerial tour of the county lets you experience all of that while learning more about what Kosciusko County has to offer! You can explore Warsaw's downtown district, see the one of a kind Village at Winona, and get a feel for their abundance of lakes. Take the virtual tour here.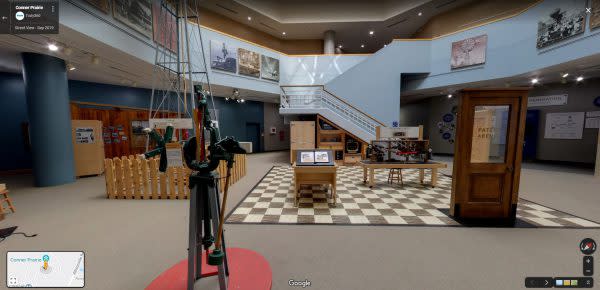 Conner Prairie has two ways that you can experience history online! First, they will be releasing videos and other posts on their Facebook page with the hashtag #CPAtHome. You will be able to learn about Indiana history, meet their animals, engage with their experienced interpreters about life in the 1800s, and so much more! Experience #CPAtHome here.
Second, Conner Prairie offers a 360 virtual tour of their main building that houses the Makesmith Workshop, Create.Connect and Discovery Station. All three exhibits are full of so much fun that spills out on the screen.  Take the virtual tour here.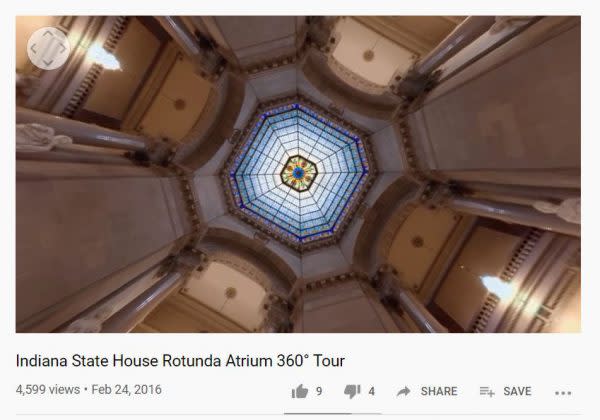 The current Indiana statehouse was built in 1888 and has been the seat of the government since. Influenced by the national capitol's style, it holds a plethora of architectural feats. Travel through the beauty of its design with the Rotunda Atrium 360 virtual tour and Indiana Supreme Court 360 virtual tour. Both of these videos are perfect for an educational lesson about Indiana's state government. Click here for more information.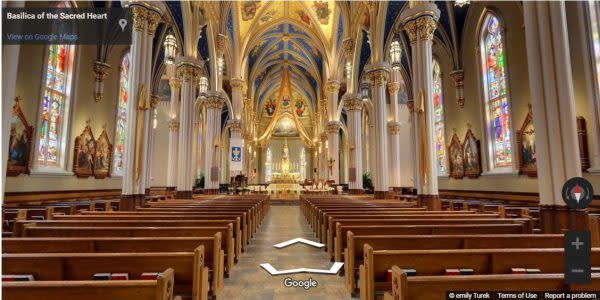 The Basilica of the Sacred Heart serves as the mother church of the Congregation of Holy Cross in the United States. The church resides on Notre Dame's historic campus. An exploration through The Basilica of the Sacred Heart can reveal important artifacts and deep meaning. Take a virtual tour of the church here.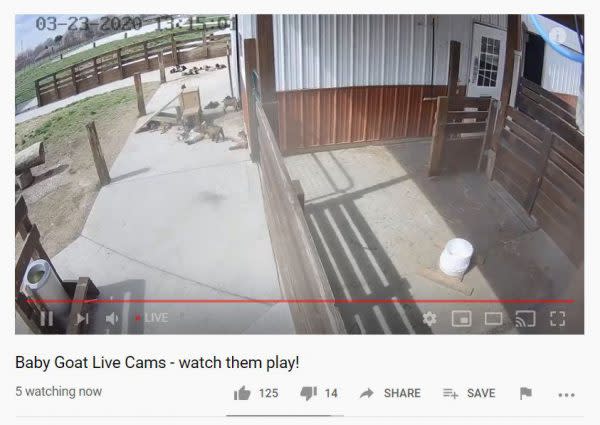 Watch baby goats play on Goat Milk Stuff's live stream! As a family farm in Scottsburg, they raise goats and use their milk to make all kinds of products.  Experiences at Goat Milk Stuff include baby goat encounters that allow guests to cuddle with the adorable little animals. The live stream can be found here.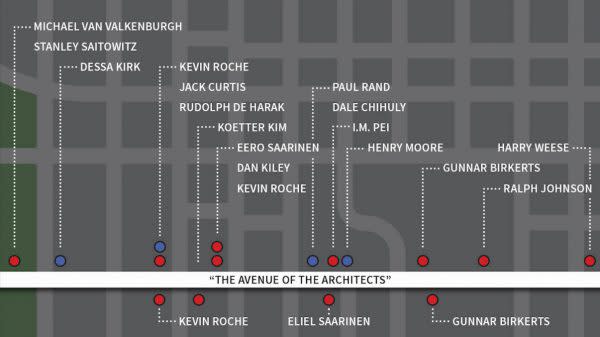 Voted #6 in the Nation for Architectural Innovation and Design, Columbus is a cultural hub that will wow visitors of all ages. The incredible architecture is especially on display on 5th Street, which is known as one of the most architecturally significant streets in the United States. This virtual tour guides the viewer through each design on the "The Avenue of Architects." World-renowned designers, including Koetter Kim, Michael Van Valkenburgh, and Dessa Kirk, are all a part of the history of 5th Street. Take the virtual tour of 5th Street in Columbus here.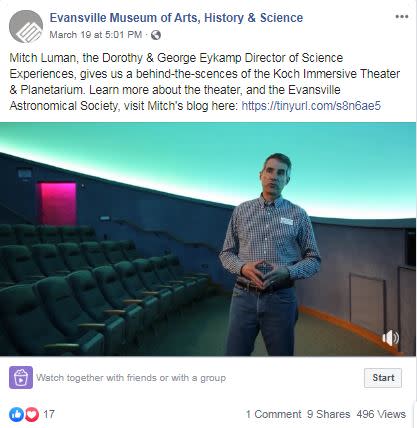 Through April 15, the Evansville Museum of Arts, History & Science will entertain virtually on Facebook. The Director of Science Experiences has already given a behind the scenes pass to the Koch Immersive Theatre & Planetarium.  Experiments, an art show, and more will get rid of that cabin fever! Check out their Facebook Page here to see all of their fun and educational content.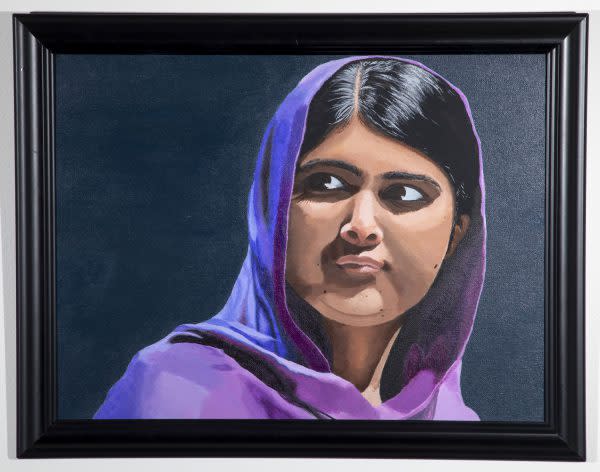 The 41st Annual New Artist Show at the Art Museum of Greater Lafayette has been canceled, but you can still see all the displays online here. The New Artist Show, hosted by the Art League, highlights incredible artists from eleven high schools in the area. Professional artists selected which works would be on display. All photos in the online gallery are available as free downloads.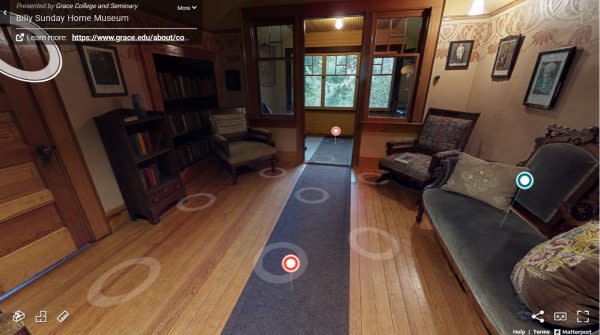 During the early twentieth century, Billy Sunday was among the most well known personalities in the United States. The energetic evangelist moved his headquarters to Winona in 1911. That home remains untouched as a testament to the Sundays' ministry. This 360 tour gives users a chance to view the second floor of Billy Sunday's home in Winona. Pop up circles give information about specific artifacts along with audio interpretations. Click here to take the tour.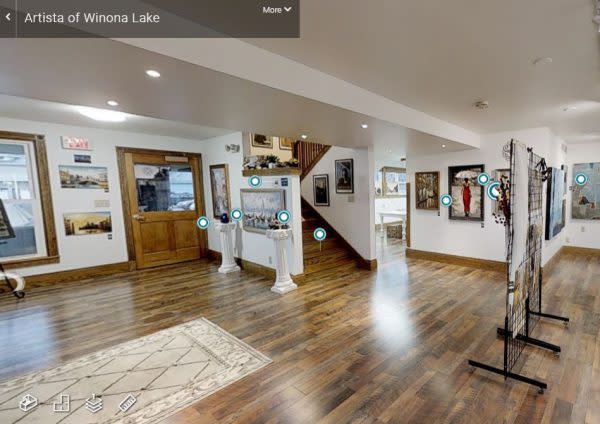 The Artista Art Gallery, located at the Village at Winona, features an exhibition of original Venetian art. The variety of art selections feature hand-craft Venetian masks, oil-on-canvas paintings, photographs of iconic cityscapes, and more. The 3D tour of the Artista Art Gallery is a true virtual vacation, as it lets you step into the charm and culture of Italy without leaving your couch. Click here to take the tour.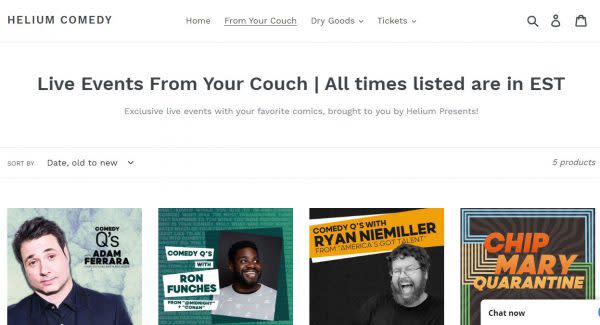 Stress and anxiety have increased during the COVID-19 outbreak, so why not get a few laughs at Helium Comedy Club's online shows? Hilarious comedians including Adam Ferrara, Ron Funches, and Ryan Niemiller will be sharing the smiles. All shows are $7 and are available through Zoom. Click here for more information.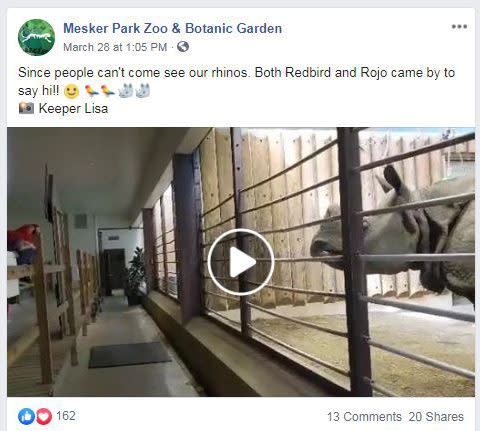 The Mesker Park Zoo & Botanic Garden wants you to "hang" with them while you're at home! They will be featuring live videos along with other content that gives an inside look to the animals, people, and exhibits that make up the zoo.  Be sure to follow their Facebook page for scheduled live events. Click here for more information.