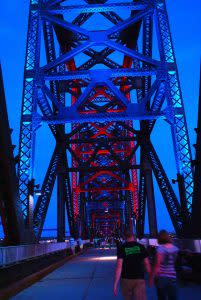 Big Four Bridge in Jeffersonville
Hop in your car and discover something new in the Hoosier State. Lieutenant Governor Suzanne Crouch and the Indiana Office of Tourism Development (IOTD) are kicking off the summer travel season with Visit Indiana Week May 7-13, part of National Travel and Tourism Week. Find the week's itinerary below.
To start the week, May 7, you can take advantage of FREE admission at all Indiana State Parks, thanks to a partnership with the Indiana Department of Natural Resources (DNR).
"Visit Indiana Week is the perfect time to explore what our great state has to offer," said Lt. Governor Crouch. "Indiana State Parks offer a combined 7,700 campsites and more than 150 cabins, and nearly 700 miles of hiking, biking and horseback riding trails."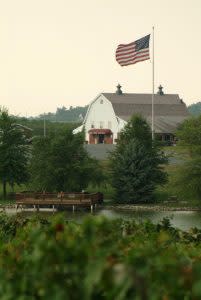 Huber's Orchard & Winery in Starlight
Visit Indiana is celebrating Visit Indiana Week by going on a road trip throughout the state with Midwest Living magazine.  Dubbed the Indiana Road Rally Presented by Midwest Living magazine, Hoosiers can join the trip on May 8, 2017 at the Big Four Bridge in Jeffersonville for a night walk set to lights and music.
"Starting the road rally in southern Indiana and following a route northward was a natural choice for us since the state and our nation's westward expansion had its beginnings there," said Mark Newman, IOTD's Executive Director. "We chose southern Indiana in part to highlight the significance of the Lewis and Clark expedition's Eastern Legacy.  Lewis and Clark met at what is today called Falls of the Ohio State Park, a key stop during the Road Rally. It's important that we honor and showcase this part of our history."
Some highlights on the itinerary include a hike along the scenic Ohio River terrain at Charlestown State Park, a subterranean boat tour through Indiana Caverns, tastings at Huber's Orchard, Winery and Vineyards, archery lessons from an Indiana Olympian at Koteewi Range in Noblesville, a balloon ride at Conner Prairie and a night at the ballpark with the Fort Wayne TinCaps. The tour will also make multiple stops at local restaurants and cultural venues across the state. See the full itinerary below.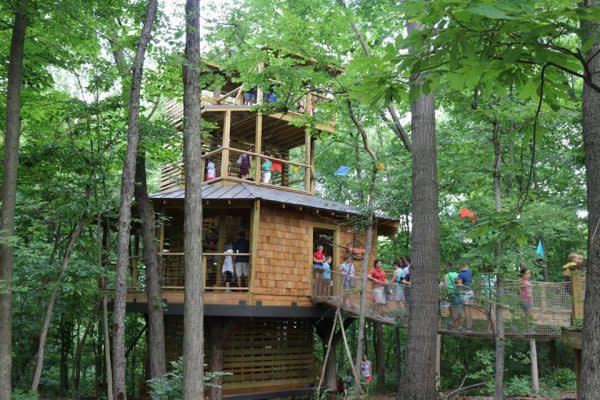 Conner Prairie in Fishers
Road Rally caravan stops include:
Jeffersonville
Starlight
Corydon
New Albany
Brown County
Noblesville
Carmel
Fishers
Fort Wayne
You can find a full schedule of the Indiana Road Rally Presented by Midwest Living magazine here. You can also follow the Road Rally on Visit Indiana's digital pages: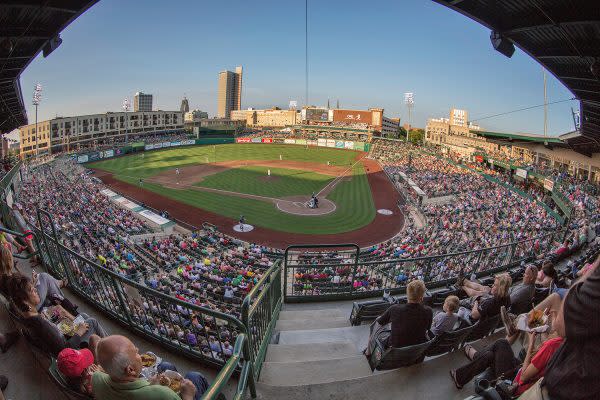 Fort Wayne Tin Caps at Parkview Field in Fort Wayne
"Road trips have always been at the heart of Midwest Living's DNA," says Editorial Content Director Trevor Meers. "Partnering with a state tourism office to find the best stories in the area is a natural fit. Our team can't wait to kick off our week-long journey through Indiana and discover the people and places we love telling readers about."
Highlights from the trip will be featured in the July/August 2017 issue of Midwest Living magazine.
The Visit Indiana Week Road Rally kicks off on May 8, 2017.
2017 Visit Indiana Week Road Rally Itinerary
May 7th - Sunday All day - Free admission to Indiana State Parks
May 8th- Monday 2:30 pm Charlestown State Park - Rose Island Hike 8:30 pm Night walk over Big Four Bridge
May 9th- Tuesday (Clark & Floyd County) 9:00 am Falls of the Ohio State Park 10:30 am Huber's Orchard and Winery 2:15 pm Indiana Caverns 4:00 pm Downtown New Albany tour
May 10th – Wednesday (Hamilton County) 10:30 am Koteewi Archery 1:30 pm Downtown Noblesville tour 3:30 pm Downtown Carmel tour 8:45 pm Downtown Fishers tour
May 11th- Thursday (Fort Wayne) 10:00 am Kreager Park Boundless Playground 12:45 pm Segway tour through Headwaters Park 3:00 pm Paddle board to the Three Rivers 6:30 pm Tin Caps game