Let me tell you from the start - I'm a longtime Holiday World employee who has blogged about the park for nearly a decade.
But even Holiday World employees get to take a vacation. Once in a while.
And so when I asked Jake at State Tourism (whom I nearly always almost call Jake at State Farm) if he'd like an occasional guest blog post, he seemed astounded that I offered to blog about other Indiana treasures.
Last weekend, my husband and I spent a lovely few days on the banks of the Wabash in a little town called New Harmony.
The town's history is fascinating, and the dateline of its founding matches that of the State of Indiana and the arrival of young Abraham Lincoln and his family.
I have to tell you, though, what caught my eye from the start was the lush canopy the trees formed over nearly every inch of the town's streets. Imagine the colors that will blaze in just a few more weeks!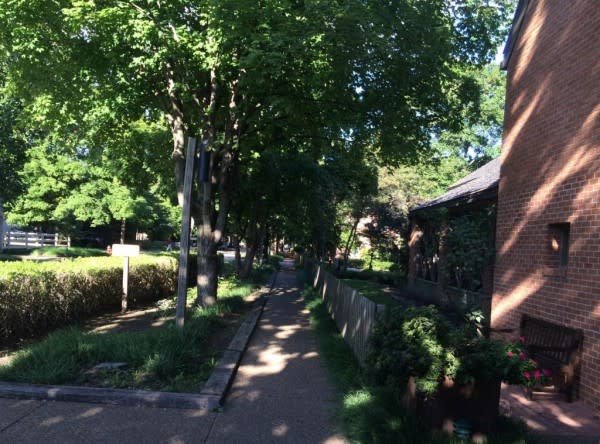 A canopy of trees over New Harmony
Wandering through the town's historic district, we took time for quiet reflection. Having missed the last tour of the day, we instead picked up a book to catch us up on details of the two attempts at an Utopian lifestyle that took place here in the early 1800s.
Later, Gary and I couldn't help but chuckle at the various forms of transportation that were used along the quiet streets.
I say "quiet" because, indeed, most of the vehicles in town are not motorized. (Unless you consider the occasional squeak of a bicycle or hum of a golf car to be sounds of rural traffic congestion.)
We never got to see one of these in action, but there's nothing like a surrey - yes, with fringe on top.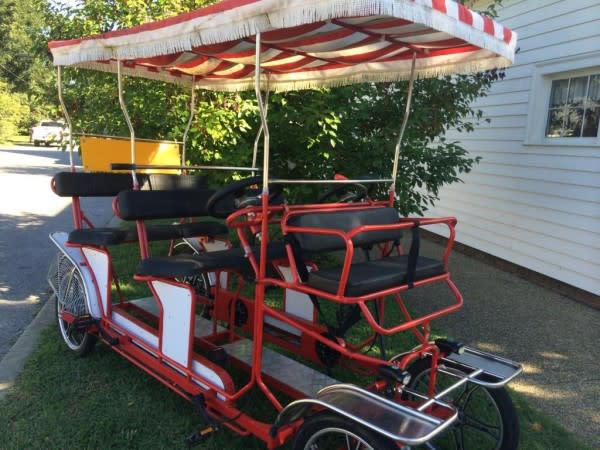 Yes, this surrey has fringe on top!
Note that there's even room for a kiddo or two in the very front.
We overnighted in the New Harmony Inn. Our room included period-style furnishings and impressive local artwork, plus all the conveniences we could have asked for - from in-room coffee to an iron and ironing board (which I happily had no occasion to use).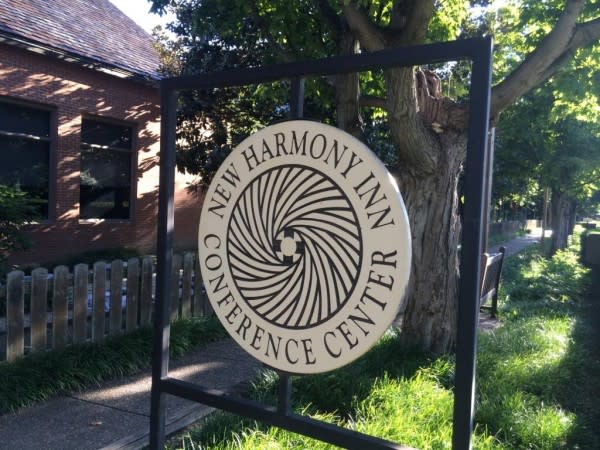 The New Harmony Inn
The continental breakfast in the morning included the usual cereals and pastries, plus oatmeal and make-your-own waffles. Breakfast also featured lovely views out the windows, if you could pull yourself away from gazing hypnotically into the crackling fireplace.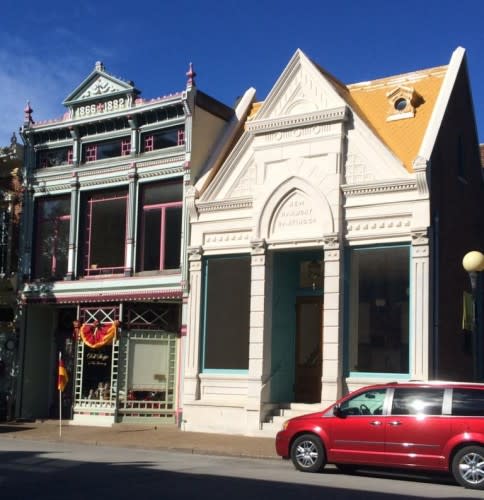 Shopping in New Harmony
New Harmony's downtown is an easy walk from the Inn. The late-1800s architecture provides a charm that is enhanced by a well-kept look. The shop owners and town's residents care about their homes and businesses and it shows. The tidy streets and gentle friendliness create an old-world feel. My husband was particularly impressed that the fellow driving a backhoe took the time to wave, when surely a head nod would have sufficed.
When evening arrived, it was time for our dinner at The Red Geranium.
Nestled among the towering trees and woodsy-hued buildings - and again, within easy walking distance from everywhere in town - The Red Geranium is well known for its fine food. It did not disappoint.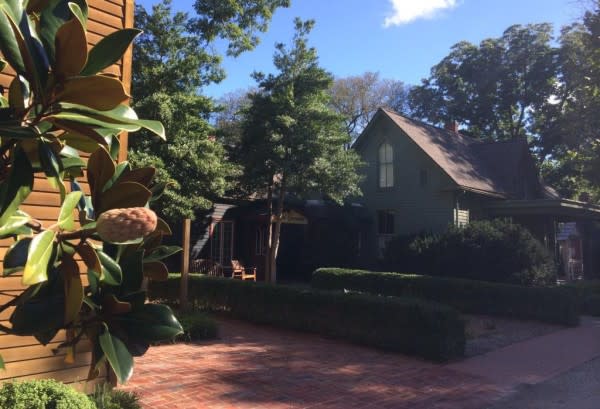 The Red Geranium
As the warm hostess showed us to our table, I remarked that this town that represents and preserves so many eras of rural American life, its art, architecture and history carried a common, almost musical theme - squeaky wooden floors.
She chuckled and told us that last winter they'd refinished the restaurant's wood floors to reduce their volume.
"It didn't take long, though," she admitted, "And they started squeaking again - just as loud as before."
There's something very authentic and even comforting about those squeaky floors - in the shops, the visitors center, the historic buildings and our dining room. We hope they are never silenced.