As part of a bicentennial project in 2016, 23 American bison were brought to Kankakee Sands preserve in Northwest Indiana. The wild bison herd was brought from South Dakota to help maintain the natural habitat. The herd has not only survived in the Hoosier State, but thrived, nearly doubling in numbers in 2017! To this day, the herd is thriving, with four new calves born in 2021 already!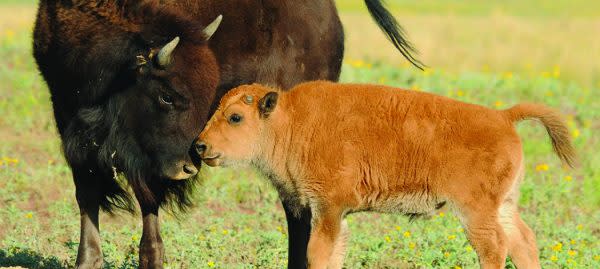 Photo Courtesy of South Shore CVA
The bison gave birth to 10 calves in 2017, and 10 additional bison were brought from South Dakota to join the herd, and new calves have steadily been born ever since. The herd roams free in a 1,060-acre pasture at Kankakee Sands, where hiking is prohibited for safety reasons but a viewing area and interpretive area are available to see America's National Mammal. The bison viewing area is open from 7 a.m. CT to dusk.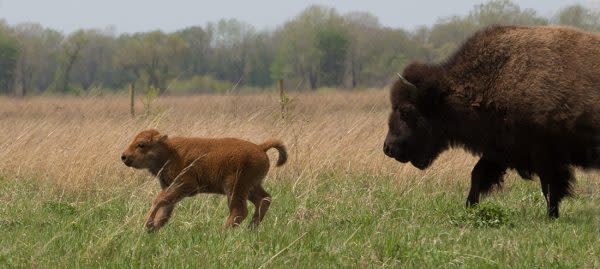 Photo Courtesy of South Shore CVA
The Nature Conservancy, which owns and manages thirteen bison herds in North America, manages the Indiana herd.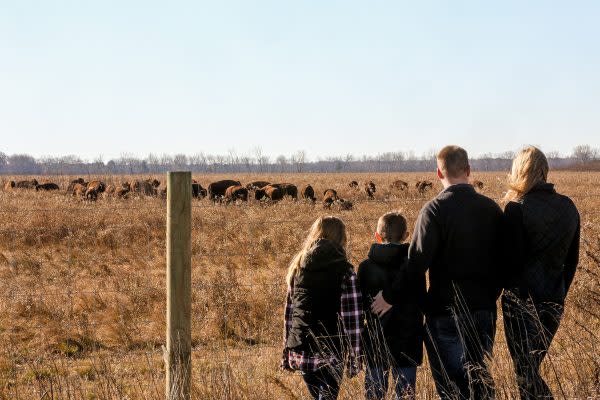 Photo Courtesy of South Shore CVA
At one time, the great herds of 50-60 million bison reached from the wilds of Canada to the warmth of Mexico. As bison were hunted, the population of bison dwindled to less than 1000 animals by the year 1889. In order to preserve the species and to make bison economically successful, many bison were bred with cows with the hope of making a cattle-bison cross that would be more resistant to disease, require less feed, and produce more calves. This cross-breeding failed; the resulting crosses did not exhibit the hybrid vigor that was hoped for.
The good news is that, using the current method for genetic testing, Wind Cave's bison herd has been found to be free from cattle gene introgression. It's an interesting and fortuitous story. In the early 1900's, the Bronx Zoo had taken some of the last remaining bison in the wild and brought them into captivity for the protection and preservation of the species. The American Bison Society was created in 1913 with the hope of establishing wild bison herds on large acres. With the help of the American Bison Society, bison were taken from the Bronx Zoo and moved to Wind Cave National Game Reserve, which would eventually become Wind Cave National Park. What luck that the bison which were originally taken to the zoo were cattle-gene free!
The Nature Conservancy's Kankakee Sands is an 8,300-acre prairie and savanna habitat in Northwest Indiana, open every day of the year for public enjoyment. For more infor mation about Kankakee Sands, visit www.nature.org/KankakeeSands.