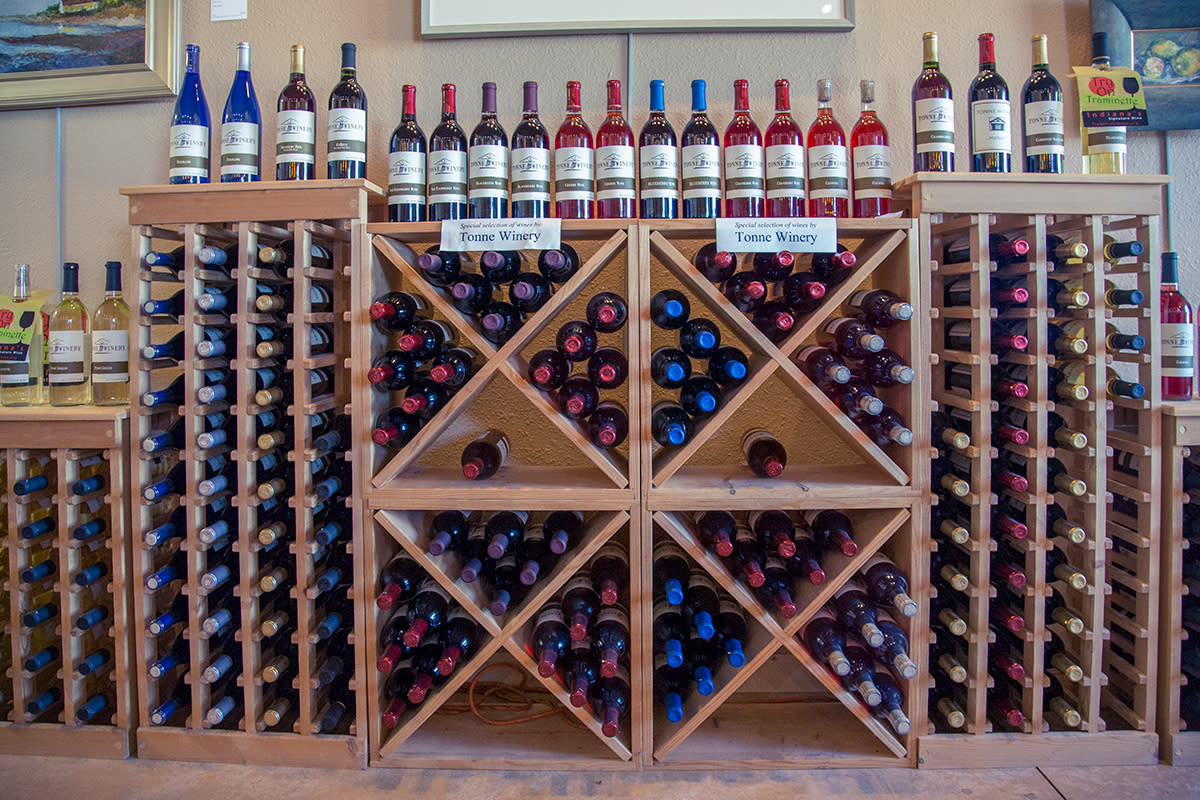 As Muncie experiences a craft beer revolution, just north in the village of Royerton, Tonne Winery is experiencing success of its own. Tonne (rhymes with sunny), has become east-central Indiana's go-to local winery in the past decade and is fast earning a regionally renowned reputation for good wine. Tonne Winery is also on the Heartland Wine and Ale Trail and the Wineries of Indiana's North East Tour.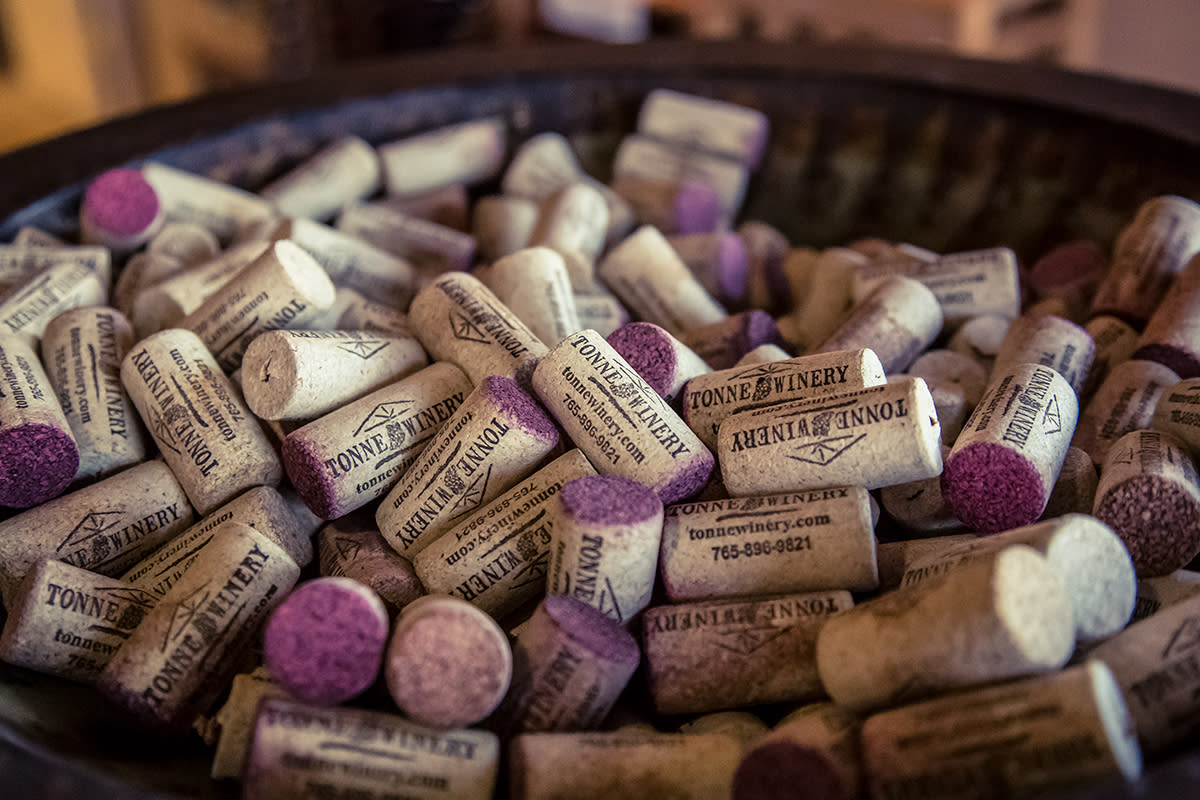 Tonne winery corks!
Partners Larry Simmons and Kevin Tonne started Delaware County's first and only winery in 2009, on Simmons' farm just north of Muncie. Simmons is a cousin of David and Brenda Simmons, who own Simmons Winery and 450 North Brewing Company in Columbus, Indiana. Winemaking, it seems, is in the Simmons and Tonne family blood.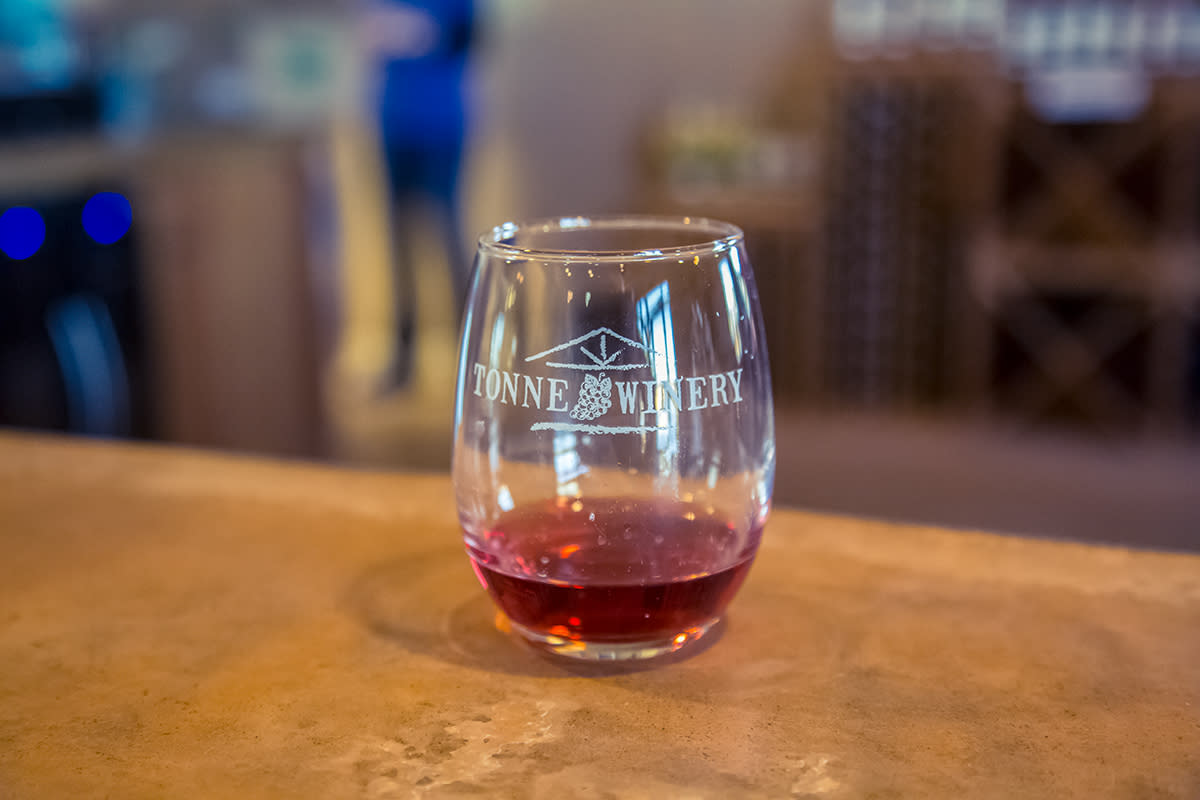 Tasting Room
After spending a year exploring wineries and researching the industries' best techniques, Simmons and his brother in law Kevin Tonne opened their 5,000 square foot facility in Royerton. Tonne Winery includes a processing room, cellar, tasting room, and a new event space.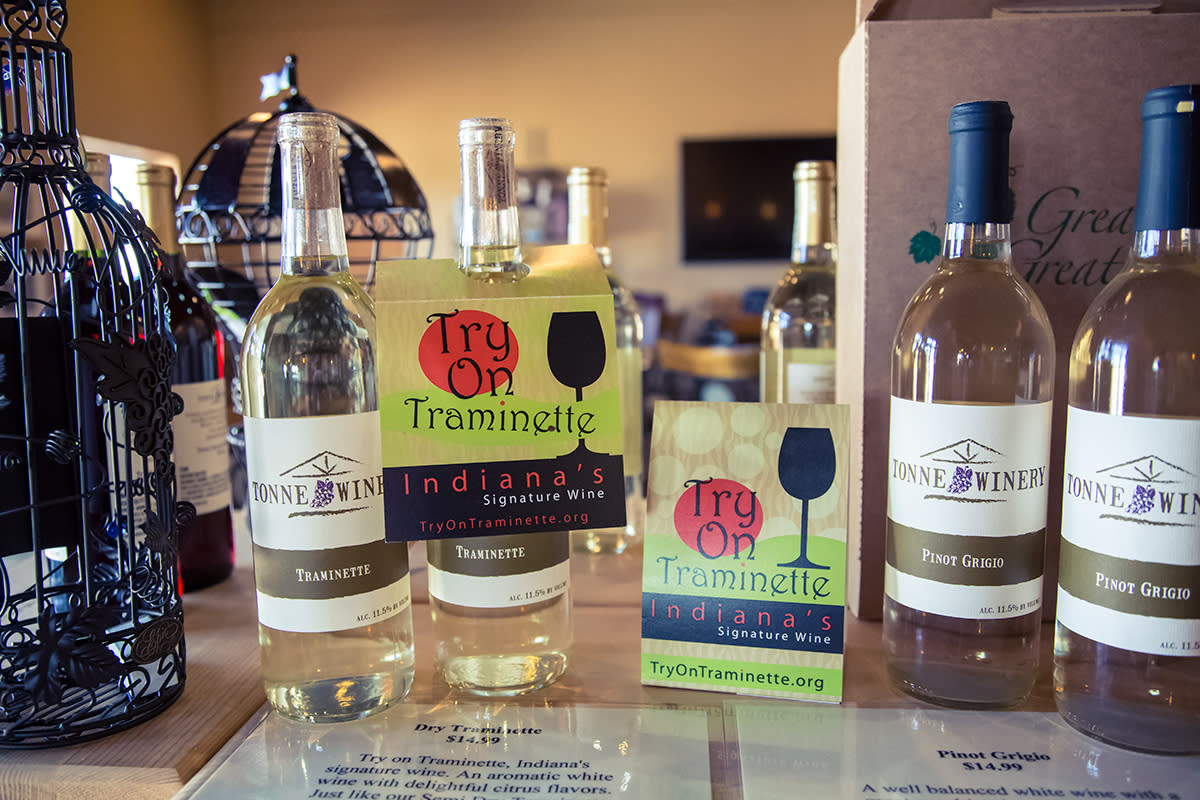 Traminete - Indiana's Wine
Tonne offers a variety of wines including sweet fruits and two Traminettes - a wine made from the Traminette grape, which was declared Indiana's signature wine by the Indiana Wine Grape Council. While Tonne sources grapes and juice from Michigan, the Pacific Northwest, and upstate New York, they also make a concerted effort to source grapes (particularly Traminette) from Indiana - making Tonne Winery a genuinely Hoosier endeavour.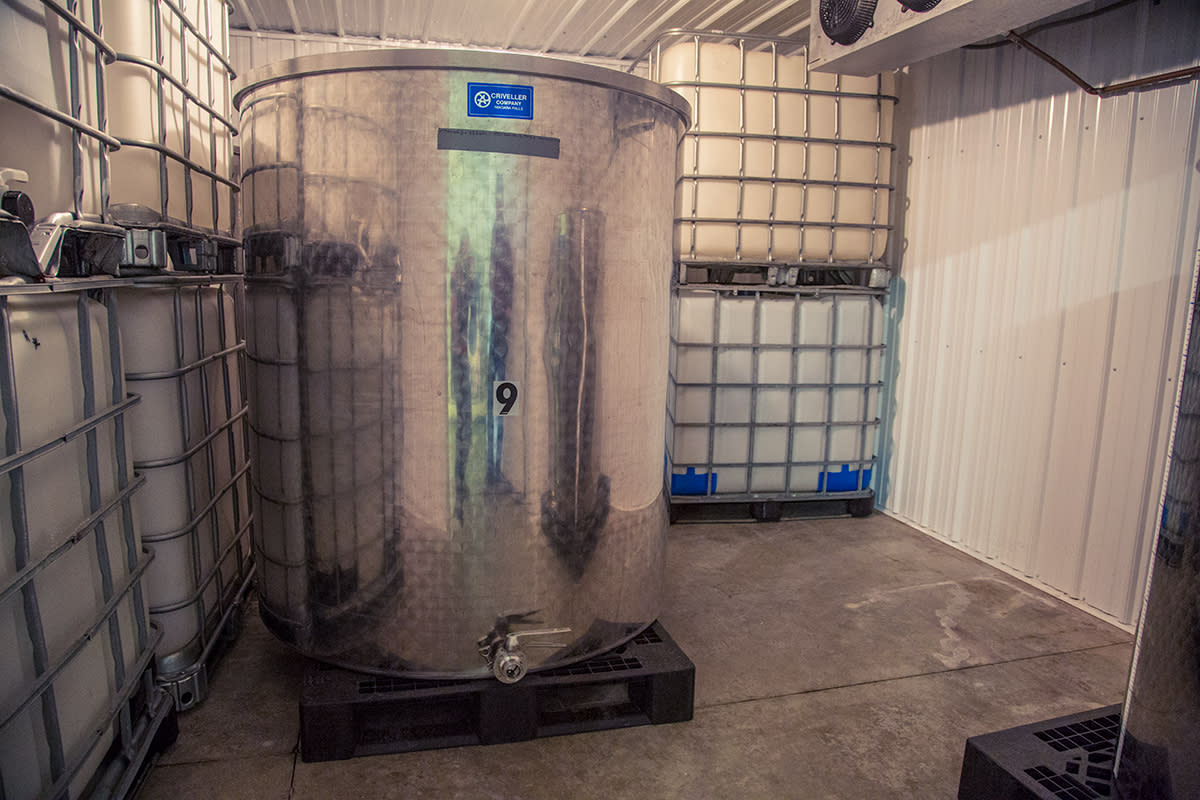 Cold stabilization keeps the wine clear.
All wine is prepared, fermented, cold stabilized, bottled, and stored on site. Each batch of wine takes anywhere from four months to 18 months to produce from grape to bottle.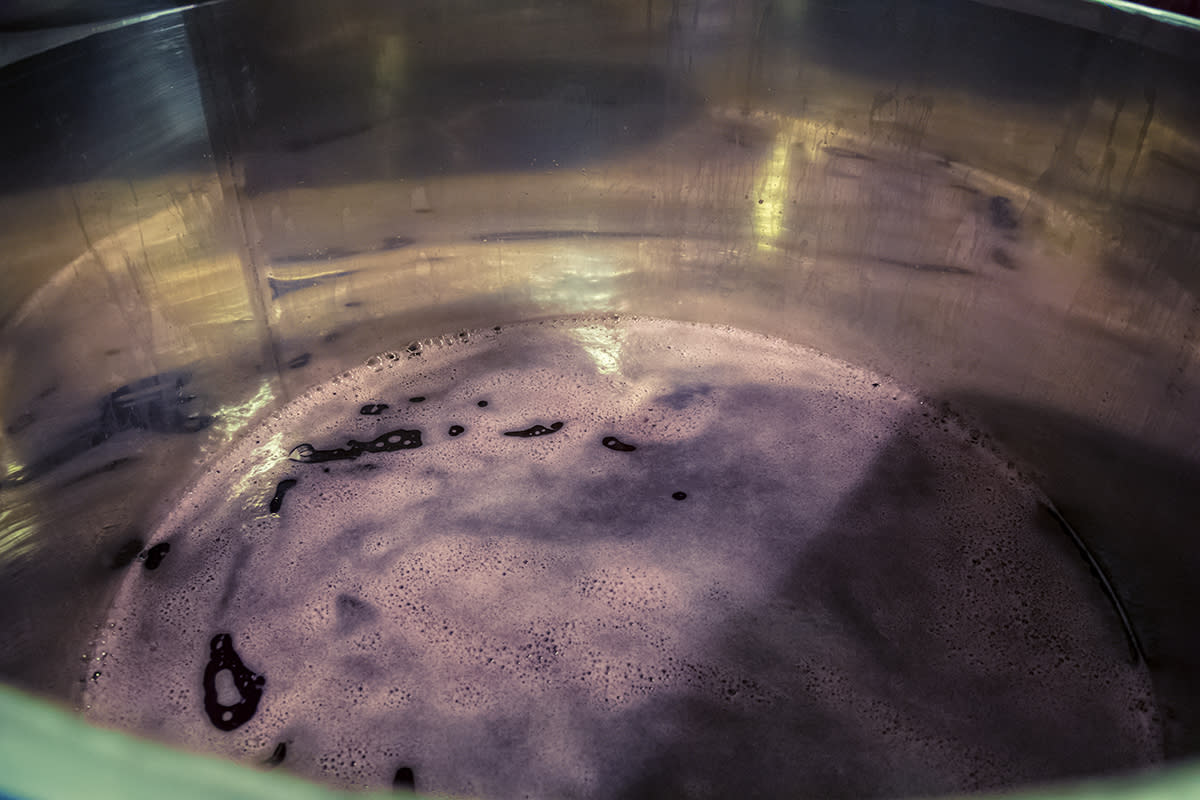 Cranberry wine in the fermentation process.
Simmons expressed that Tonne's Traminette, Royerton Red, and Chambourcin are their most popular wines.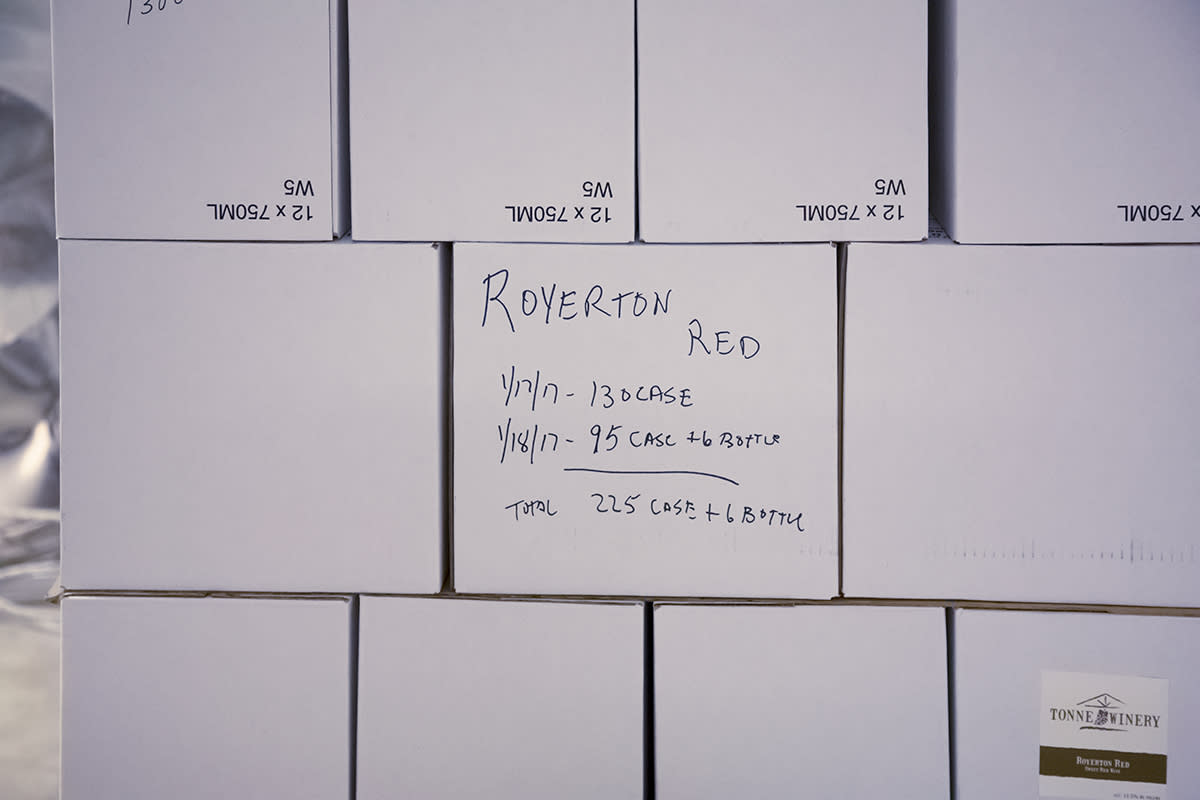 Royerton Red
The Royerton Red (sweet red), described as a "delightful light red wine bursts with the traditional Indiana grape flavors. It is a well-balanced wine with light fruity flavors and sweet enough to enjoy at anytime."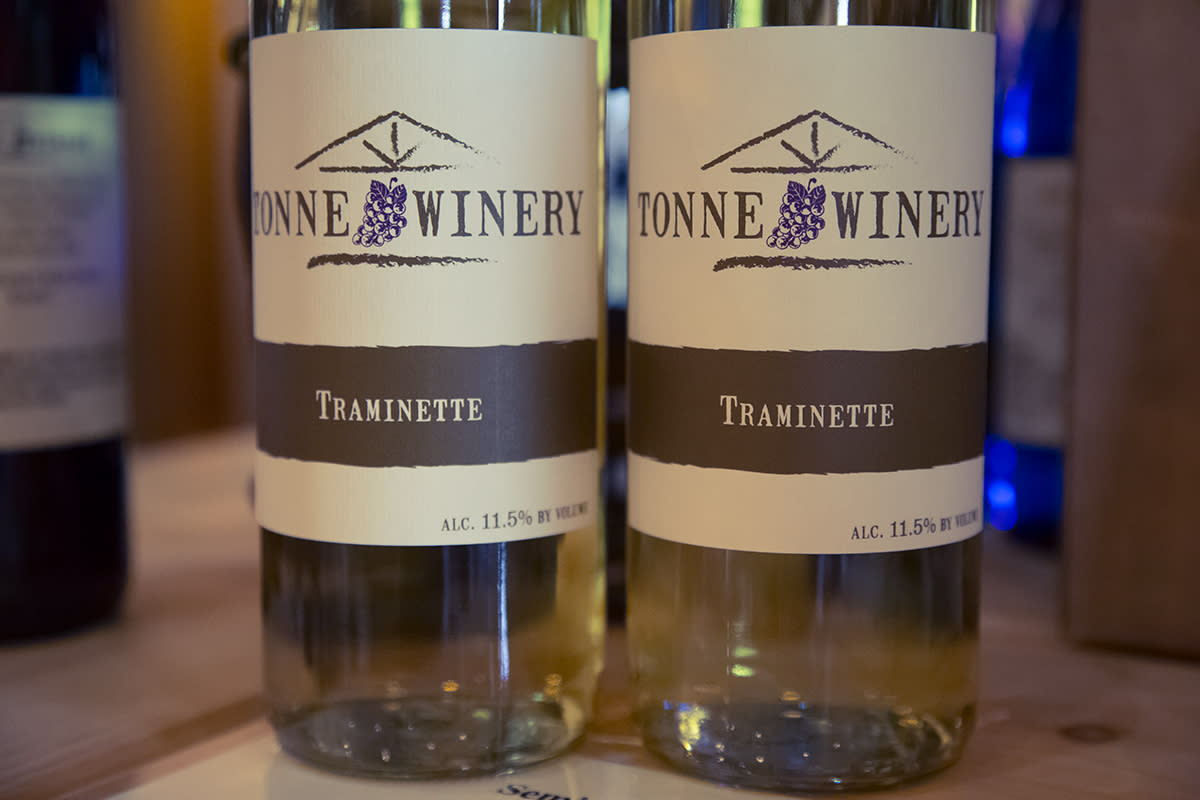 Traminette
The aforementioned Traminette (available as dry and semi-dry white). The semi-dry is described as a "wonderfully aromatic white wine with delightful citrus flavors. It's clean crisp flavor with a hint of sweetness, makes it a perfect match for most dishes or by itself, especially chilled on a hot summer day." The dry is "not as sweet but just as nice."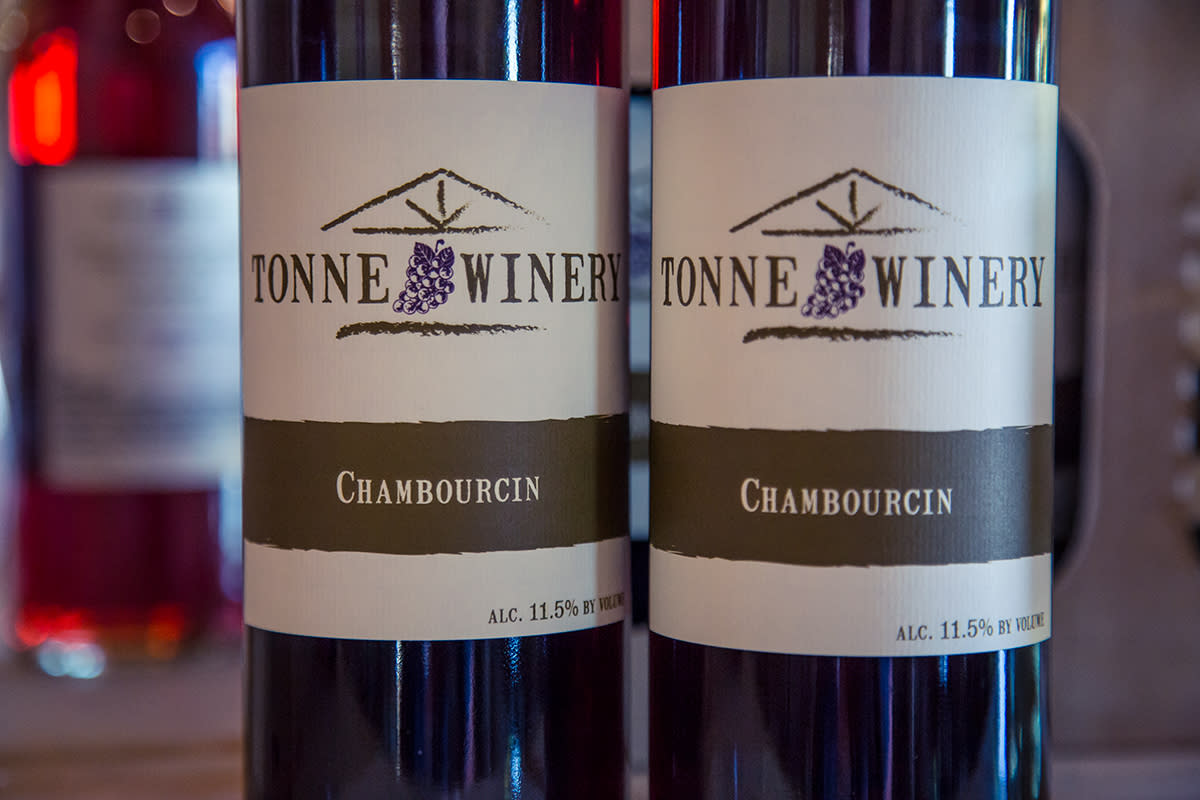 Chambourcin
The Chambourcin (semi-sweet red) is "a very pleasant semi-dry red wine made from Indiana grapes. This soft, versatile wine contains flavors of wild berries and plums. Serve chilled and it will compliment most dishes from seafood to burgers, steaks and pastas."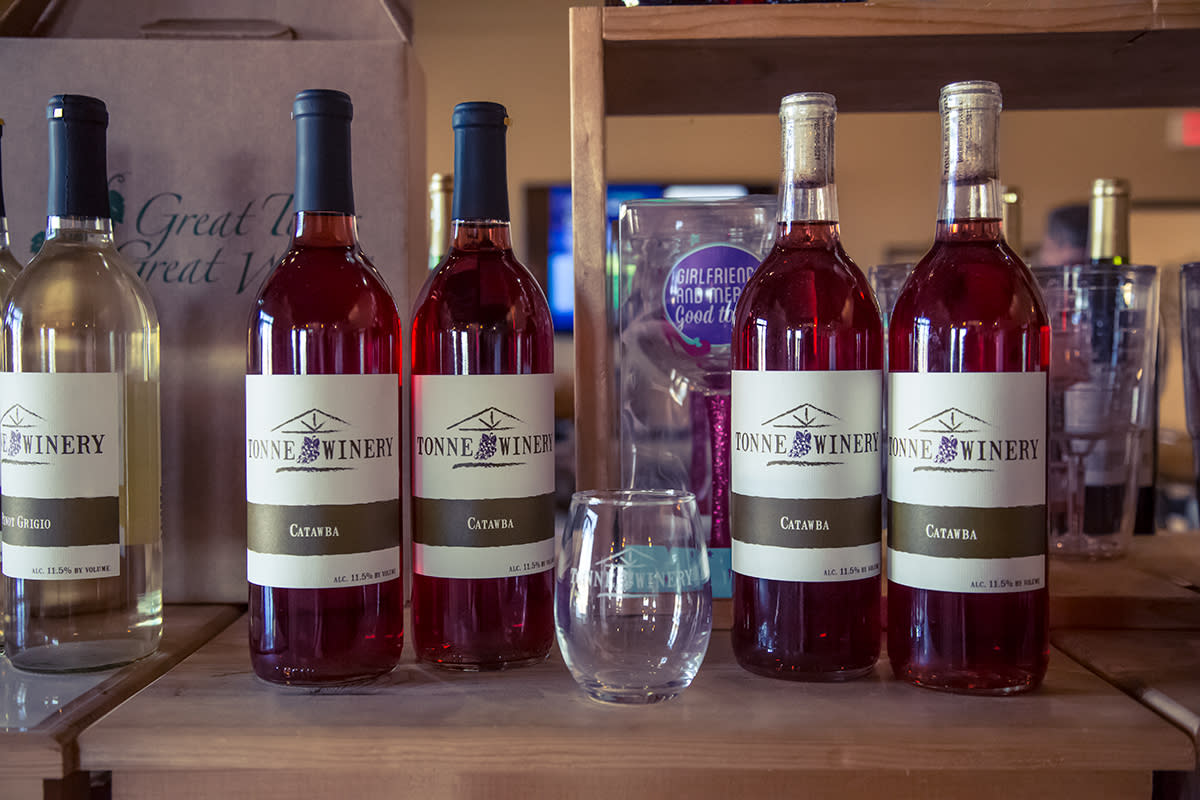 Catawba (blush).
Tonne has made about 18 different types and styles of wine over the past decade. Some of the others include: a Riesling (dry white), KaBrie (dry, lightly-oaked fruit flavor), Merlot (medium red), Dry Catawba (blush), Pinot Grigio (white), Riesling (semi-dry white), Waldo's White (sweet white), and Sweet Catawba (sweet white).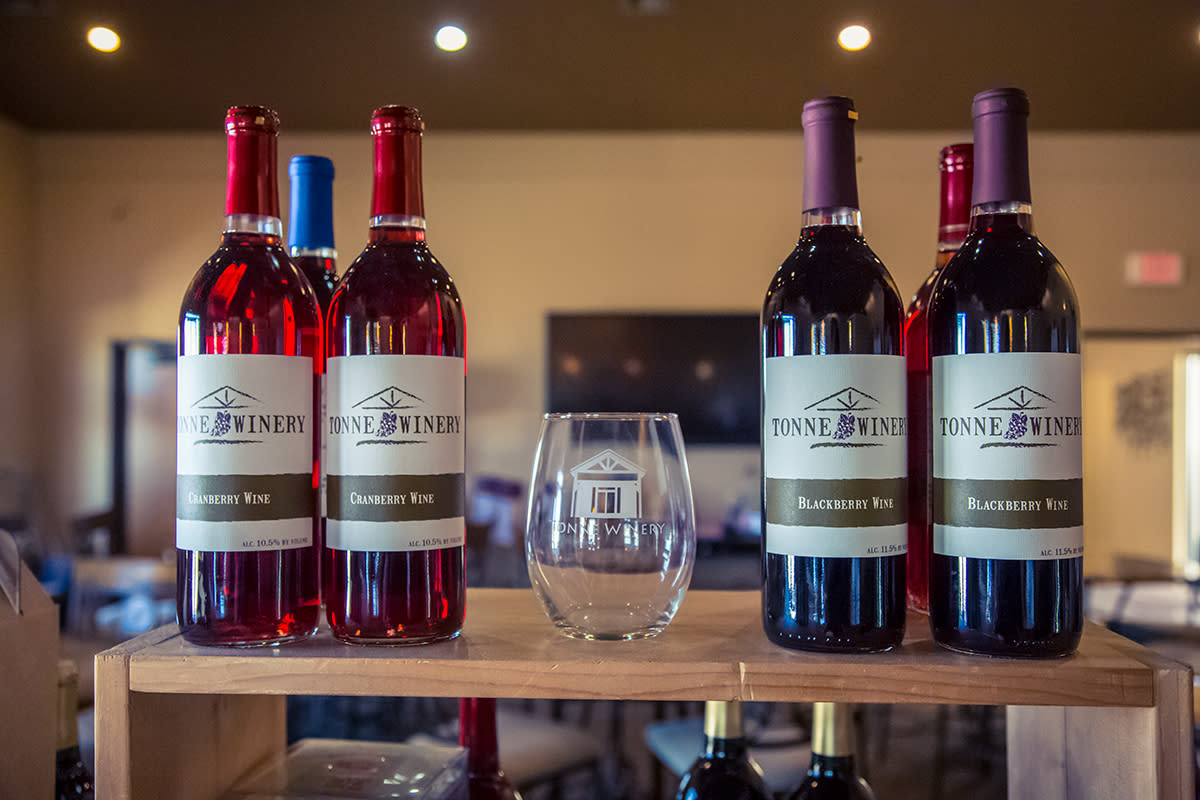 Fruit wine is a Tonne speciality.
Tonne's fruit wine's include a Cherry Wine, a Red Raspberry Wine, Blueberry Wine, and a Cranberry Wine.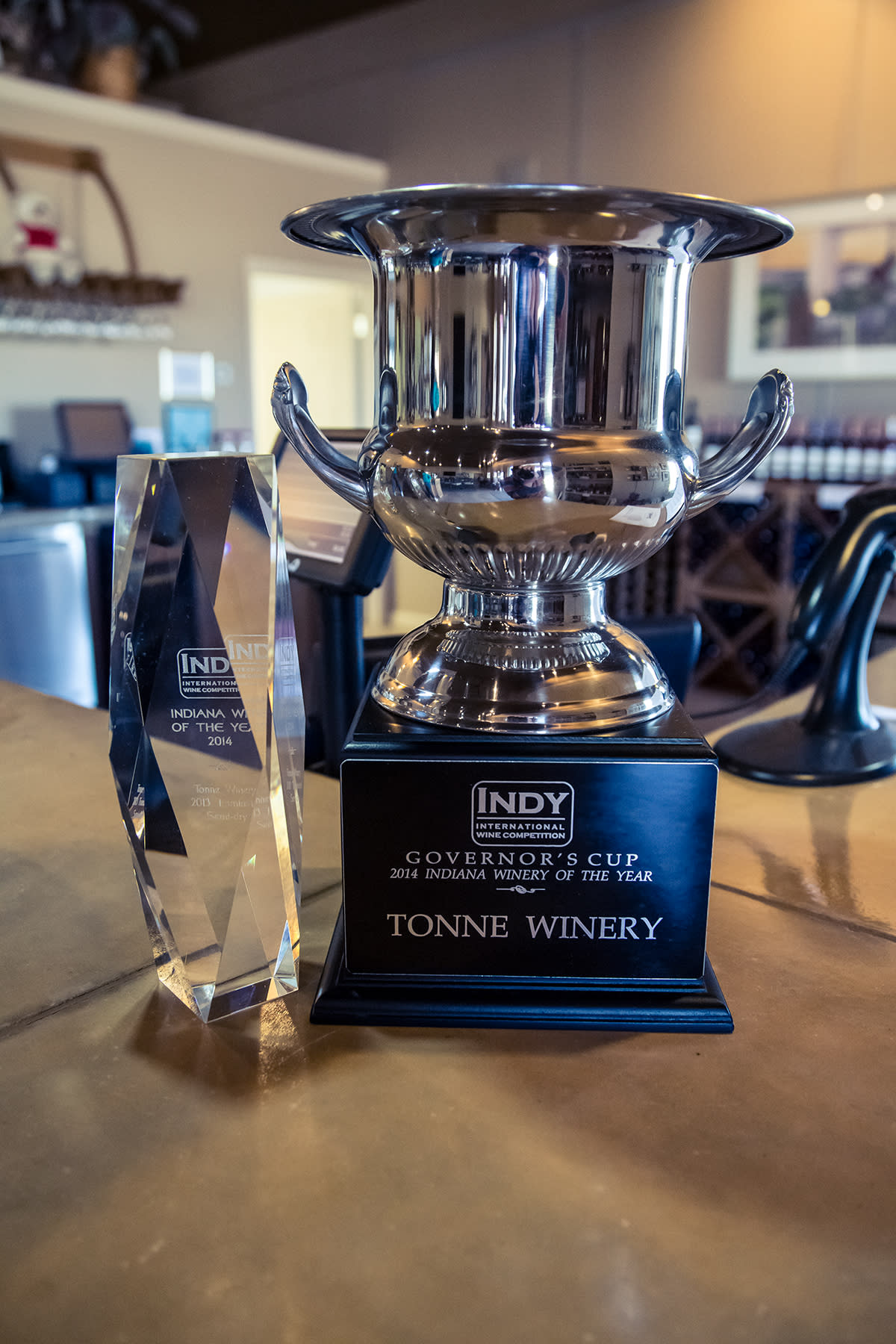 Tonne won the 2014 Governor's Cup
Tonne wines consistently win awards including the Indiana Winery of the Year (Governor's Cup) in 2014 and the Indiana Wine of the Year (Traminette) in 2014 - both awards were part of the Indy International Wine Competition. Tonne has also won two Best of Class awards, six double gold medals, nine gold medals, thirty-one silver medals, and twenty bronze medals at Indy International.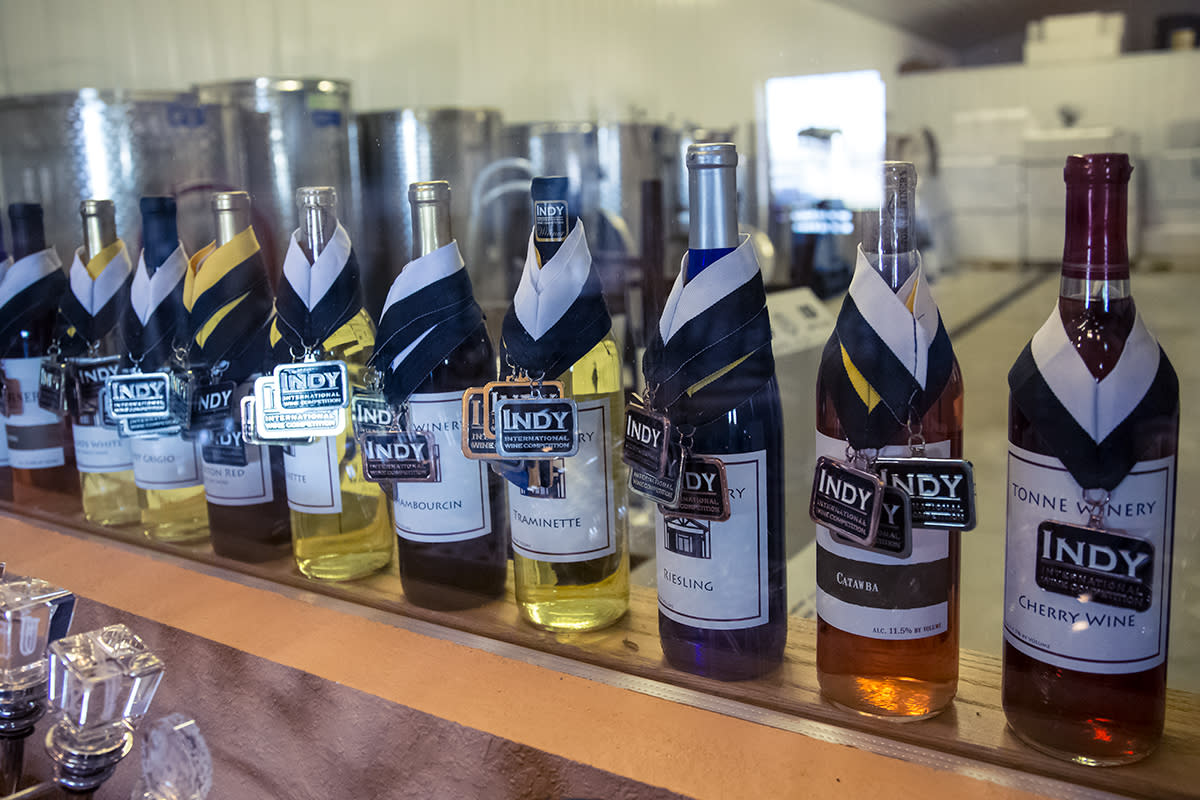 Tonne consistently medals in the The Indy International Wine Competition.
Held annually, The Indy International Wine Competition at Purdue University brings together hundreds of winemakers to compete for international recognition. The 2017 competition, held May 24-25 in West Lafayette, will bring winemakers from 11 countries and 40 U.S. states, collectively entering about 2,000 different wines!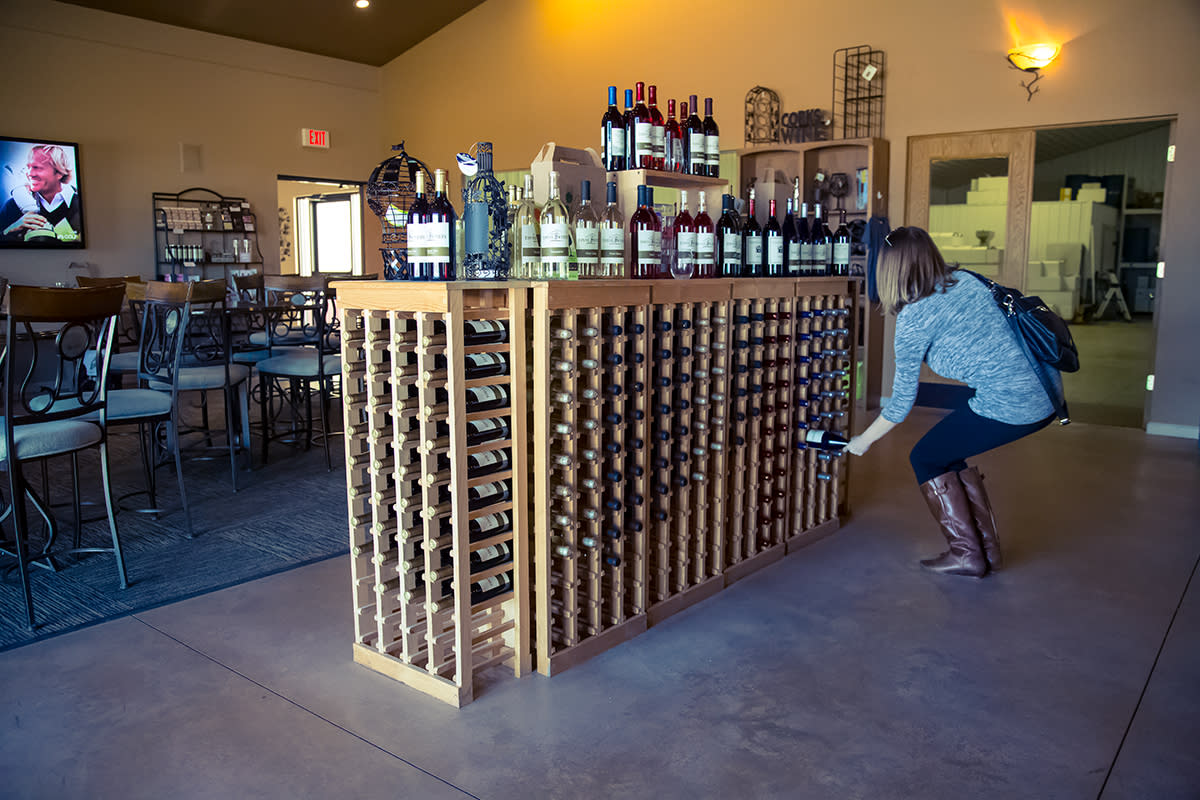 Wine rack at Tonne
So if wine is your thing, Tonne Winery is definitely worth a trip to Royerton this spring and summer. Along with the tasting room, Tonne offers event space for rent and weekly concerts. Follow them on Facebook for updates.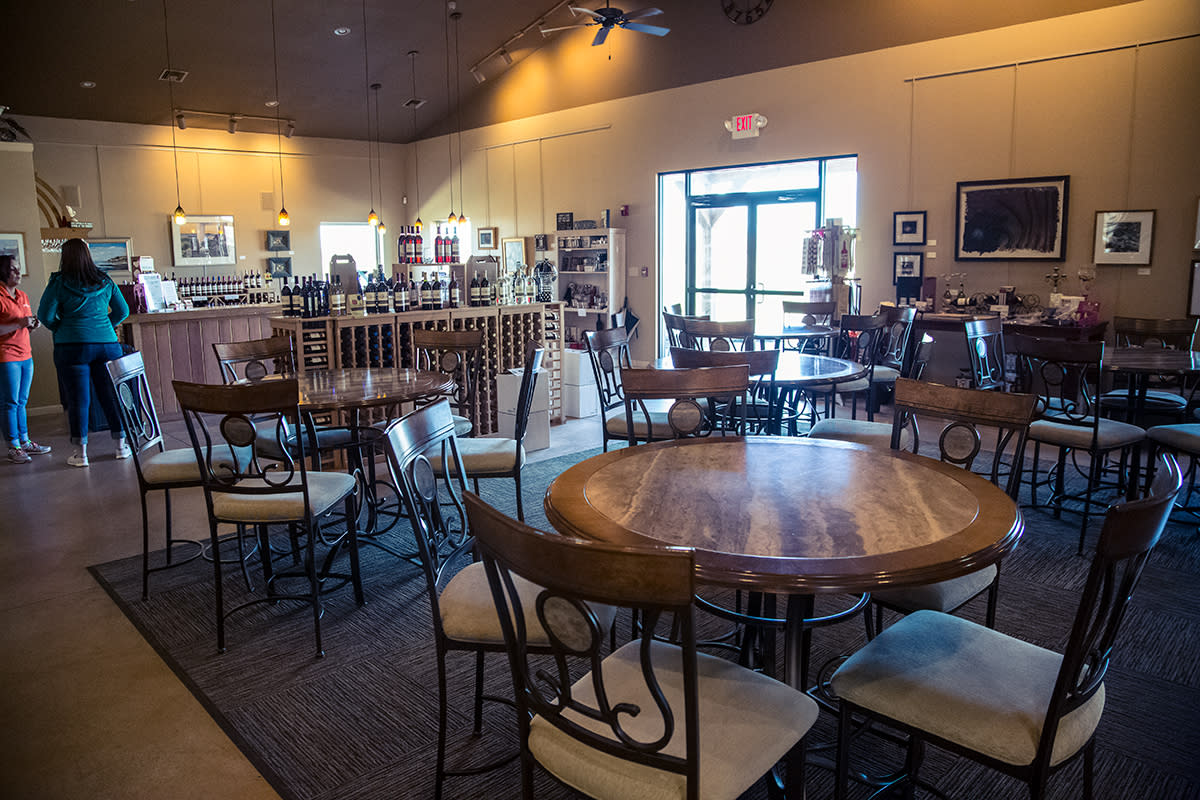 The tasting room.
--- Tonne Winery 101 West Royerton Road, Suite B Muncie, Indiana 47303 765.896.9821 Hours: Monday - Saturday from 10am to 6pm; Sunday from 12pm to 5pm.