Even though I'm writing this as the snow is falling, ice cream sounds delectable to me. I am a huge fan of ice cream and have discovered that Broad Ripple Ice Cream Station is a personal favorite.

Great ice cream located in Broad Ripple
Many times when I go there I choose to share the Tour de BRICS in which four different ice cream flavors come in one bowl. So much ice cream is in this that it requires a friend to finish it all. I have switched up my selection and continue to change it up because all of the flavors are so spectacular. The texture of the ice cream itself is incredible. It is smooth and melts in your mouth. From traditional flavors of butter pecan and cookies 'n cream to more unique flavors like Whistle Stop Wake Up (an espresso ice cream) to Yellow Cake Batter (a popular flavor), BRICS has a wide variety of options that cause me to deliberate for a while even though I would be more than happy with any of the flavors.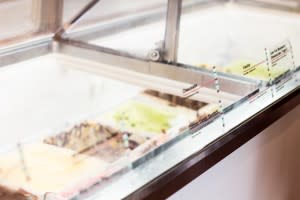 A quick glance of some of the many choices available
BRICS is a great place to bring new and old friends. With conversation cards on the tables they can be a great way to get to know people or start a conversation that will lead to new insights. The atmosphere is inviting and the ice cream is delicious. What more could I ask for?