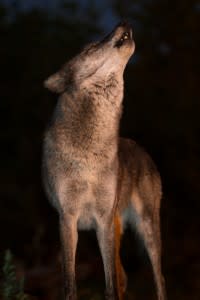 During our recent visit to Lafayette, we planned a visit to Wolf Park in the town of Battle Ground, 15 minutes away. This is a non-profit organization that strives with a staff of volunteers to learn more about wolves and educate the public about these mysterious creatures.
We found the park with an hour left before it closed for the day. It was enough time to pay admission and receive an interesting guided tour, which is available every hour.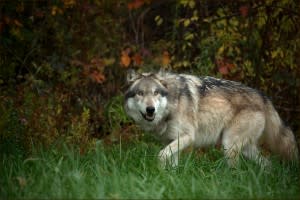 Our docent led us over a gravel path for about a half mile between pens holding the wolves. They are surrounded by high wire fences and we did not enter the pens with the wolves, although I think some tours are available to do so.
Our guide was patient with our questions and we had many! I don't know why the wolves are so fascinating but we wanted to know every fact about them from their genealogy to how their behavior differs from wolves in the wild to their best friends. Answer to the last: Unlike real kids, most of the time their friends were siblings. Brothers could actually be in the same cage together and not fight!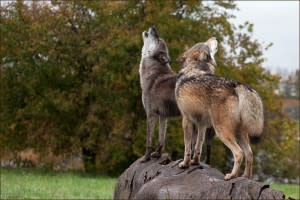 As our guide provided facts about the animals (male/ female, ages, relationships to each other) several of us tried to get photos. None of my photos turned out well, due to the fencing, so one of the park's photographers, Monty Sloan, provided these for the blog. Aren't they cool? Thanks, Monty!
A comical moment occurred when our docent taught us to mimic the call of a wolf. We must have sounded disturbing or strident because we woke a couple of them. The wolves gradually raised themselves, stretched and proceeded to walk around the enclosure while viewing us as the unusual species, which we often are!
The real Howl Nights occur each Friday and Saturday night at 7:30pm from April through November. Visitors are encouraged to howl with the wolves while learning more about these mysterious creatures.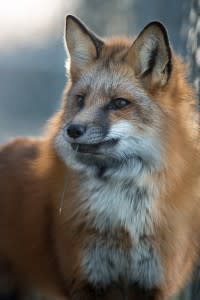 Near the end of the tour we saw the Red Fox, easy to recognize in its separate pen, but we had to look closely to tell the wolves from coyotes, also housed in the park. Day and overnight camps are available for kids during the year. That would be some sleepover your little one would never forget!
4004 E 800 North
Battle Ground IN  47920
765.567.2265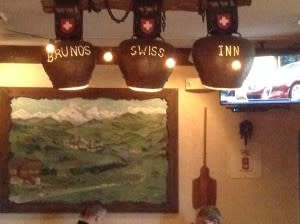 After our visit at the Wolf Park, we drove back to West Lafayette to Bruno's Pizza
This is a family-owned restaurant which started in 1955 by—you guessed it – a guy called Bruno Itin. He immigrated to Indiana in 1951 from Switzerland and after a few years of working for other restaurant owners, he opened his first pizzeria in 1955 in West Lafayette.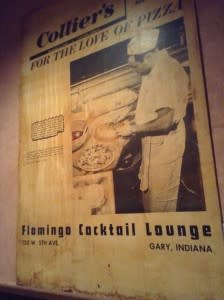 Bruno died in 2006, but the restaurant is still owned and managed by his family. The family's Swiss influence is seen throughout the large building with décor of large cow bells and pastoral mountain scenes. Our family is Swiss so this was fun for us.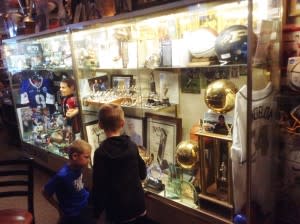 But this is also a college town with Purdue University located just blocks away. Walls are filled with athletic items like jerseys, basketballs, footballs.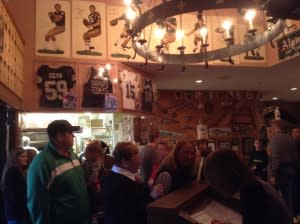 Bruno's is a popular place to eat, especially on weekends when sporting events take place so reservations are recommended.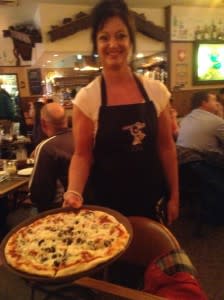 We ordered a pizza and were not disappointed. As a Purdue graduate, I chose the Boilermaker—sausage, pepperoni, ham, bacon, onion, green pepper, mushroom and black olives. The cheese was stringy as it should be and the pizza was served hot and with a smile.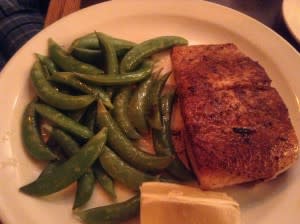 My husband's grilled salmon was cooked to perfection. We promised ourselves to order the Wiener schnitzel and Bratwurst on a return trip.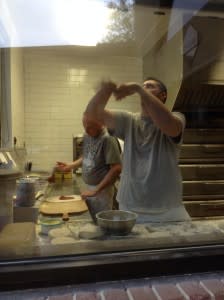 Bruno's celebrates 60 years of service this year. Why not stop by to watch one of their pizzas being made (I promise this pizza eventually returned to earth) and taste what has kept this family in business for more than half of a century? I guarantee it will be worth the trip!
212 Brown Street
765.743.1668