The Prewitt Restaurant + Lounge opened last November in a nearly century-old building after it sat vacant for about 6 years. Originally built as a movie theater in 1927, the movie theme is carried through at this upscale eatery of American fare where the stage/screen is used for live entertainment and showing classic black and white films. It's located in the heart of historic downtown Plainfield, just west of Indianapolis.
The upstairs is a speakeasy-type lounge adorned with accents from the golden age of Hollywood. Downstairs in the main dining room is a sunken portion near the stage.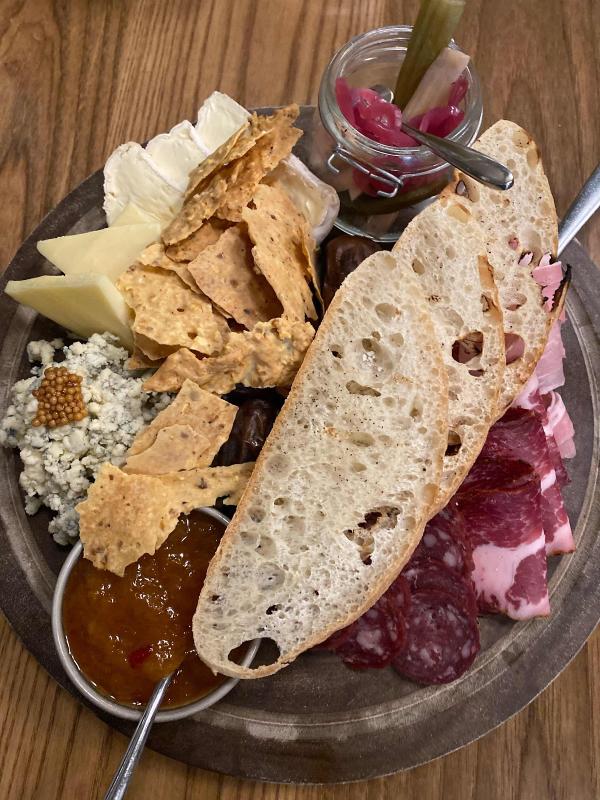 We were there for brunch, and they have some really amazing menu items. Shrimp Avocado Toast with poblano ceviche, avocado mousse, grapefruit, lemon aioli on sourdough. Green Eggs and Ham - smoked porterhouse chop, butter beer glazed wilted pepper cress with crispy potatoes and two sunny side eggs. Royal with Cheese, a locally raised dry-aged beef patty, Breadworks potato roll, Tulip Tree trillium cheese, jalapeño bacon jam, pickled onion, sunny farm egg, shrettuce, black garlic aioli. Could the choices be more scrumptious?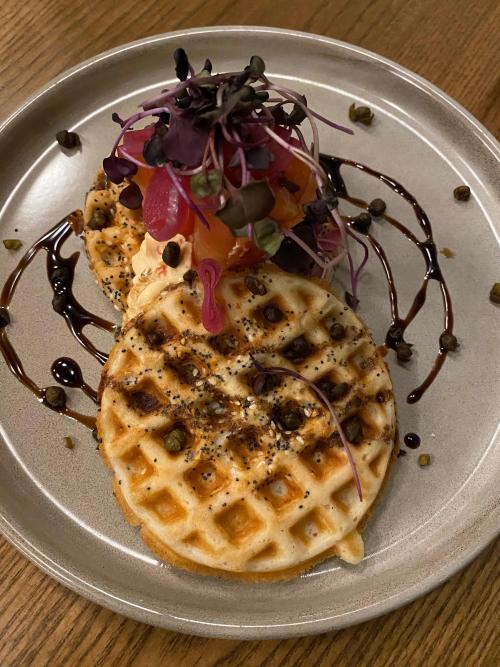 We started with the Meat + Cheese, a lovely charcuterie platter with cheeses, pickled vegetables, crackers, jam and nuts and a beer flight that is served in an old movie reel  (super cool!) with some snack mix. 
Then we tried Lox Waffles with Balmoral smoked salmon, Calabrian chili cream cheese, pickled onion, crispy capers and cured egg yolk.
Being a big fan of biscuits and gave, I couldn't pass on the Bee + Gee. It was the most unique biscuits and gravy presentation I've ever had with buttermilk lavender biscuits covered with chorizo sausage gravy and topped with pickled onions and microgreens. I also added scrambled eggs on top. It was a big messy bowl of brunch perfection.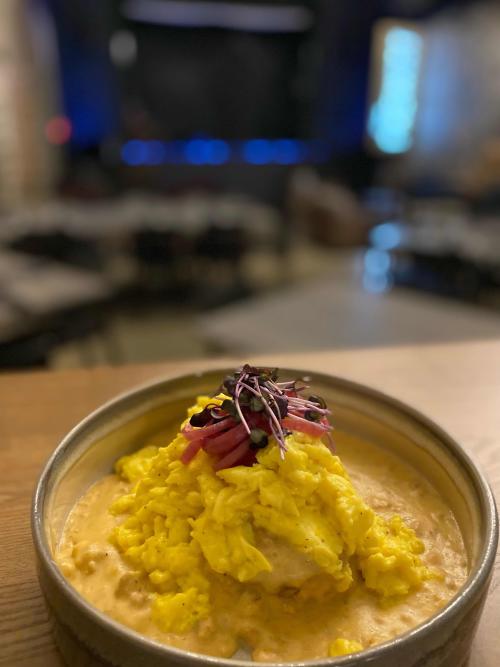 I look forward to revisiting for dinner. There's a cute movie theme going on there, too. The dinner menu has "previews" (appetizers), "main features" (entrees) and "credits" (desserts) with a creative array of dishes - from beef short rib with crispy polenta and butterscotch bbq to duck porchetta with roasted squash puree, pomegranate Sherry gastrique and pistachio gremolata to dry-aged bolognese pasta with smoked bleu cheese and fire-roasted tomato sauce.