Every once in a while, it's good to get out of our comfort zone and try something new. Well in this case, I decided to put my abilities and fears to the test and signed up for the 8 zip line full adventure course at Zip Timber Lake in Huntington and it was a blast. 
Owners, Jonathan and Olivia Kline, fell in love with zip lining on a mission trip in Honduras and after visiting a series of zip line courses the two set out to bring their own adventure course to their growing campground in Northeast Indiana. Camp Timber Lake is located between Roanoke and Huntington, just north of US 24 on 675 N and about 15 minutes west of Fort Wayne. Zip Timber Lake is located on the 65 acre property and check in for the experience is at the campground office. The centerpiece of the campground is a beautifully wooded private lake and YES you do get to zip over it. Twice!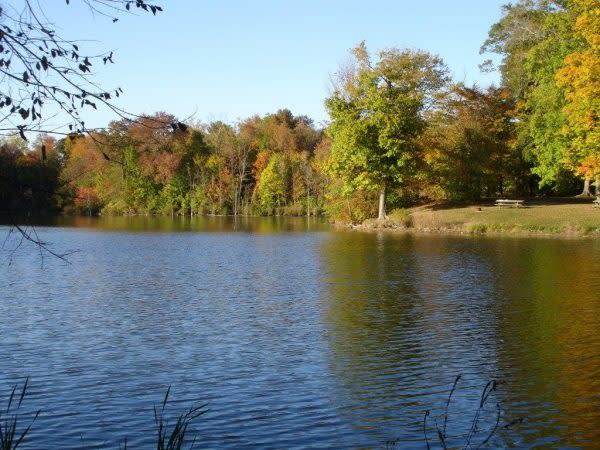 This pristine lake is the centerpiece of Camp Timber Lake. Photo credit: Camp Timber Lake
I signed up for the full adventure tour which includes all 8 zip lines and four bridges. Reservations are required so make sure you call the office or go online to schedule your tour. Groups are organized into up to 10 per tour and that includes two guides. Full tours will take up to 2-3 hours depending on the size of the group and partial canopy tours are 45 to 90 minutes.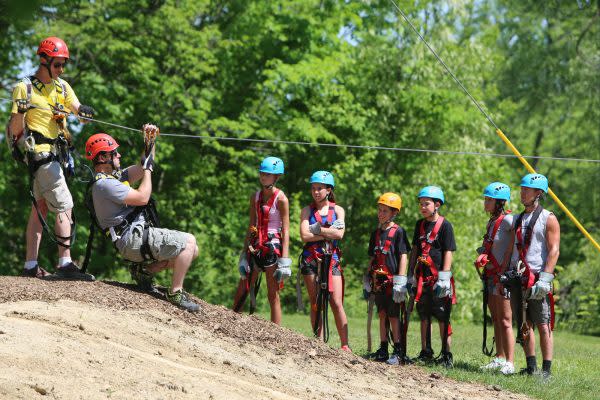 A group getting their lesson in braking. Photo credit: Zip Timber Lake
As soon as you gear up and before you hit any heights, the guides take you through a ground training and it definitely helps you to become comfortable with the braking procedure. Once you climb the stairs to the first zip platform, you will be up in the tree canopy until a ground landing about halfway in. I felt pretty confident by about the second or third zip into the session. That's when the seriously fun bridges come in. One of which is a series of suspended "clouds" as they call them. Luckily you are clipped to two safety lines at any time which does help the overall anxiety as you take the first step onto the suspended cloud. I won't give away any secrets on how to make this easier, it's way more fun to see if you can figure it out on your own. Part of the overall appeal of the experience is learning to trust in yourself and pushing yourself out of your comfort zone and I was feeling pretty proud of myself.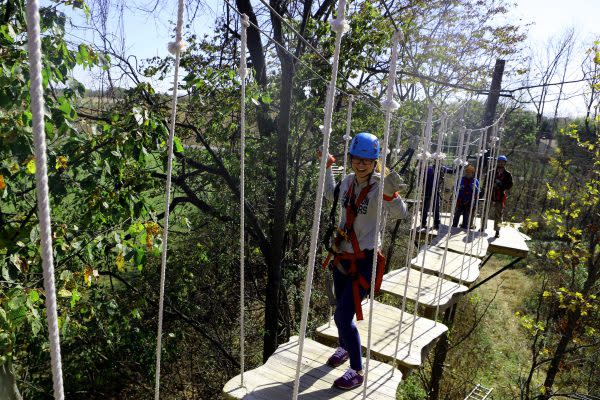 These suspended "clouds" are just one of the fun features you have on the full adventure tour. Photo credit: Zip Timber Lake
On further is the ground landing. I was a little intimidated by having to land upright on my feet, but again, the guides are right there to make it smooth and I was just fine. So, how do you get back up to the zipping level again? This was one of my favorite parts! You enter into this tall tube and rock climb up to the platform. Not a rock climber? Well, they have regular footholds for you if you want the easy way up. This next section is a fun set of zips and bridges that keep the challenges going and the confidence growing. From rope bridges to climbing to a higher platform, I love that it's not just a set of zips, but rather it mixes things up quite a bit and keeps you on your toes. Pick one of your friends to do the racing zip across the lake as a little healthy competition always makes for a hilarious conversation on the way across.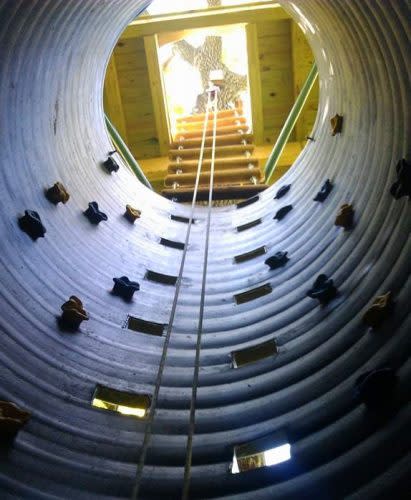 Head back to the trees inside this climbing tube. Try the rock climbing fixtures for the best experience.
Then there's a very short hike to the final zip, the Flying Squirrel, which is a 1000' zip across the lake. You are hoisted to a crow's nest at the top of a 70' pole with spectacular views of the area. They definitely saved the best for last and flying near the surface of the lake was pure bliss. I was even brave enough at that point to dip a toe in the water and take in the gorgeous scenery. Spectacular!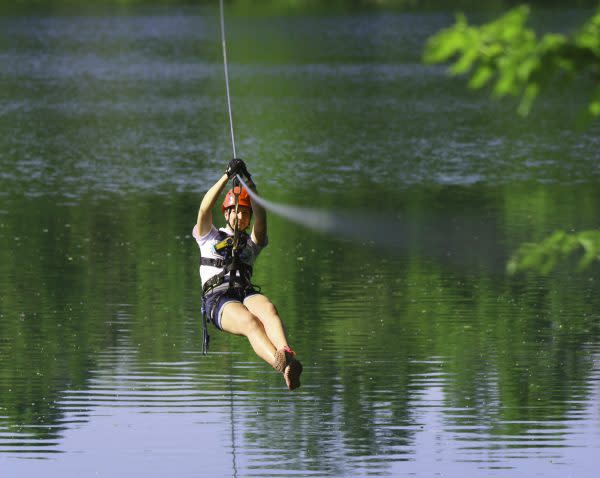 The "Flying Squirrel" zip takes you 1000' across the lake. Photo credit: Zip Timber Lake
With the variety of the features for the course, the owners have definitely done a great job of creating a fun experience for all ages. There are some restrictions for weight and I wouldn't suggest this for small children. Just go to the Zip Timber Lake website for all the pricing and tour information or contact them via phone at 260.672.3251. When planning your trip, consider making it a weekend of fun and stay at Camp Timber Lake for swimming, hiking, fishing, boat rentals, and lots of yummy s'mores and memories. (Plus, there's Two-EE's Winery, Hillside Shooting Sport and shopping in the town of Roanoke close by) Don't have a camper? They have an RV and cabins available for rent as well.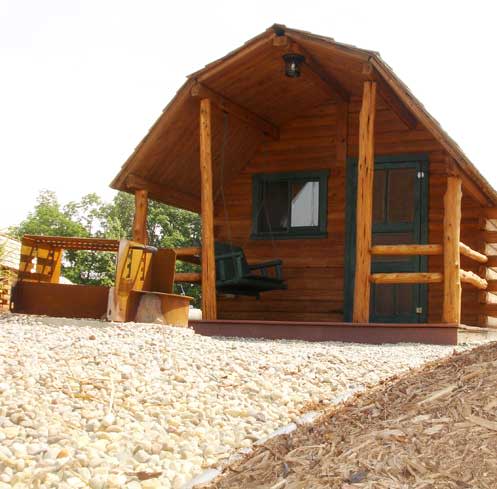 Rent a cabin and make a weekend of the experience. Photo credit: Camp Timber Lake
Camp Timber Lake/Zip Timber Lake located at 1740 E 675 N Huntington IN 46750
260-672-3251