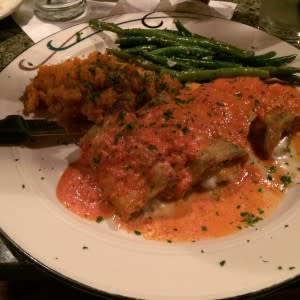 Stuffed Eggplant at Lucrezia was served with prosciutto and mozzarella, baked in tomato cream sauce.
Before we venture into Part 2 of our hunt for treasures in the South Shore area of Indiana, I should explain what the South Shore of Indiana is.
This area serves residents in six counties in two states: Lake, Porter, LaPorte, Newton and Jasper counties in Indiana, as well as Chicago/Cook County in IL, which is only 25 miles away. The goal is to offer visitors a complete and seamless experience when planning a vacation in the northwest part of the Hoosier state.
Our first visit is to the Bass Pro Shop in Portage (6425 Daniel Burnham Dr, 219.787.6800).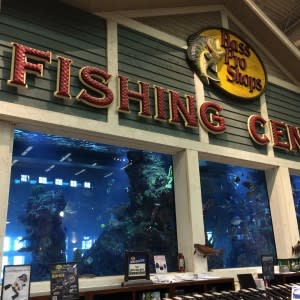 I was pleasantly surprised at how attractive the large store was. While not a hunter, I enjoyed the realistic outdoor dioramas, aquariums and outdoor settings placed throughout the store.
Red Ryder BB guns remind one of the popular 'A Christmas Story' movie. This item is a not-so-subtle reminder of this area's huge claim to fame. Most of us have watched 'A Christmas Story', the 1983 hilarious movie by Jean Shepherd. According to the book, the story takes place in nearby Hammond Indiana. The Red Ryder BB gun plays an important role in the story so it seems appropriate to have them for sale.
Ever on the lookout to learn more about agritourism, my husband and I visited JT Shrimp, LLC, a fresh saltwater shrimp farm (4836 W 1450 N, Wheatfield, 219.987.3809).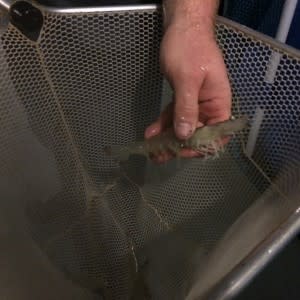 JT Shrimp sells fresh shrimp raised with no hormones.
Owners Scott and Leslie Tysen sell live, healthy shrimp raised on their farm without the use of chemicals or hormones. The young couple also manages a grain farm but started the shrimp component a few years ago to supplement their income.
The day we visited Scott gave us a brief tour. He raises shrimp in a temperature-controlled room filled with large swimming pools. The shrimp grow in the warm water which is constantly monitored by the Tysens. They emphasized that there is no mud vein in their shrimp as there is no mud or sand on the bottom of their pools. Less work in cleaning! They sell unprocessed shrimp direct to customers during business hours.
They also offer tours to school groups, families and scouts. This is a great educational opportunity to learn about a rather unique commodity in Indiana's agriculture.
After all of this learning and shopping, we have one last stop in the South Shore area, though it is certainly not least.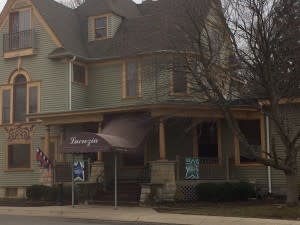 Lucrezia Restaurant serves great Italian food. If you like fine dining featuring northern Italian cuisine, you'll want to visit Lucrezia in Crown Point (302 S. Main St., 219.661.LUCY).
On a recent Friday night this restaurant located in the cozy ambience of a beautifully restored century-old home place was hopping.
My husband and I entered via steps that led to a wide front porch, a cool place to socialize in warmer temps. We were seated in what a century ago might have been a living room. Waiters glided unobtrusively between tables placed close together. Service was professional and attentive.
I ordered Stuffed Eggplant (See photo at the top of this page). With prosciutto and mozzarella, baked in tomato cream sauce, it was large enough for two people, but if you think I shared a bite, you'd be wrong!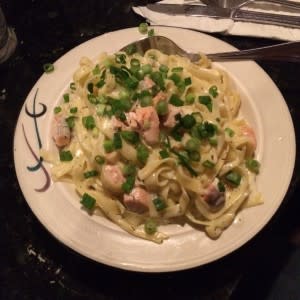 Salmon Alfredo was a hearty portion of deliciousness! My husband was just as possessive of his Salmon Alfredo, eating every bite.
After dinner, we toured the second floor ballroom area, available via stairs or elevator. The area could hold approximately 60 people and would be perfect for private parties and receptions.
I love old houses that have been restored. The food of Lucrezia was exquisite on its own, but the atmosphere just made the experience of eating there better. This is the perfect restaurant to bring someone special or to celebrate an event.
There is a second Lucrezia location in Chesterton (428 S. Calumet Road, 219.926.LUCY).
There are also two shops in Chesterton and Valparaiso related to the restaurant. Good to Go by Lucrezia is the name for the Italian Gourmet Markets and Wine Shops that sell wine, vinegars and olive oils from around the world.
I told you there would be treasures in the South Shore area. Plan to stop by and discover some for yourself!