Indiana's most famous sandwich mirrors its people: hearty and unassuming. Thus, it's no surprise the pork tenderloin sandwich is an Indiana staple, cropping up at restaurants and county fairs all over the state. The sandwich is pounded thin and fried to crispy, golden perfection before being placed on a bun that doesn't seem quite up to the job. A tenderloin wouldn't be a tenderloin if it fit neatly on the bun; instead, the overhanging patty is a familiar and much-loved sight here in the Midwest.
While the tenderloin can be served breaded or grilled, the breaded sandwiches are more popular- give Hoosiers a choice and we'll deep fry without hesitation.
Here are five twists on the traditional breaded tenderloin that you can find in Hamilton County, Indiana - just north of Indy:
divvy Known for its small plates and "Sip. Share. Savor" mentality, divvy serves up Hoosier pork minis – panko-crusted tenderloins with roasted tomato aioli on petite buns.
Woodys Library Restaurant Dine on the patio of this Carnegie library and mix it up with a blackened or kettle-chip crusted pork tenderloin sandwich.
Rosie's Place It's acceptable to eat tenderloin at all hours of the day, especially when it's a pork tenderloin benny on a split biscuit topped with two poached eggs, cheddar cheese and sausage gravy with country potatoes.
Nickel Plate Bar & Grill For those with spicier palettes, try their special Cajun-flavored tenderloin.
Upland Brewing Co. Carmel Tap House Non-meat eaters can devour this housemade breaded seitan tenderloin.
Did you know Hamilton County, Indiana is home to the Tenderloin Trail, Indiana's tastiest trail, which celebrates the Indiana staple with a string of 50 restaurants each cooking up their version of the tasty sandwich? In fact, from June 27- July 25, 25 restaurants on the trail celebrate Tenderloin Tuesdays by offering discounts on the signature sandwich. Find a full list of participating restaurants and download your tenderloin passport here.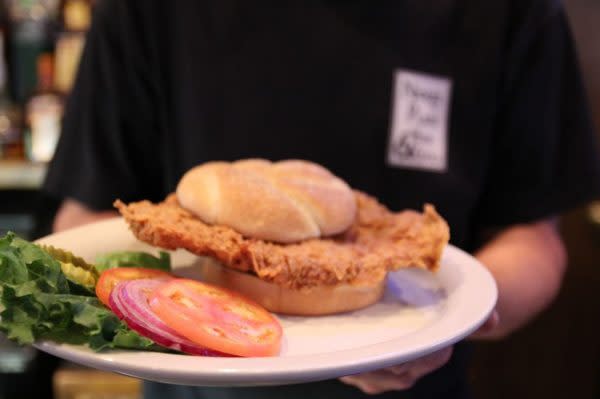 The state will never agree on who serves the tastiest tenderloin, but in the meantime, it can't hurt to try as many possible. Who knows - you might find your new favorite on the Tenderloin Trail.