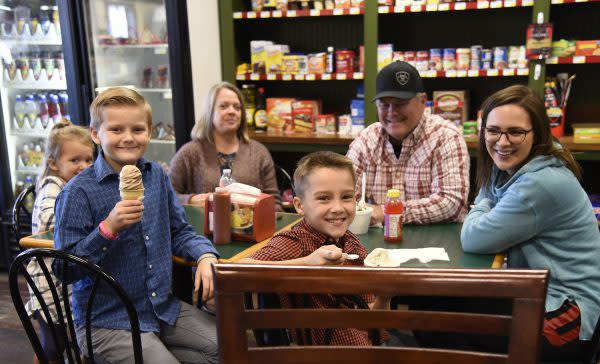 A backroads adventure into Greene County has to include a stop at a local hotspot in Solsberry. The Yoho General Store is a step back in time. It's a unique blend of meeting place, restaurant, ice cream shop and convenience store. Combined with local history and unique outdoor attractions, you'll find the perfect small-town day trip.
Stop in for breakfast, lunch or dinner any day of the week. Don't be surprised if the line is out the door. "It gets pretty slammin'!" says Regina New, who works at the store and has lived in Solsberry all her life.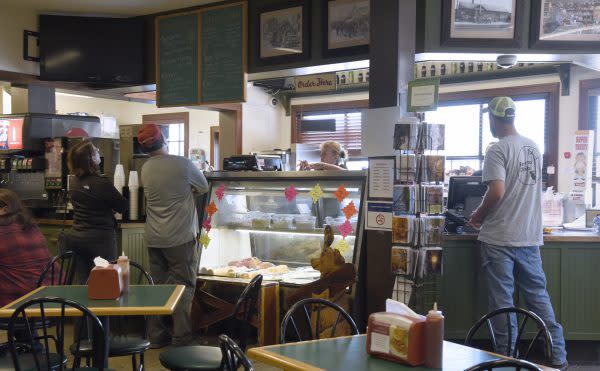 The varied menu includes one of the most tender and flavorful breaded tenderloin sandwiches around, hearty burgers, deli sandwiches, and a variety of sides and pies. Leave room for "all kinds of ice cream!"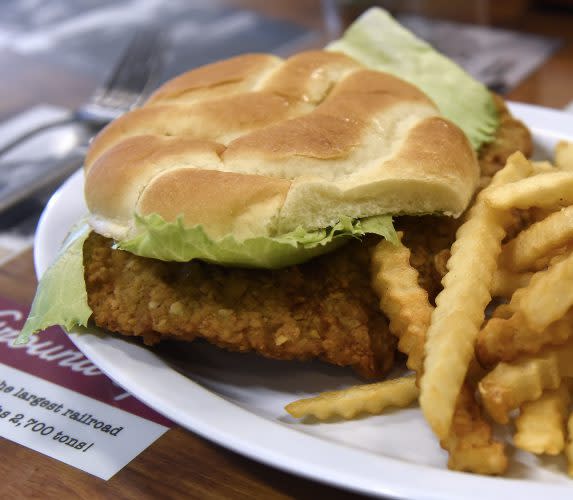 Rob Cook drove from Marshall, Indiana to meet friends at Yoho General Store. "I miss the little small town atmosphere," he said. Courtney Pollock and Kevin Hetzendorfer decided to get out of Bloomington and explore the area for the afternoon. Courtney laughed. "We heard there's a cool train trestle – we got a little lost but it was fun."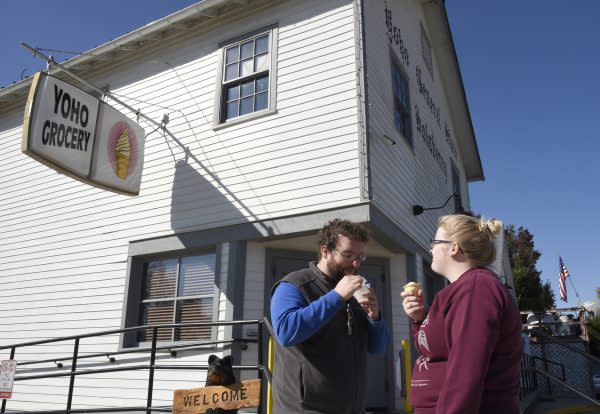 Courtney and Kevin enjoyed exploring the area around Solsberry.
Mentioning my recent visit to Yoho General Store, a Bloomington resident remarked: "You had the tenderloin, right?!" During the holidays, enjoy a festive meal the day before Thanksgiving or Christmas (check the website for exact times).
History
The Yoho brothers – Frank, Oscar and William – began running the store in 1904. They operated the store until it was destroyed by fire in 1933. The store was rebuilt in 1934 and has been in continuous operation since then.
The store houses treasures like the original wood stove. A menu featuring long-gone prices of hot dogs for 15 cents and malts for 25 cents sparks conversation with young and old alike. A Solsberry High School letter sweater and vintage football invite conversation about local history. Decades of photos are on the walls and tabletops.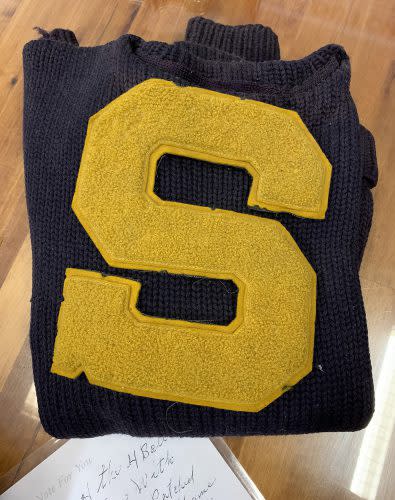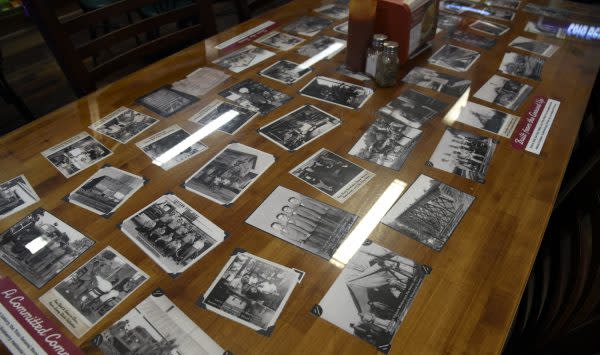 Families, nearby residents and travelers gather in the dining room to laugh, tell stories and enjoy the relaxed atmosphere.
Explore the Area
An added treat on a trip to the Yoho General Store is a visit to nearby Tulip Trestle. This spectacular railroad bridge, still in use today, was built in 1906. At one time, the solid steel structure was the third-longest trestle in the world! Experience the massive structure from below by walking along the stream or driving past the observation deck and around the bend in the road.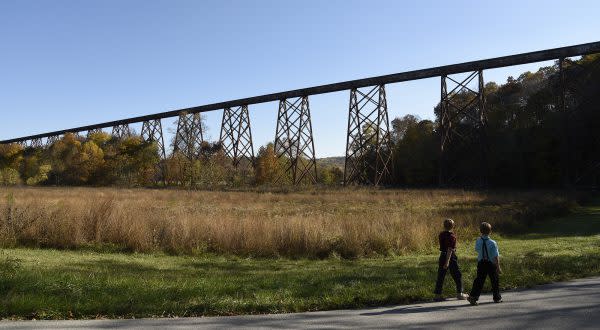 Tulip Trestle is is 157 feet tall and stretches across Richland Creek Valley.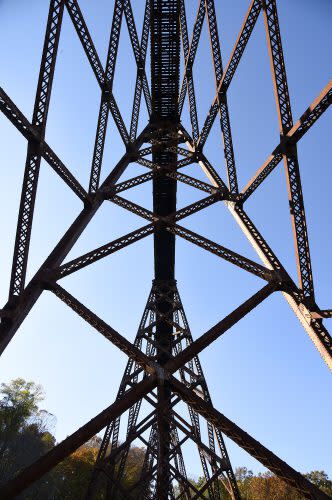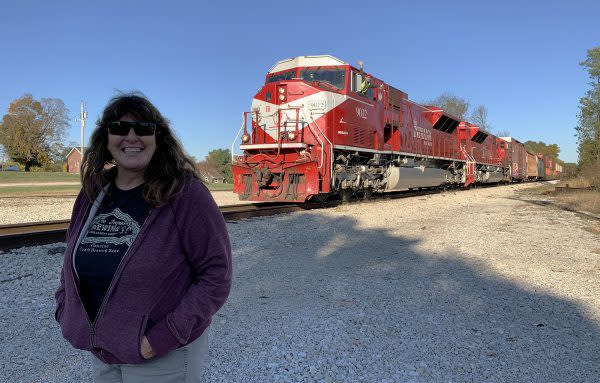 Yes, Tulip Trestle is still in use today, and this train is headed through Solsberry to the bridge.
A few miles away, Sculpture Trails Outdoor Museum offers another unique experience for area visitors. Over 100 large sculptures by world-renowned artists are embedded along trails that­ follow the hilly terrain of this unique property.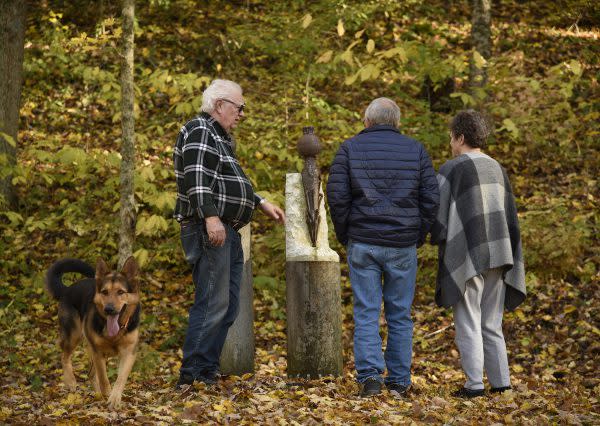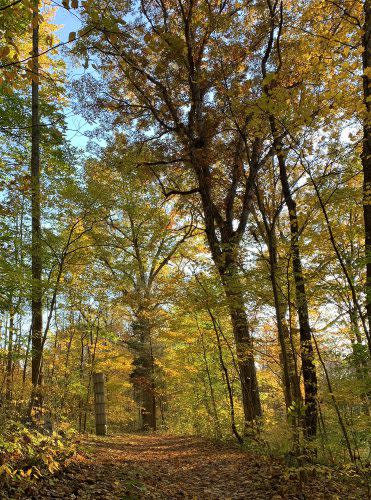 These three places are so rich in beauty, history and local stories that one day isn't enough. Take a trip and enjoy the food, flavor and art of Greene County.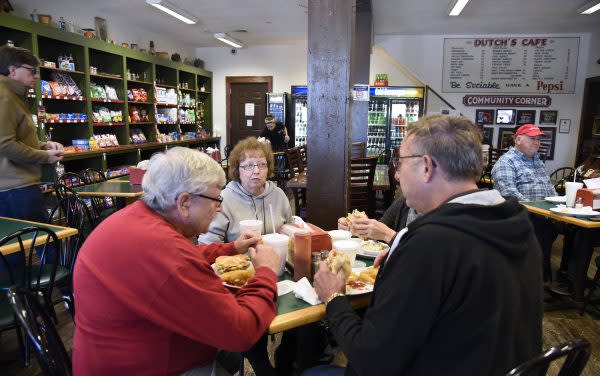 The Yoho General Store's restaurant is open for breakfast, lunch and dinner.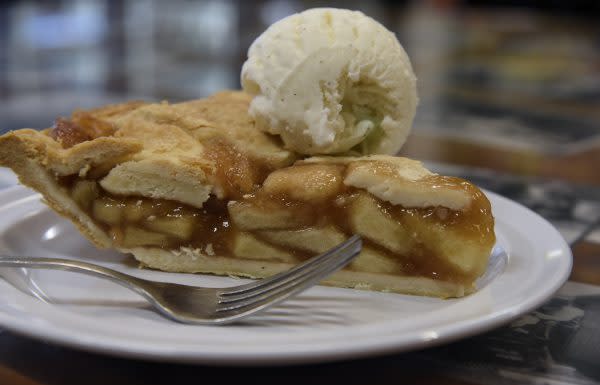 Don't forget to try the pies and ice cream!