Calling all adventurers and explorers! If your group of friends is on the lookout for an epic road trip through the heart of Indiana, look no further. The intersecting paths of I-69, I-70, and I-65 are filled with vibrant cities, thrilling attractions, offbeat wonders and savory eateries that make the journey just as fun as your destination. 
If You're Traveling via I-69 
Here's Where To Eat and Drink
Caruso's Restaurant – Angola, North of Indianapolis   
Established in 1976, Caruso's is a family owned and operated restaurant. They serve traditional family recipes along with the latest trends in Italian cuisine and seafood. Stop in for a fresh fish entree or a gourmet pizza.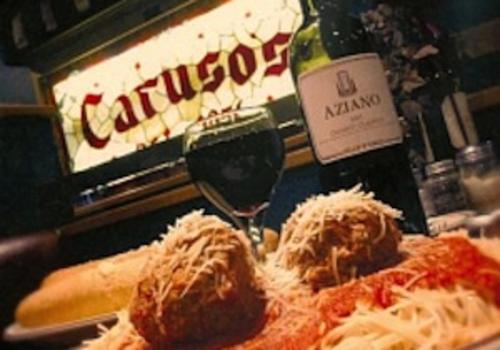 Fort Wayne's Famous Coney Island - Fort Wayne, Northeast of Indianapolis 
At Fort Wayne's Famous Coney Island, the atmosphere is vintage and welcoming and the fare simple, fresh but unforgettable. This place is the definition of 'old school.' Opened in 1914, this locally famous eatery has kept its original atmosphere and food the exact same as it was over a hundred years ago.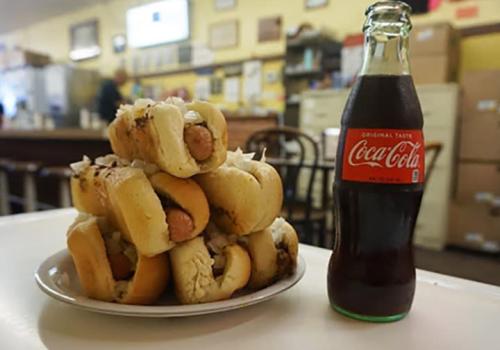 Joseph Decuis – Huntington, North of Indianapolis  
Joseph Decuis serves up extraordinary gourmet farm-to-table meals with ingredients straight from their farm just a few miles away. Your first bite into your cut of Wagyu beef will tell you why you're there. Maintaining a high standard of classical cooking combined with American creativity and local ingredients, Decuis will keep you coming back for more.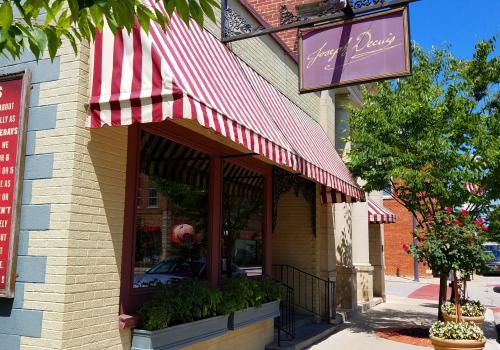 Mallow Run Winery- Bargersville, Southwest of Indianapolis
This delightful winery offers free wine tastings (try their best-seller, rhubarb wine) and hosts regular events throughout the year, including a concert series at their amphitheater.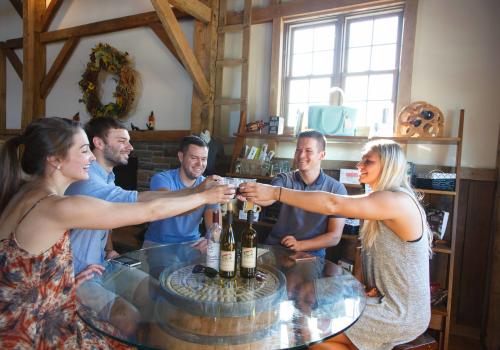 Here's What To Do 
Auburn Cord Duesenberg Museum – Auburn, North of Indianapolis  
The Auburn Cord Duesenberg Automobile Museum offers over 120 cars on exhibit on three levels. As a unique point of interest on this list of places to stop on I-69 in Indiana, you can see nine automotive themed galleries allow the visitor to experience everything from classic cars (as defined by the Classic Car Club of America), to Indiana built cars, to racing and engineering themed exhibits and the original Auburn Automobile Company showroom and company offices.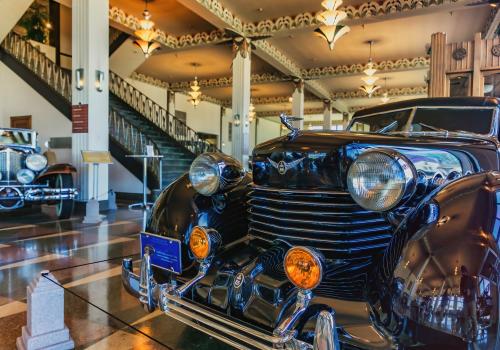 Promenade Park - Fort Wayne, Northeast of Indianapolis  
At Promenade Park, families can stroll the treetop trail and take the slide down 8 feet into the accessible playground below. This park is a year-round attraction for everyone to enjoy. You can have fun at the foosball, ping pong and cornhole game tables. Other things you can enjoy include the fire pits, porch swings, a kids' canal, beer garden, riverboat rides and much more!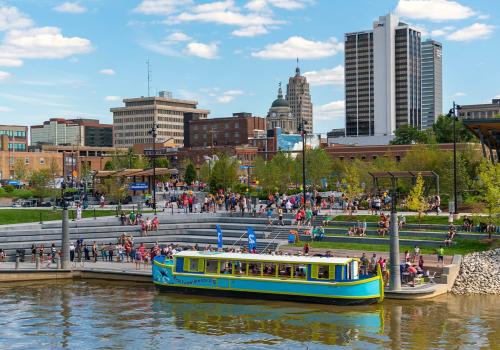 Zip Timber Lake - Huntington, North of Indianapolis  
The owners of Zip Timber Lake conceptualized their course while on vacation in Honduras. With eight zip lines and four bridges, fears are put to the test. The centerpiece of the course is the "Flying Squirrel Zip" that soars 1,000' over a beautifully wooded private lake. Take the High Adventure Tour to do all 8 ziplines, 4 aerial bridges, 2 climbing elements, and the skyhook. This cool waypoint on this list of places to stop on I-69 in Indiana would most certainly provide a nice counterbalance to your drive.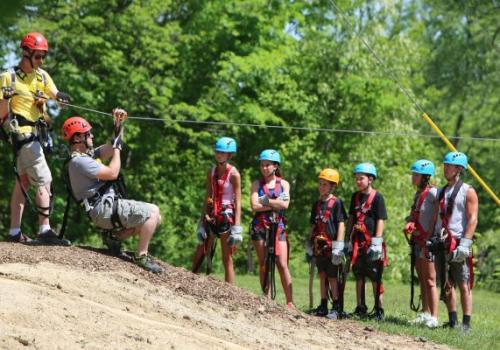 Bob Ross Experience at Minnetrista – Muncie, Northeast of Indianapolis 
Need a little "Joy of Painting" in your places to stop on I-69 in Indiana? Bob Ross inspired generations of viewers with his soft-spoken voice and a pallet knife. From 1983 to 1988 Bob painted for the iconic series at WIPB-TV in the historic Lucius L. Ball home – now part of Minnetrista's museum campus. Bob's former studio has been refurbished, bringing together objects and media from his life and career, and adding interactive experiences that will bring the Joy of Painting to life for visitors. Here you can explore the life, philosophy, and art of the iconic American painter. The immersive exhibit features original paintings and artifacts, inspiring visitors with Bob's message of fearless creativity. The Bob Ross Experience at Minnetrista creates a space for Bob's message to flourish.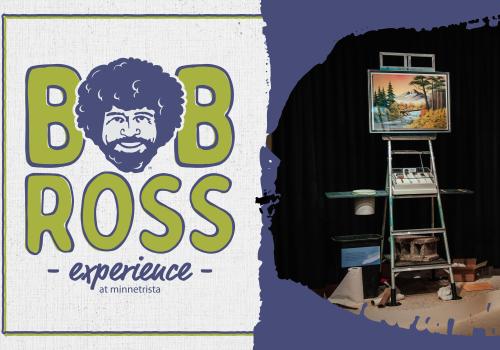 Conner Prairie – Fishers, North of Indianapolis 
Conner Prairie invites guests to actively experience the connection between an Indiana in the distant past and today. One of the most spacious places to stop on I-69 in Indiana, this spot highlights the exciting intersections of history, nature, art, science, and technology. Here you can explore 11 distinct experience areas that showcase different historical time periods and experiences, through first person interpretation of 19th century life. With 1,000 acres to run wild after long hours of sitting in the car, Conner Prairie offers adventure at every turn.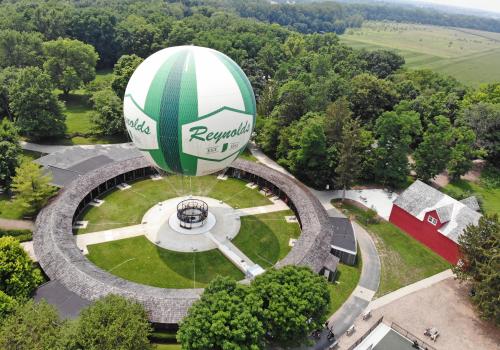 McCormick's Creek State Park – Bloomington, Southwest of Indianapolis 
McCormick's Creek State Park is Indiana's oldest state park. Here you can explore the spectacular limestone canyon and scenic waterfalls. This beautiful location also has trails that feature diverse forest trees, spicebush, native wildflowers, and Wolf Cave Nature Preserve. You can stay overnight at a campsite, a cabin, or the relaxing Canyon Inn, where you can watch birds through the enormous windows in the dining room.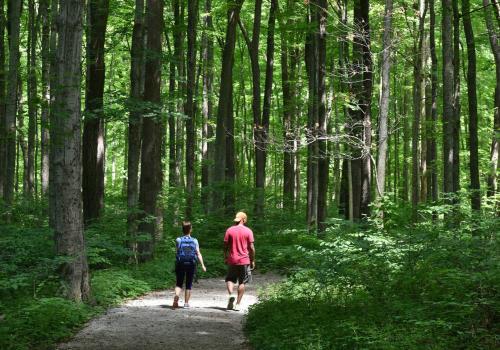 Brown County State Park- Nashville, South of Indianapolis
Largest state park in IN boasts exceptional fall color. Hiking, swimming, bridle trails Bring your own horse mountain bike trails, saddlebarn with escorted rides.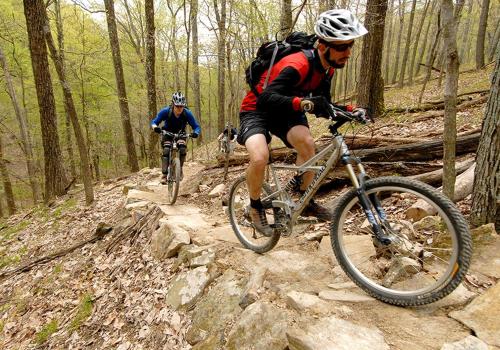 Bally's Evansville – Evansville, Southwest of Indianapolis 
Bally's Evansville is a single-level casino that encompasses 45,000 square feet of gaming space featuring 1,175 slot games, over 30 table games, a Poker Room, and a High Limit Room. Accommodations include a 243-room hotel tower and a 95-room boutique hotel. The property showcases an ultramodern entertainment lounge, four dining options, two bars, a gift shop, conference center, riverfront pavilion, and a 1,660-vehicle attached parking garage.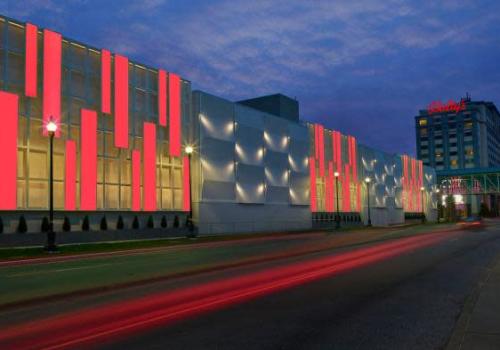 Pete Dye Golf Trail- Statewide
Golf getaways are all about relaxation with just a touch of excitement, especially when doing the Pete Dye Golf Trail. Imagine golfing surrounded by some of the most stunning views in the state and then dining at a gourmet restaurant or checking out a local brewery or winery.  After a wonderful day, tuck in and sleep soundly at one of Indiana's unique accommodation options. Read more about the trail.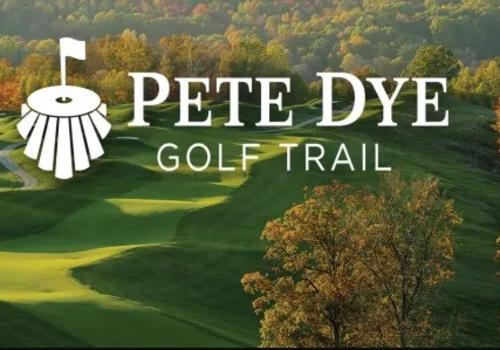 If You're Traveling via I-70 
Here's Where To Eat and Drink: 
Firehouse BBQ – Richmond, East of Indianapolis  
Owned and operated by two Richmond Firefighters, Firehouse BBQ and Blues is an awesome place to get your fill of both food and entertainment! They specialize in southern-style smoked pork, chicken, and brisket. Every Friday and Saturday night, this firehouse puts on a live blues music show featuring great, rockin' acts!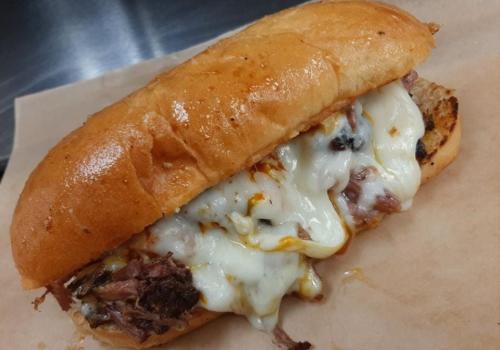 The Mug in Greenfield - Greenfield, East of Indianapolis 
The Mug strives to provide customers with the freshest, best-tasting farm-to-curb "slow food" they have ever eaten. They source their meat from local farmers who never use antibiotics and raise their cows, pigs, and chickens the "old-fashioned" way - out on green pasture where they can be free to roam and enjoy a happy life in the open. So skip the fast-food drive-thru, experience The Mug for yourself, and taste the farm-to-curb difference!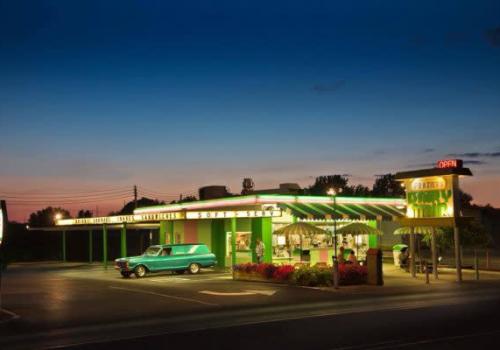 Milktooth - Indianapolis 
An Indianapolis brunch favorite, Milktooth is a fine diner in the historic Fletcher Place neighborhood of the city. Using local produce and agriculture, they serve world-inspired breakfast and lunch fare.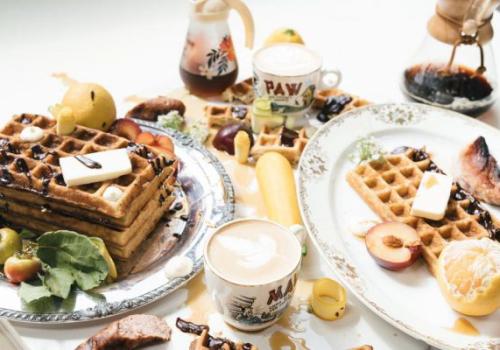 Here's What To Do:
Thistlethwaite Falls – Richmond, East of Indianapolis 
Thistlethwaite Falls was rated one of the top waterfalls in Indiana! A short hike, this section of the Whitewater River is a beautiful stop on the road.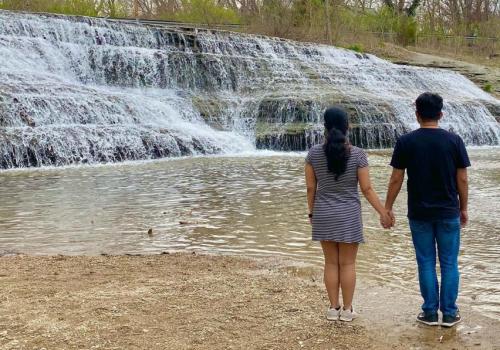 World's Largest Candle - Centerville, East of Indianapolis 
Did you know Centerville, Indiana is home to the world's largest candle? Take exit 145 on I-70, and you can see it for yourself! The candle is at the entrance of Warm Glow Candle Company Outlet Store, where you can buy your own candles and gifts. They even have a cafe making this the perfect road trip stop!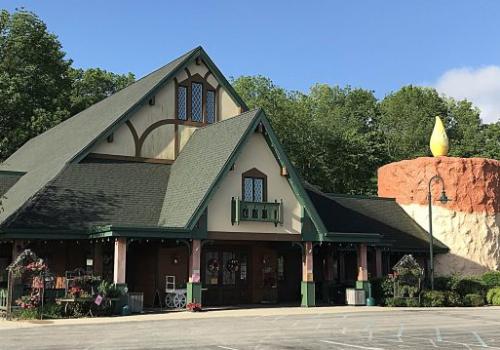 Indiana Basketball Hall of Fame - New Castle, West of Indianapolis 
Located in New Castle, the Indiana Basketball Hall of Fame is a must-see for any Hoosier. The Hall of Fame's enshrinees include Larry Bird, Oscar Robertson, and many more.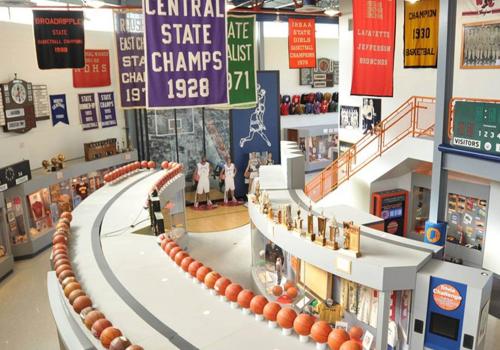 Indianapolis Indians Victory Field - Indianapolis 
Baseball fans, visit one of the best minor league ballparks in America! The Indianapolis Indians are the triple-A club affiliate of the Pittsburgh Pirates and call Victory Field their home. The Indians play at Victory Field from April through September, but the downtown stadium hosts events year-round!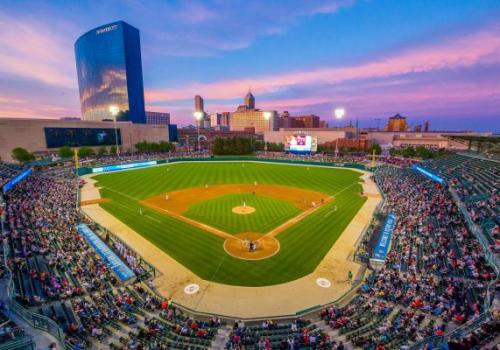 Bottleworks District – Indianapolis 
The Garage Food Hall at Bottleworks District is the perfect place to find a bite to eat for everyone. A 30,000 square foot food and market hall occupies two of the historic bottling plant's original garage buildings. The food hall features 1930s Art Deco terracotta facades, industrial architecture, and large roll-up doors for a seamless indoor-outdoor experience. The Garage plays host to various food and beverage vendors, bringing top culinary talent, artisan craftsmen, residents, and visitors together in the heart of Indianapolis. It's a supportive environment where chefs, producers, and artisans are pushed to be their best. If you're lucky, you may even catch a live music performance!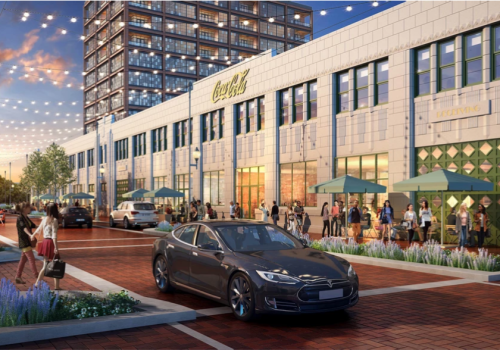 Cataract Falls and General Store - 15 minutes from the Interstate 
Also, not too far off from I-70 is the largest waterfall in the state, Cataract Falls! Take a short hike to view the beautiful scenery, and be sure to stop at the General Store that's right nearby and has something for everyone. 
If You're Traveling Via I-65
Here's Where To Eat
Albanese Confectionery – Merrillville, North of Indianapolis 
Who doesn't love candy? Whether you're traveling with kids or without them, stop by Albanese Confectionery for some Midwest-made, World's Best Gummies and Chocolates.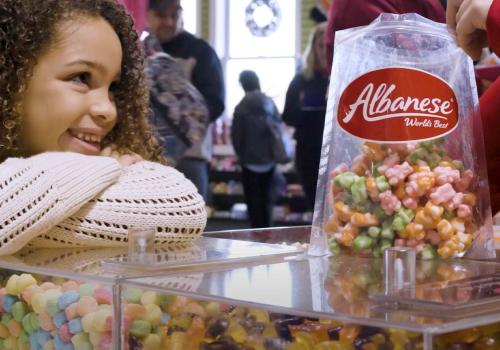 Triple XXX Family Restaurant – Lafayette, North of Indianapolis 
Grab a bite to eat at Triple XXX Family Restaurant! Open since 1929, Triple XXX serves burgers, root beer & other soda-fountain treats, plus breakfast all day.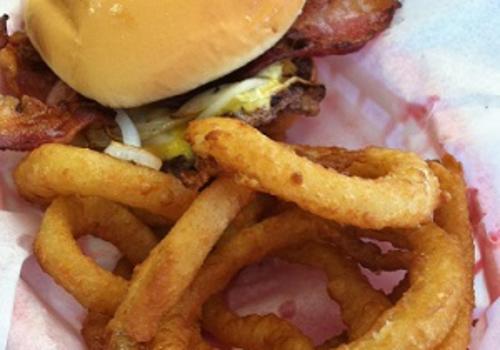 Here's What To Do
Indiana Dunes National Park – Porter, North of Indianapolis 
Right off the bat you'll find Indiana's first and only national park! Along the coast of the fifth largest freshwater lake in the world, the Dunes are also Indiana's most ecologically diverse area!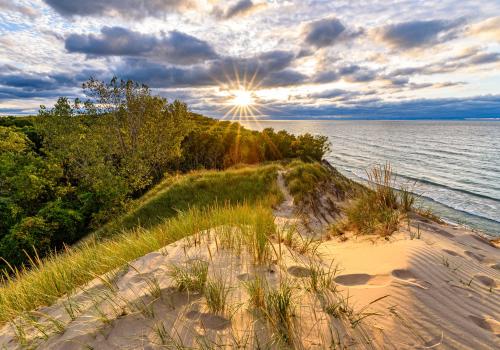 Gabis Arboretum at Purdue Northwest - Valparaiso, North of Indianapolis 
This 330-acre arboretum is a preserve of prairie, forest and wetland terrain and is home to an incredible model railway garden, which will capture the imagination of young and old.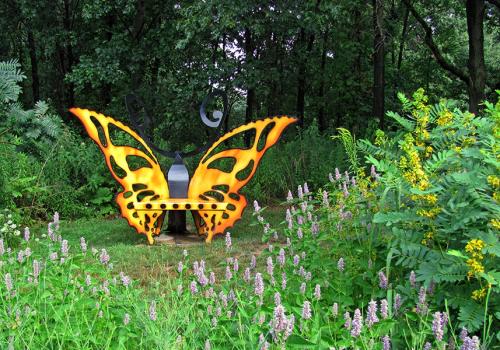 Columbus Architecture Tours – Columbus, South of Indianapolis 
Discover how a small Midwestern city became a "modern architecture mecca"! The Columbus Architecture Tour includes over thirty significant structures and works of art in the city to learn about.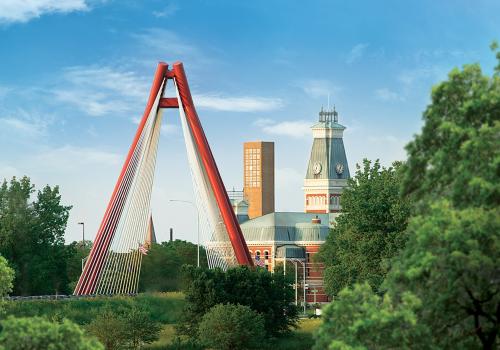 John Mellencamp Mural at The Old Guitar Music Store- Seymor, South of Indianapolis  
Music fans have to visit the John Mellencamp Mural at The Old Guitar Music Store in his birthplace of Seymour, IN! The legend visited and signed the mural himself.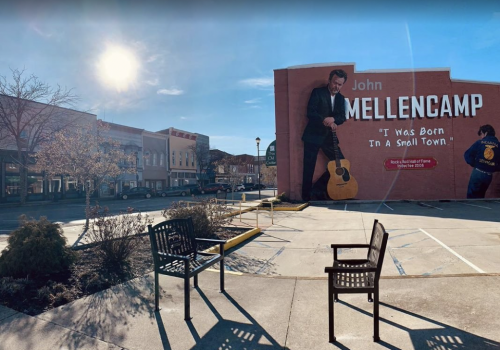 Huber's Orchard, Winery & Distillery – Borden, South of Indianapolis 
As Indiana's largest wine-grape producer, Huber Orchard and Winery produces nearly 400,000 pounds of 18 different varieties of grapes every year! Stop by to taste wines, pick your own fruits & vegetables from the fields of the largest farm in Southern Indiana or enjoy lunch at the Starlight Cafe.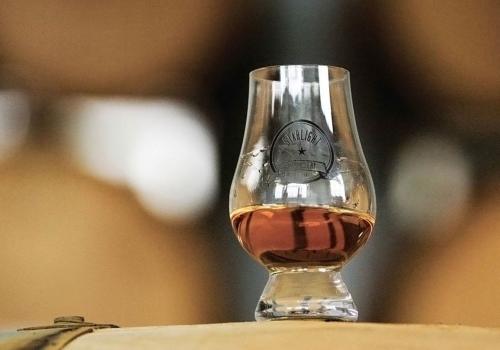 Derby Dinner Playhouse – Clarksville, South of Indianapolis  
Who doesn't love dinner and a show? Derby Dinner Playhouse is a 500-seat dinner theater featuring Broadway musicals and comedies, just minutes off the highway and from downtown Louisville. The homestyle buffet is included in the ticket price!