Whether your destination is in Indiana or you're passing through on your way out of state, you're going to want to plan a pit stop or two at these great places to stop on I-69 in Indiana! The highway brings travelers through Indiana from Michigan in the North and Kentucky in the South. Along this route, you'll encounter Indiana's three largest cities, and great points in between. You'll find the perfect pit stop at one or more of these 75 places to stop along I-69 in Indiana, all just 15 minutes or less off the interstate.
North of Fort Wayne
Shopping & Attractions 

Feel the need for a shopping spree? You can find all sorts of department stores at the Shops at Fremont. Here, you will discover places that will fit all your clothing needs from casual dress to formal attire. With such a variety of outlets, there is something for everyone here!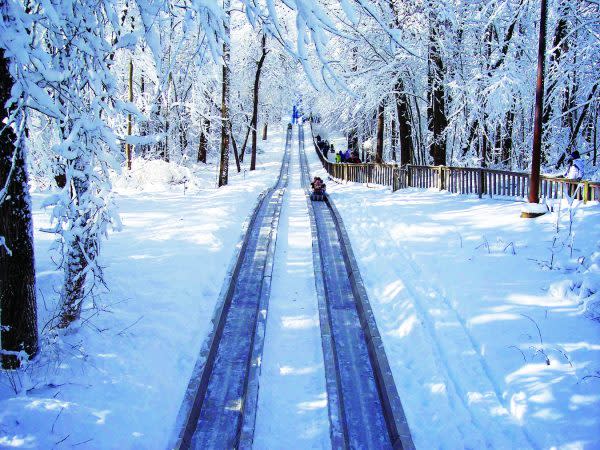 Black Friday is also opening day for the Pokagon State Park Toboggan Run!
Named Indiana's most beautiful park on Lake James near Angola, Indiana the activities at Pokagon State Park include fishing, bike paths, walking and hiking trails, and visiting the nature center, which has nature/history programs. The park also offers escorted horse rides. This makes for one of the ideal places to stop on I-69 in Indiana because you can pull off and have yourself a picnic.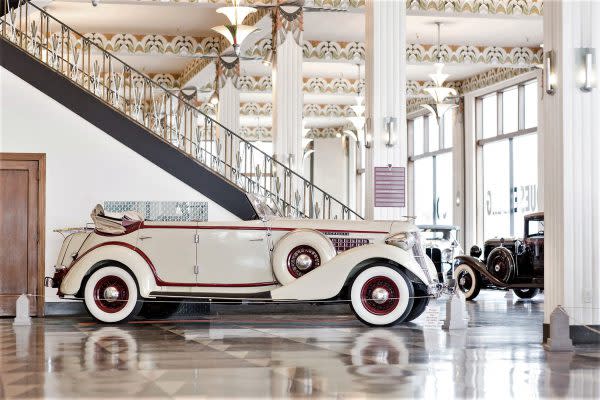 The Auburn Cord Duesenberg Automobile Museum offers over 120 cars on exhibit on three levels. As a unique point of interest on this list of places to stop on I-69 in Indiana, you can see nine automotive themed galleries allow the visitor to experience everything from classic cars (as defined by the Classic Car Club of America), to Indiana built cars, to racing and engineering themed exhibits and the original Auburn Automobile Company showroom and company offices.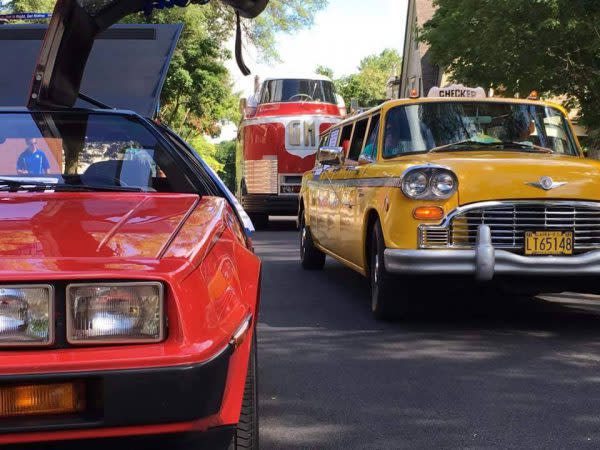 The National Auto & Truck Museum's mission is to enrich lives and educate all generations through the acquisition and preservation of America's automobile and truck history with buildings, vehicles, artifacts and literature. The museum lets visitors enjoy two floors of amazing one of kind vehicles, prototypes, classic cars, and trucks. This awesome destination features over 250 cars and trucks of all years, a vintage vehicle toy gallery, and a automotive library. "Post-war" cars and all vintages of trucks are proudly displayed for your enjoyment and maybe even to bring back memories of a car or truck you "used to own."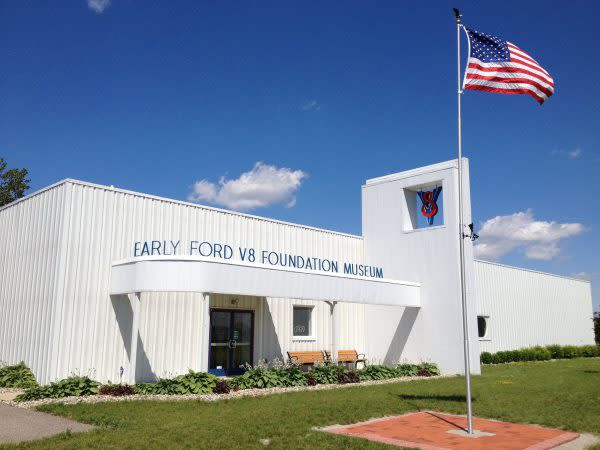 The Early Ford V-8 Foundation Museum exists to collect, preserve, exhibit and interpret the history and heritage of the products manufactured by the Ford Motor Company between 1932 and 1953. This place is a one-of-a-kind museum! It consists of three sections for cars built for speed, industrial engines and farming displays with a Ford service garage, and a gallery of vehicles which features a depiction of a 1930's Ford dealership.
Food & Drink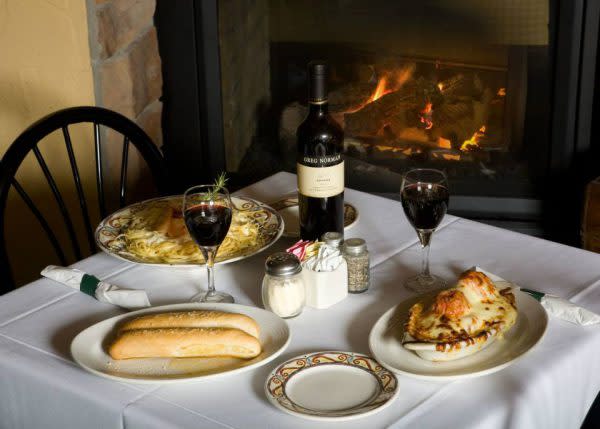 Established in 1976, Caruso's is a family owned and operated restaurant. They serve traditional family recipes along with the latest trends in Italian cuisine and seafood. Stop in for a fresh fish entree or a gourmet pizza.
Fort Wayne
Food & Drink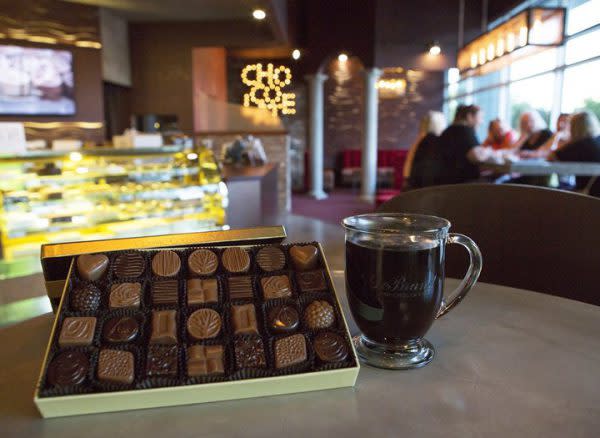 At DeBrand Fine Chocolates, you can experience an elegant and relaxing atmosphere while you enjoy fine chocolates made with only the highest quality ingredients. Have a taste of a gourmet hot chocolate or enjoy a decadent sundae topped with your choice of toppings, or one of the many other desserts and drinks available. Whether you desire traditional creams and caramels, irresistibly rich Truffles, or more exotic combinations, DeBrand will have the chocolate that's perfect for you.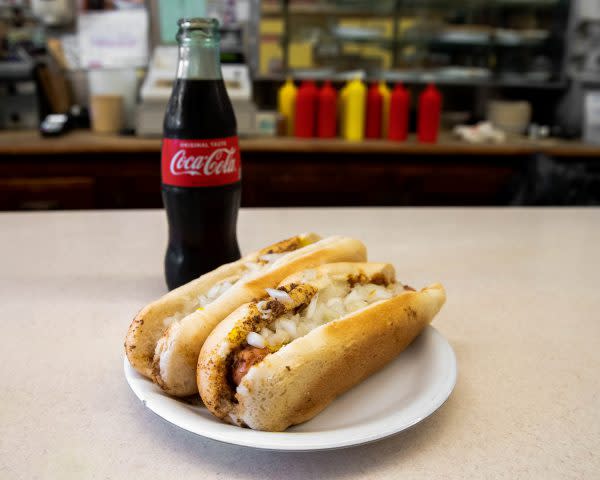 At Fort Wayne's Famous Coney Island, the atmosphere is vintage and welcoming and the fare simple, fresh but unforgettable. This place is the definition of 'old school.' Opened in 1914, this locally famous eatery has kept its original atmosphere and food the exact same as it was over a hundred years ago.
Shopping & Attractions

Recently, the Fort Wayne Children's Zoo has teamed up with Turtle Survival Alliance to defend our shelled friends focusing on species that are at the highest risk of extinction. Along with turtles, you can visit the African Journey, Australian Adventure and Indonesian Rain Forest to learn about animals from a variety of different habitats across the world. See eye to eye with sea lions, sharks, tigers, and more on your zoo adventure. Enjoy four amazing rides, 1,000+ animals, daily sea lion shows, giraffe feeding, touch a stingray, and more.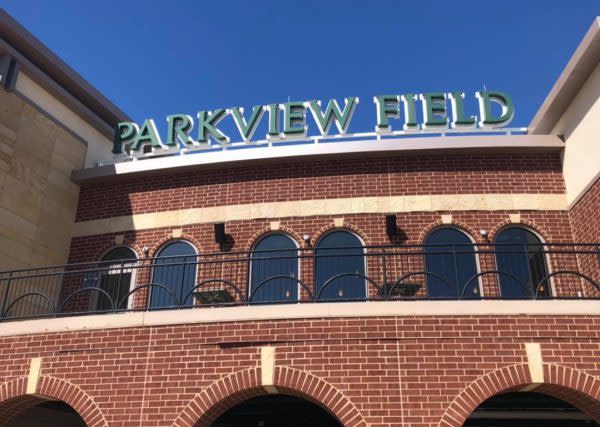 Catch the Fort Wayne TinCaps! You can enjoy watching Fort Wayne's minor league baseball team in the premier Parkview Field. Stadium Journey Magazine has ranked Parkview Field as the No. 1 Minor League Baseball Experience! You can experience one of America's most popular sports with the accompaniment of good food from vendors, a great atmosphere, and a friendly staff.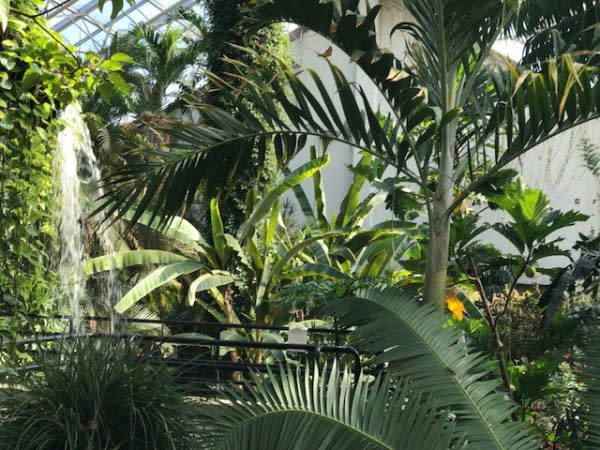 Surround yourself with nature at the Foellinger-Freimann Botanical Conservatory. This is definitely one of the most serene places to stop on I-69 in Indiana, making it a perfect place to take a break after a few hours on the road. Visit the Showcase Garden with its lush seasonal displays, wander through the Tropical Garden where orchids and palms thrive in the shadows of a cascading waterfall, or retreat to the quiet beauty of the Desert Garden. Discover three indoor gardens, four outdoor gardens and a spring butterfly exhibit.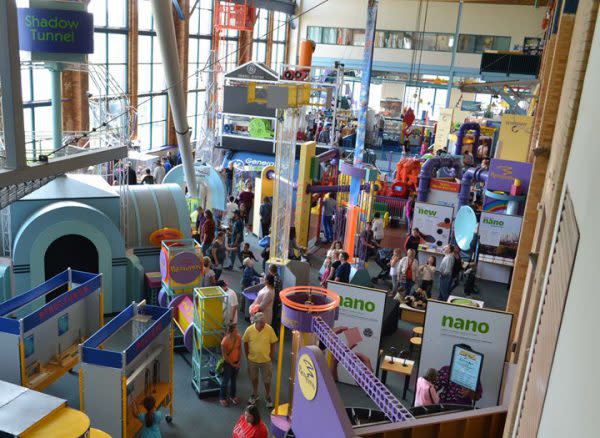 Science Central - 8 Minutes from the Interstate
Science Central is an exciting mix of inspiring and fun, hands-on learning, and engaging fun! Each year through attendance, programming, and outreach, the center impacts over 140,000 individuals and has served over 2.6 million people since opening! Accessible parking is available directly in front of the building.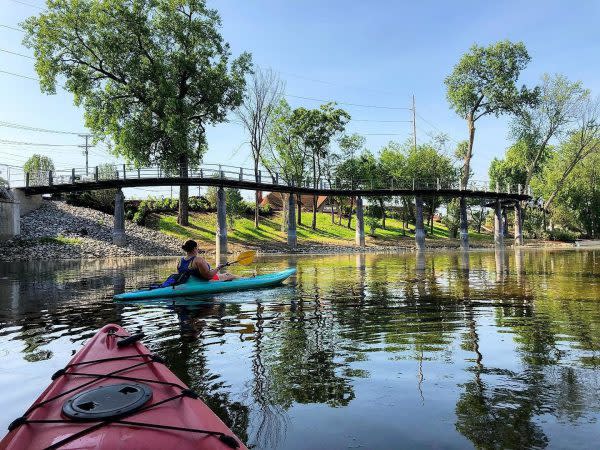 Promenade Park - 10 Minutes from the Interstate
At Promenade Park, families can stroll the treetop trail and take the slide down 8 feet into the accessible playground below. This park is a year-round attraction for everyone to enjoy. You can have fun at the foosball, ping pong and cornhole game tables. Other things you can enjoy include the fire pits, porch swings, a kids' canal, beer garden, riverboat rides and much more!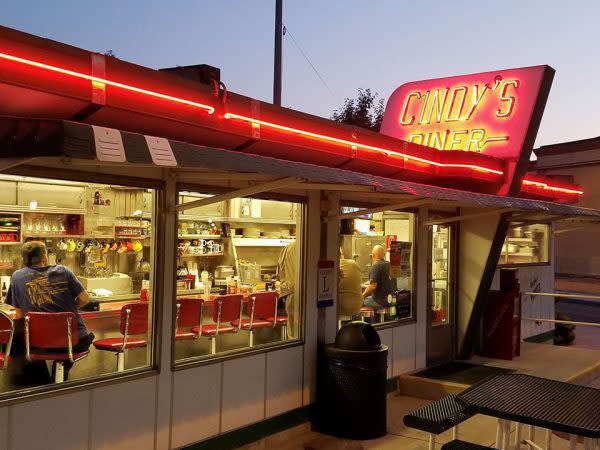 Cindy's Diner - 12 Minutes from the Interstate
Cindy's Diner is an authentic '50s diner and one of the classic places to stop on I-69 in Indiana. Breakfast is served any time, featuring the world-famous "Garbage." They also serve traditional diner items like hamburgers, grilled sandwiches, french fries and milkshakes. If you want to grab some classic American grub in a classic atmosphere you will find no better place than Cindy's Diner, serving "the whole world, 15 at a time!"
South of Fort Wayne
Shopping & Attractions

Zip Timber Lake - 11 Minutes from the Interstate
The owners of Zip Timber Lake conceptualized their course while on vacation in Honduras. With eight zip lines and four bridges, fears are put to the test. The centerpiece of the course is the "Flying Squirrel Zip" that soars 1,000' over a beautifully wooded private lake. Take the High Adventure Tour to do all 8 ziplines, 4 aerial bridges, 2 climbing elements, and the skyhook. This cool waypoint on this list of places to stop on I-69 in Indiana would most certainly provide a nice counterbalance to your drive.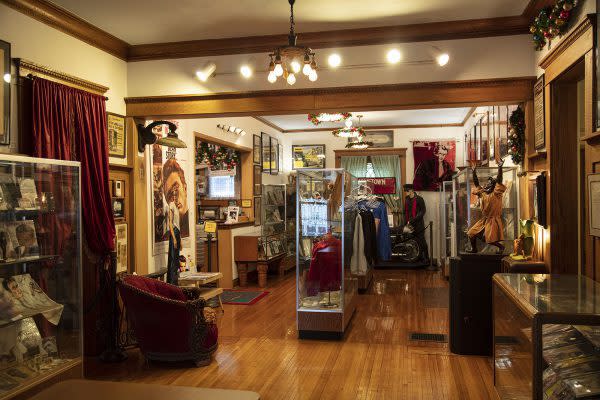 James Dean is remembered as a cultural icon of teenage disillusionment and social estrangement. The James Dean Gallery houses an extensive exhibit of James Dean memorabilia and items including childhood photos, high school yearbooks, and original movie posters from around the world. See the world-wide cultural impact that this Fairmount, Indiana native and film icon has made.
Food & Drink

Joseph Decuis – 6 Minutes from the Interstate
Joseph Decuis serves up extraordinary gourmet farm-to-table meals with ingredients straight from their farm just a few miles away. Your first bite into your cut of Wagyu beef will tell you why you're there. Maintaining a high standard of classical cooking combined with American creativity and local ingredients, Decuis will keep you coming back for more.
Nick's Kitchen – 14 Minutes from the Interstate
Arguably, Indiana's most famous contribution to American cuisine is the breaded pork tenderloin. Now found in restaurants (and fairs) of all kinds across the Hoosier state, legend has it that the tenderloin's origins trace back to a single restaurant in Huntington. Not only was it the historic diner the first to serve Indiana's signature sandwich, but our readers think it serves Indiana's best breaded pork tenderloin. Nick's Kitchen dates to 1908 and it is still located in its original location.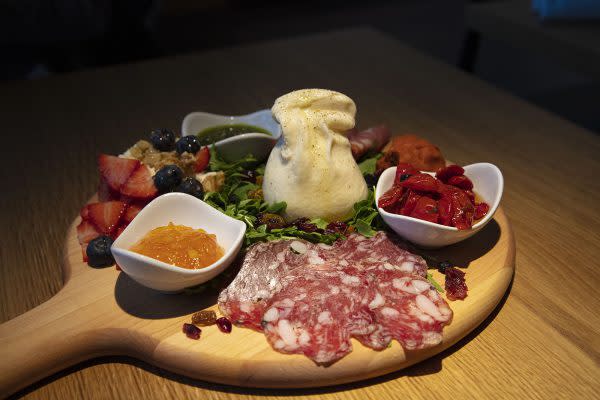 Golfo Di Napoli Daire Café crafts and distributes locally-sourced, organic, and delicious-tasting Italian cheeses. They support local community development while introducing fine Italian cuisine throughout Northeast Indiana. This cheesy destination produces Fior di latte (mozzarella), Burrata, Provolone del Golfo, Fior di latte sheets, Smoked Fior di latte (smoked mozzarella), Caciocavallo, Fior di Ricotta and Ricotta. All of our cheeses are made in their Warren location with locally-sourced, organic milk.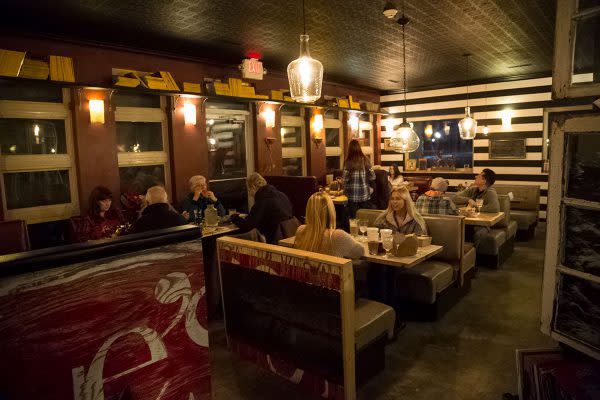 Payne's – 1 Minute from the Interstate
Arguably the best place to get fish and chips in all of central Indiana, Payne's Restaurant in Gas City should definitely be on your radar when looking for authentic cuisine from the British Isles. Payne's offers a relaxed atmosphere for couples, families, and friends. The food is sourced locally whenever possible. Certain dishes require the restaurant to source food a bit farther, including fresh Icelandic Cod, caught fresh and frozen on the boat. The North Atlantic Cod is shipped in fresh, where Payne's kitchen preps and breads the fish in-house, for a truly authentic Fish N' Chips dish.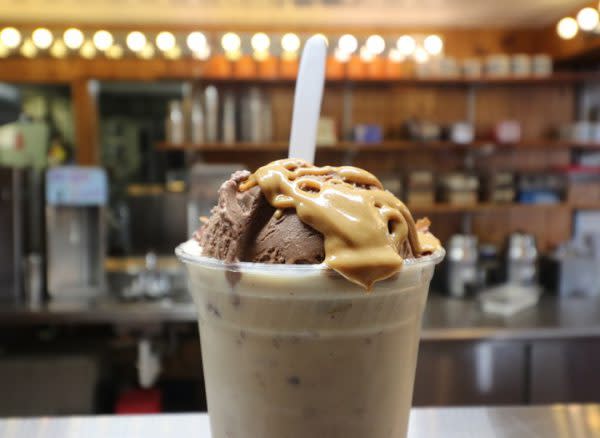 Ivanhoe's – 7 Minutes from the Interstate
Ivanhoe's casual atmosphere will help you to relax and enjoy a meal with friends or family. Their menu offers sandwiches, meal-size salads, and our famous chicken salad. Treat yourself to dessert – you'll have a difficult time making a selection from the menu of over 100 milkshakes and 100 sundaes! Fresh Strawberry Shortcake in season is always a favorite. Bring your appetite and your sweet tooth.
Anderson & Muncie
Shopping & Attractions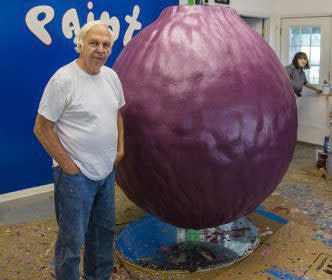 Definitely one of the most unique places to stop on I-69 in Indiana, the World's Largest Ball of Paint sits quietly and ever-growing in Alexandria, Indiana. For 36 years, the ball of paint has been cared for by Mike and Glenda Carmichael. The ball is comprised of approximately 23,400 layers of paint and weighs over 4,000 pounds. Visitors aren't limited to just witnessing the paint idol in its latex glory, but can also help expand it by painting their very own layer! Be sure to call or email to set up an appointment before you visit.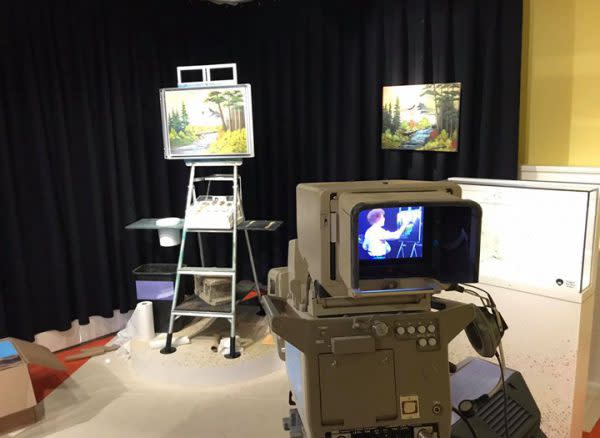 Need a little "Joy of Painting" in your places to stop on I-69 in Indiana? Bob Ross inspired generations of viewers with his soft-spoken voice and a pallet knife. From 1983 to 1988 Bob painted for the iconic series at WIPB-TV in the historic Lucius L. Ball home – now part of Minnetrista's museum campus. Bob's former studio has been refurbished, bringing together objects and media from his life and career, and adding interactive experiences that will bring the Joy of Painting to life for visitors. Here you can explore the life, philosophy, and art of the iconic American painter. The immersive exhibit features original paintings and artifacts, inspiring visitors with Bob's message of fearless creativity. The Bob Ross Experience at Minnetrista creates a space for Bob's message to flourish.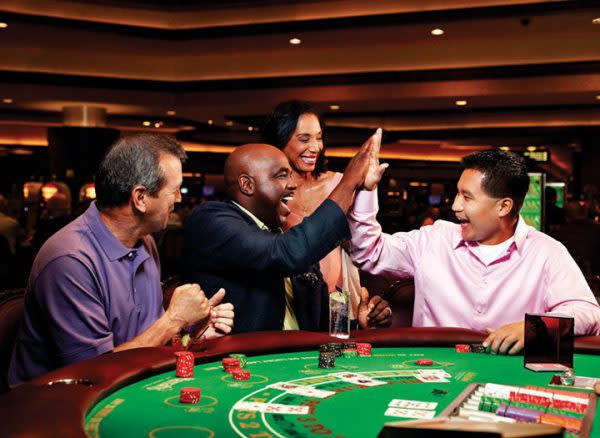 Harrah's Hoosier Park is a premier gaming, racing, dining, and entertainment destination. Try your luck at the slot machines, bet on your favorite horse, have some excellent food, and listen to great live music! Horse racing has always been a tradition at this awesome establishment!
Food & Drink

Cammack Station – 6 Minutes from the Interstate
Cammack Station is a place where friends gather, people smile, and the nostalgic presence is a welcome break from today's chain restaurants. The historic building was built in 1931 and was formerly the home to multiple groceries and fueling stations. At Cammack Station, you can enjoy eating inside surrounded by historic memorabilia and oldies music. If the weather is nice, you might choose to enjoy your treat on their peaceful brick patio. Either way, this restaurant is confident you'll enjoy their old-fashioned sandwiches, one of a kind burgers, homemade salads, creamy ice cream, and the famous milkshakes and sundaes. Enjoy it fresh because their food is made to order!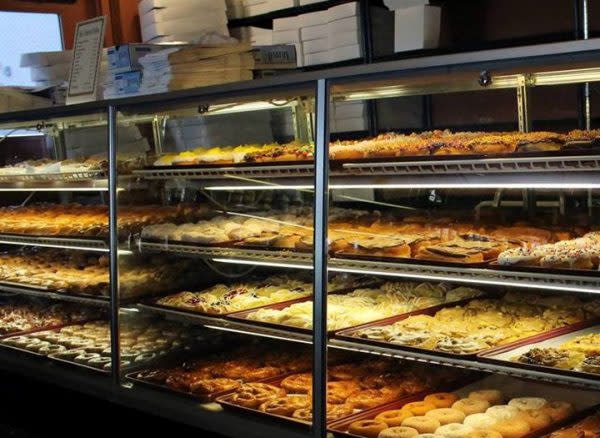 Concannon's – 8 Minutes from the Interstate
Concannon's is a family owned bakery in Muncie, IN, dating back to 1959. They offer homemade pastries, candies, gourmet popcorn, house-roasted coffees, fine chocolates, and much more. Due to the immense popularity of its homemade donuts, Concannon's has had to expand four times since they have opened. Its expanded bakery cafe now features new treats like fine chocolates, coated pretzels, and gourmet popcorn. They also offer a deli and coffee bar. Come experience the savory flavors of Concannon's...a Muncie tradition.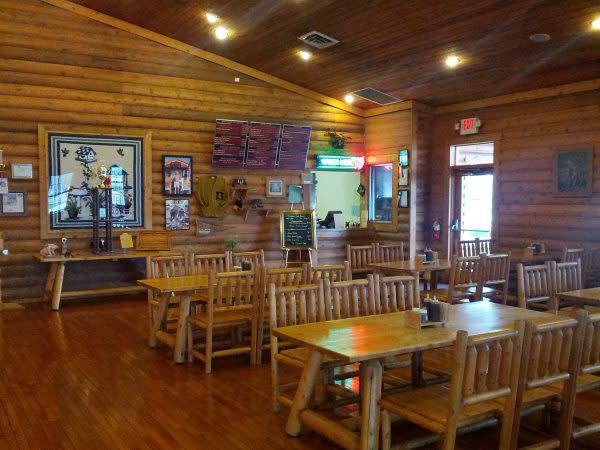 Bird's Smokehouse BBQ specializes in "SLOW" cooked Hickory Smoked Meats. They use only the true smoke from real hickory wood to prepare their meats. This BBQ joint offers "SLOW" cooked Hickory Smoked Baby Back Ribs, Jumbo Chicken Wings, Succulent Pulled Pork, Juicy Chicken, and Tender Beef Brisket. At Bird's, they take great pride and care in the preparation of all their hickory smoked meats to ensure superior flavor, quality and doneness. Bird's Smokehouse BBQ is where Southern cooking takes flight!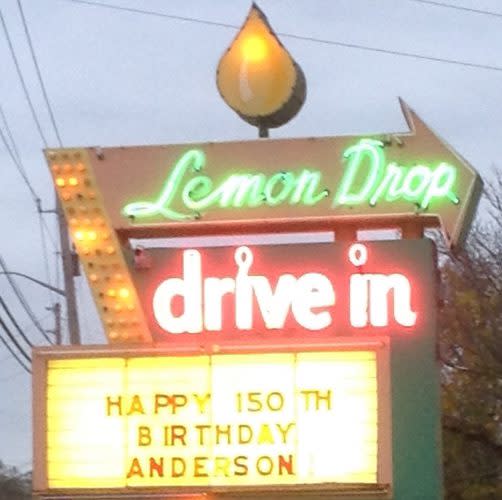 The Lemon Drop - 8 Minutes from the Interstate
You won't miss this cute bright yellow restaurant from the side of the road. Stop by the Lemon Drop and try their breaded tenderloins and onion rings. The Lemon Drop Drive-In offers a unique retro feel which will greatly add to your road trip experience. This vintage eatery also uniquely features lemon flavored sweets such as lemon ice cream and complimentary lemon drops.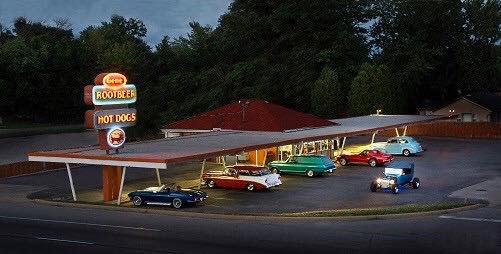 This old-fashioned drive-in is perfect for fried grub, homemade root beer, and ice cream. Gene's is another drive-in diner option to add a classic vibe to your road trip. There is a pretty good chance that you'll find a few classic cars will be parked alongside you, transporting you back to the time of American muscle.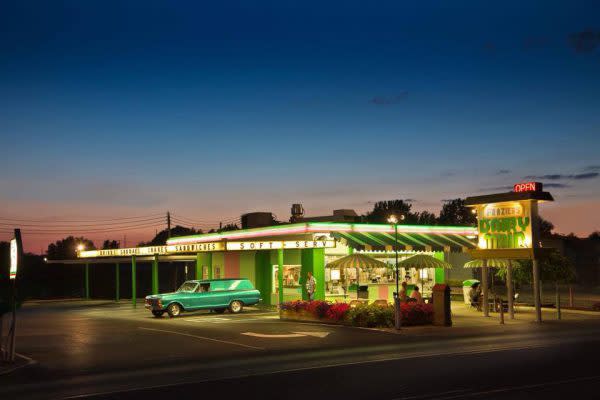 Frazier's Dairy Maid was founded in 1954 and still maintains its classic American drive-in looks and service. It still offers the feel of a a 1950's ice cream store and has been voted best ice cream in Madison County for 5 consecutive years. With beautiful colors and lights adorning the outside of the building, Frazier's might be one of the most 'Instagrammable' Indiana drive-ins!
North of Indy
Shopping & Attractions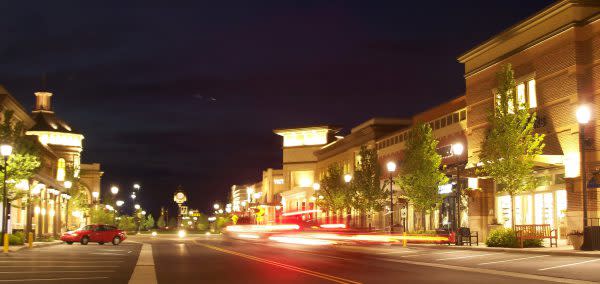 Hamilton Town Center is an awesome shopping destination that showcases a fun mix of shops, restaurants and entertainment venues. This exciting shopping center has over 85 shops and dining options to choose from. They have many exciting dining options from sit down options such as Stone Creek Dining Co. to grab and go choices such as Five Guys Burgers & Fries. Have an extra afternoon to spend on your road trip? Make plans for dinner and a movie at their IMAX Theater.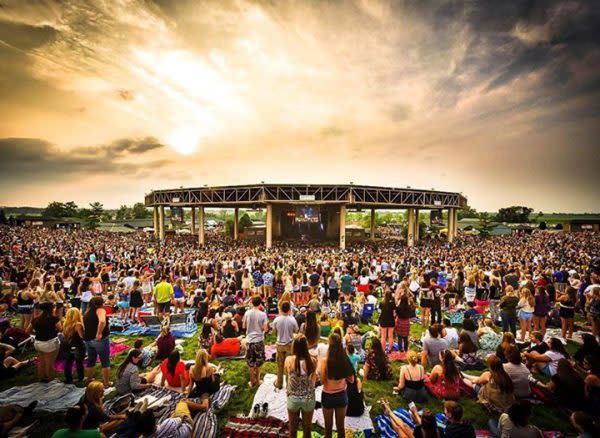 Ruoff Music Center, formerly Klipsch Music Center in Noblesville, rocks. The Noblesville concert venue is the largest amphitheater in the Midwest. Concert season starts in early May and runs through early fall. This Noblesville concert venue hosts some of the biggest names in pop, country, hip-hop and rock, all against the stunning backdrop of an Indiana sunset. What better way to stretch your legs after a long day on the road than spending your evening outdoors watching a performance from one of your favorite music artists?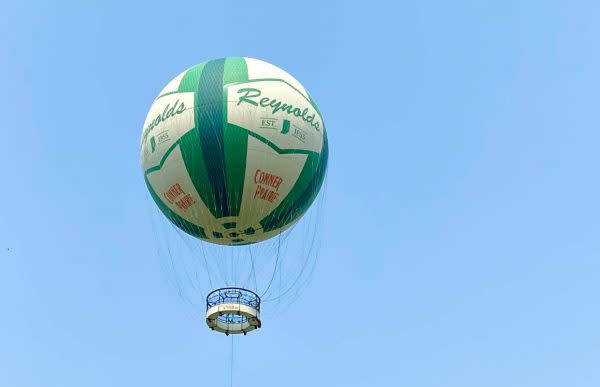 Conner Prairie – 10 Minutes from the Interstate
Conner Prairie invites guests to actively experience the connection between an Indiana in the distant past and today. One of the most spacious places to stop on I-69 in Indiana, this spot highlights the exciting intersections of history, nature, art, science, and technology. Here you can explore 11 distinct experience areas that showcase different historical time periods and experiences, through first person interpretation of 19th century life. With 1,000 acres to run wild after long hours of sitting in the car, Conner Prairie offers adventure at every turn.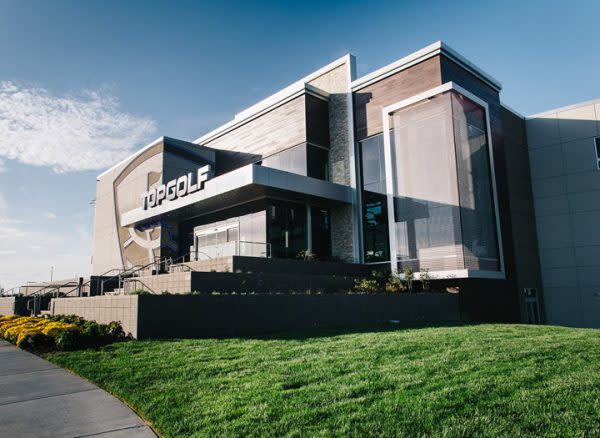 Topgolf – 1 Minute from the Interstate
Topgolf is the premier entertainment destination in Fishers. This is a perfect place for any occasion, such as birthday parties, bachelor or bachelorette parties, corporate events, date nights, or just a night out with family and friends. At Topgolf, they believe that every great time starts with play, is fueled by food and drinks, moved by music and all made possible through community.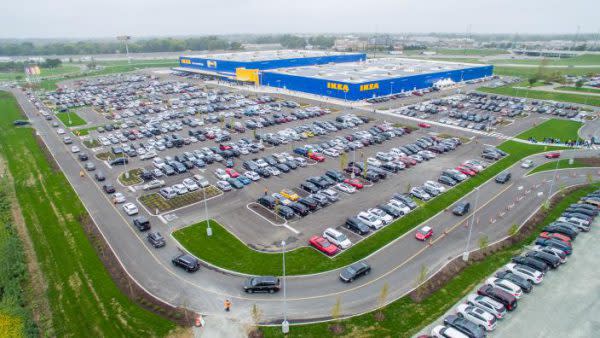 IKEA – 1 Minute from the Interstate
IKEA is more than a store. People take trips to IKEA all the time because it's a place of entertainment. You can daydream and browse through endless possibilities for furniture in your current or future home. People often play 'house' with the kitchen décor. IKEA is a very Instagrammable location. This is the ideal location to take a break and do some shopping on your road trip!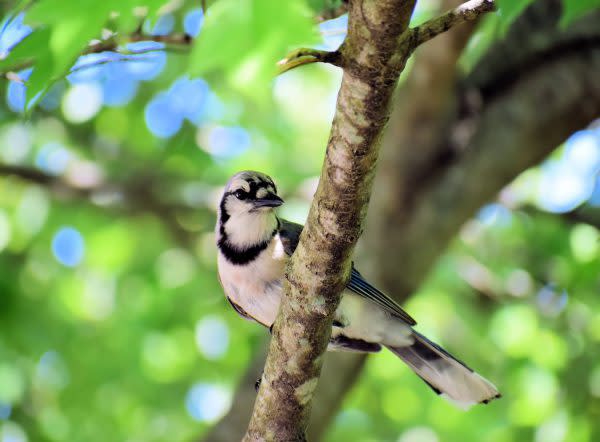 Ritchey Woods Nature Preserve is the perfect place to take a break from driving. The park is approximately 127 acres. There are nine incredible nature trails totaling over 2 miles and are great for getting in some exercise on your drive. This preserve is one of the best spots around for bird watching and wildlife sightings. Ritchey Woods is also a perfect place for a picnic as it offers a shelter and picnic areas.
Food & Drink

Quack Daddy Donuts offers patrons well made, unique made-to-order donuts six days a week. With 118 total combinations, Quack Daddy Donuts, will not disappoint fans of the fried confectionary. Quack Daddy Donuts not only serves good quality donuts, but blends a passion for the community with the simple pleasure of life such as donuts and a strong desire to encourage people to have fun together.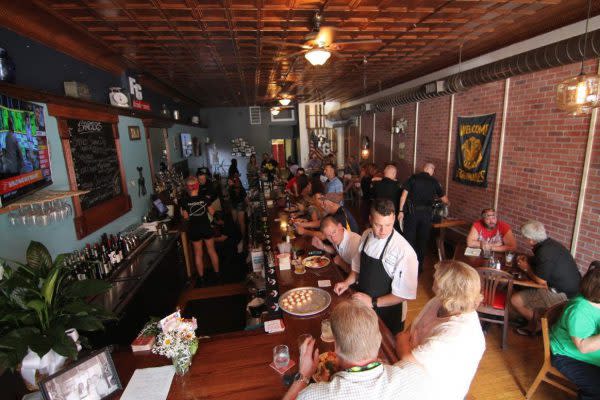 Foxgardin Kitchen & Ale prides themselves on sharing quality elevated comfort food that will keep you coming back for more. Their number one priority is to create an environment for people to meet, share, and enjoy each other's company. Named one of the 25 Best Restaurants of 2016 by Indianapolis Monthly, Foxgardin offers upscale pub fare, a wide variety of local beers and wines, house cocktails and often live music make FoxGardin a must-stop for the adult Fortville visitor.
South of Indy
This stretch is currently IN-37, but will eventually be I-69.
Shopping & Attractions

Has an afternoon on the road left you feeling like you need to let off some steam? Indy Paintball Battleground is the perfect place for you. They have walk-on pricing for paintball and airsoft. Want the place to yourself? You can rent out their entire facility to just your group!
Food & Drink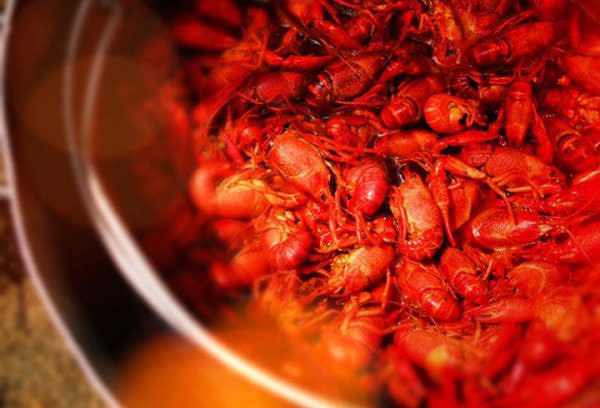 Zydeco's – 13 Minutes from the Interstate
New Orleans is much closer than you think! Zydeco's serves up authentic Cajun cuisine that makes you feel like you're on Bourbon Street. This fantastic establishment not only brings the flavors of New Orleans but the sights and sounds as well. A trip to Zydeco's is worth the chance to step through the doors and soak in the ambiance and have some fun!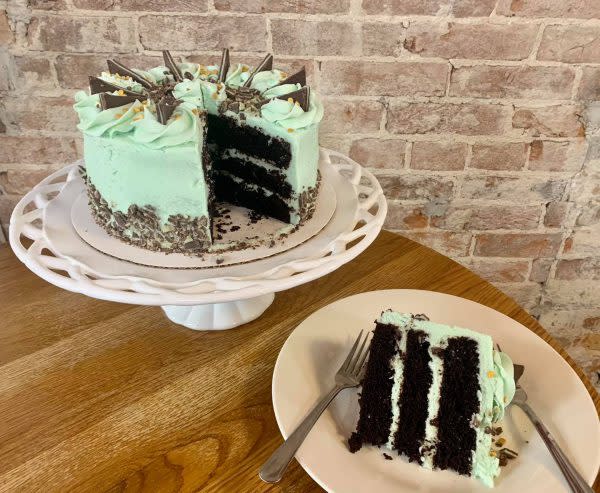 The Martinsville Candy Kitchen is kicking off a year-long celebration that will culminate in their 100th anniversary in business – a whole century spent on Main Street in downtown Martinsville! The candy shop is a favorite among locals and visitors alike, serving up hand-pulled candy canes, chocolates, and other sweet treats. Best known as a holiday season destination, the store is also a popular summer hang-out. The Candy Kitchen serves up several flavors of hand-dipped ice cream, plus old-fashioned cherry and vanilla cokes!]
Bloomington
Shopping & Attractions
Now, back to the locations along the current I-69.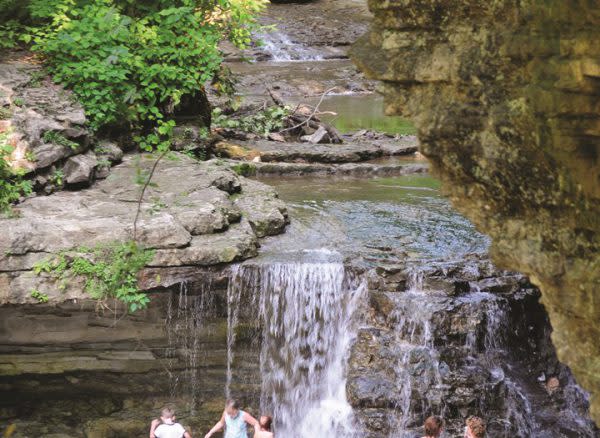 McCormick's Creek State Park is Indiana's oldest state park. Here you can explore the spectacular limestone canyon and scenic waterfalls. This beautiful location also has trails that feature diverse forest trees, spicebush, native wildflowers, and Wolf Cave Nature Preserve. You can stay overnight at a campsite, a cabin, or the relaxing Canyon Inn, where you can watch birds through the enormous windows in the dining room.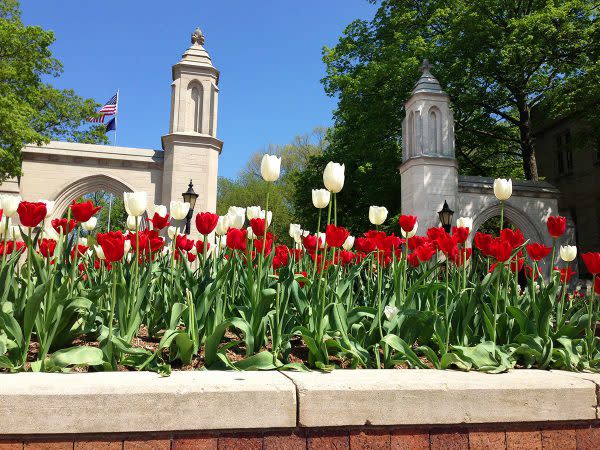 Indiana University is a public research university in Bloomington, Indiana. It is the flagship institution of the Indiana University system and, with over 40,000 students, its largest university. Bloomington is the classic Hoosier college town. Along with academics, IU is known for its Division I sports. Whether you visit the famous Simon-Skjodt Assembly Hall for a basketball game or Memorial Stadium for Big Ten football, you'll love seeing Hoosiers in their natural habitat in Bloomington. It is also one of Indiana's most Instagrammable locations!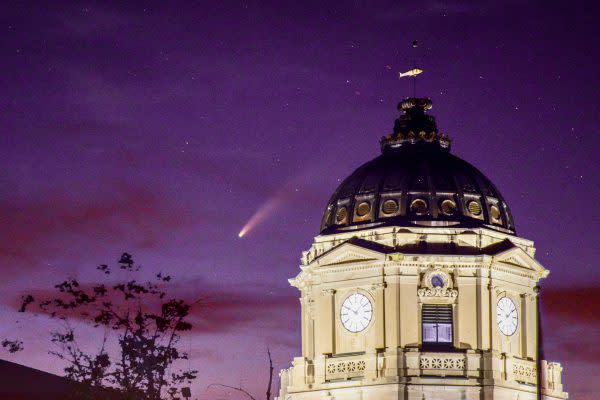 Downtown Bloomington is full of fun things to do day and night, making it yet another one of the best places to stop on I-69 in Indiana. There are a variety of places for people of all ages and interests. Feeling hungry or thirsty? There are tons of restaurants and breweries to choose from. You can also see live music at one or more of their many venues which offer it just about every night of the week. If you're feeling sleepy after your long day on the road, you can take your pick from a wide variety of hotels to pull off at for the night.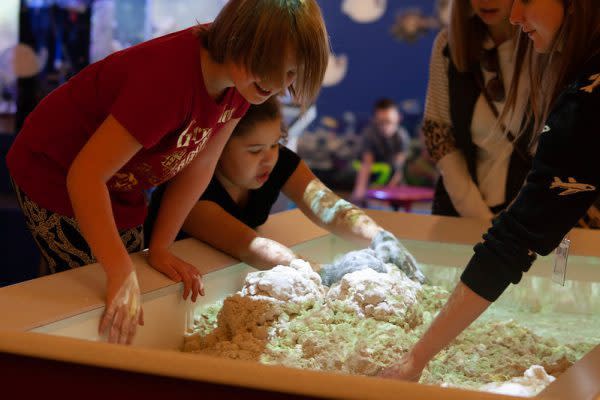 Want a place to create family memories on your list of places to stop on I-69 in Indiana? In downtown Bloomington, Wonderlab Science Museum keeps kiddos busy in interactive areas that focus mainly on science, health, and technology. The new SandScapes augmented reality sandbox captures imaginations, along with a bubble station, lots of building blocks, and a selection of live amphibians, insects, and reptiles on the second floor. At Wonderlab, you can create a day full of memories with your family!
Food & Drink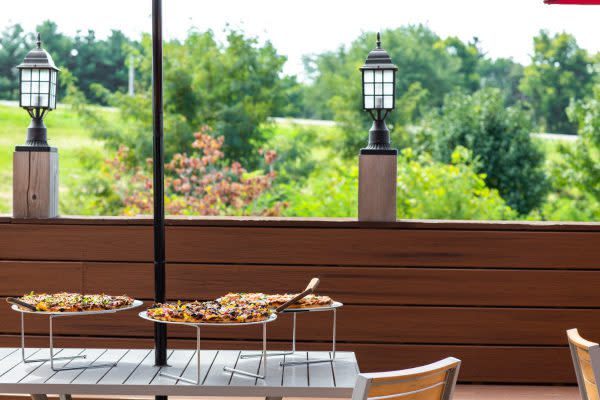 Mother Bear's Pizza is best known for their traditional pan pizza, but also offer sesame-seed thin crust and deep-dish options. Not in the mood for pizza? They also offer crisp salads, hot sub sandwiches, wings, and pasta dishes. To complete your meal, try one of the warm, homemade brownies. This cheesy destination also serves beer and wine with many selections from local breweries.
Daviess County
Shopping & Attractions

Road trips are a classic staple of American culture. Drive-ins are another staple of old America. At Mason's Root Beer Drive-In, you can have the best of both worlds. This vintage feature of Daviess County offers drive-in favorites that will drive away your hunger and suit your taste buds. Try the classic combination of a coney dog and a root beer!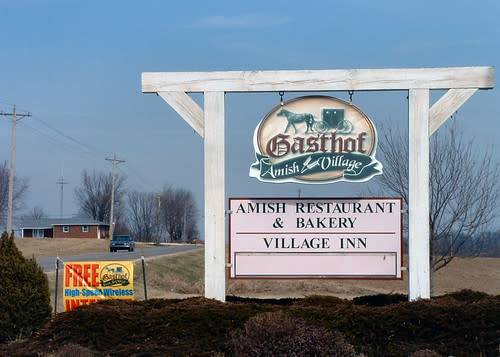 Gasthof Amish Village billed as an "oasis in the farmland" of Southern Indiana, offers a hotel, restaurant, antiques, and craft shops. It provides visitors a sample of authentic Amish food, in a traditional Amish setting, built with Indiana timber. Their bakery has fresh homemade pies, noodles, cookies, cakes, and bread, which is made onsite every day. This Amish village also has lodging for you and your family to get a good night's rest in before getting back out on the road.
Evansville Region
Shopping & Attractions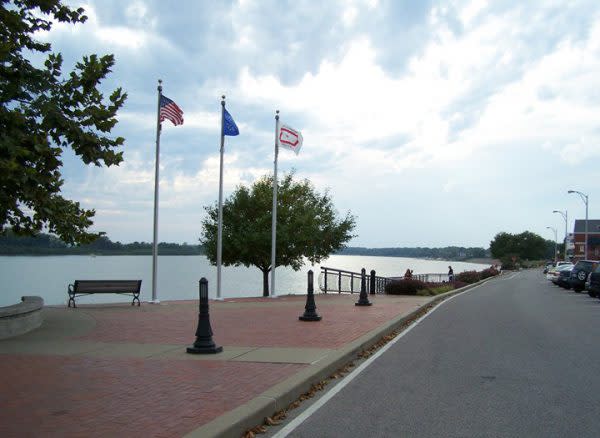 Historic Newburgh was the first town captured north of the Mason Dixon Line in the Civil War. This river town has cool shops, unique restaurants, and a must-see museum. After lunch, spend some time walking along the 3 miles Rivertown Trail with its breathtaking views of the Ohio River. Many events and activities happen throughout the year. There is always something going on! Historic Newburgh is where contemporary meets tradition.
The heritage at the Angel Mounds State Historic Site stretches back about 1,000 years. Around 1000 AD, a group of Native Americans began building a town along the Ohio River. The land was chosen because the river offered protection with the river on one side and a slough on the opposing side. The community built large platform mounds, defensive palisades, and numerous dwellings. Angel Mounds is a great example of the Mississippian Culture. This waypoint is a chance for you to add some perspective and ancient history vibes to your list of places to stop on I-69 in Indiana.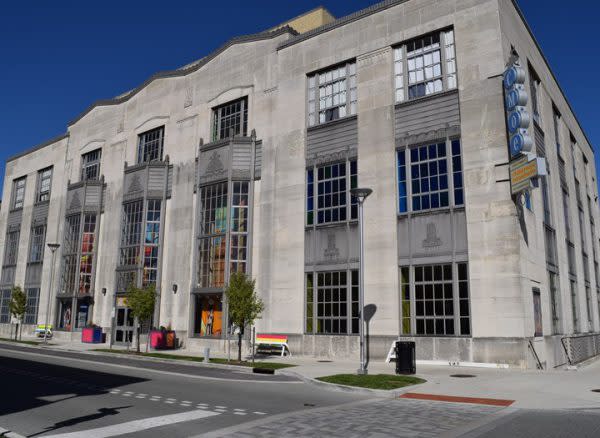 The Koch Family Children's Museum of Evansville offers over 20,000 square feet of galleries and exhibits, housed in a beautiful historic Art Deco building once home to the public library. The mission of the museum is to spark the curious minds and imaginations of children and their families through dynamic exhibits, programs, and activities. Museum staff and supporters strive to meet that mission every day by encouraging young minds to explore all that cMoe offers and experience learning through play. Children (and their grownups) are encouraged to play hands-on with galleries and exhibits. Popular favorites include performing a play in the 5th Street Theater, splashing in the Wet Deck, climbing through Moe the two-story duck, playing the laser harp, acting like a booger in a giant nose, and chatting with the talking Mark Twain bust. cMoe is located within walking distance to downtown restaurants and other attractions.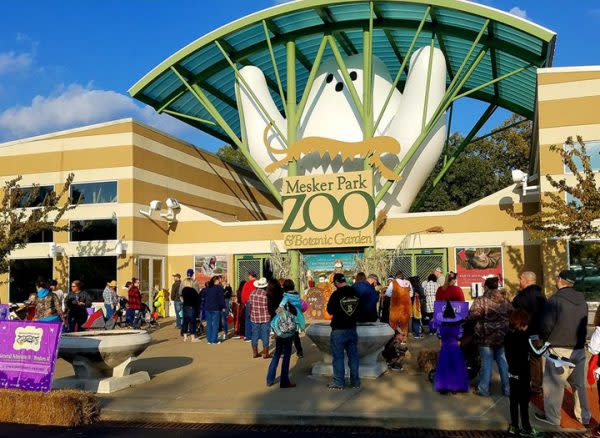 Mesker Park Zoo – 12 Minutes from the Interstate
Situated on 45-acres of rolling hills on Evansville's northwest side, Mesker Park Zoo & Botanic Garden is home to hundreds of animals from around the globe. Their mission is to foster the preservation of the Earth's diverse species and living systems through an active role in education and conservation in their regional and professional community. Mesker Park Zoo forges connections between people and their natural world by providing quality experiences that promote understanding and celebrate the rich tapestry of life.
The Evansville Museum of Arts, History & Science houses a permanent collection of more than 30,000 objects, including fine and decorative art, as well as historic, anthropological, and natural history artifacts. Over twenty temporary, regional and international exhibitions are displayed each year in four galleries. Their Koch Immersive Theater houses a 40-foot diameter domed screen with 360-degree digital projection featuring astronomy and science programming. They have a transportation center featuring transportation artifacts from the late 19th through the mid-20th centuries. On exhibit is a three-car train. The museum is home to a model train diorama of Evansville.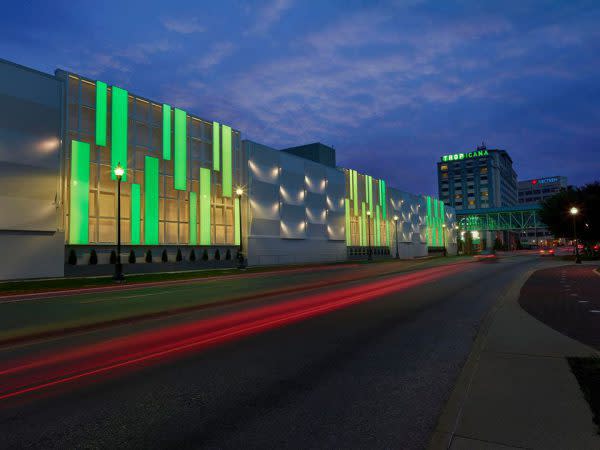 Bally's Evansville is a single-level casino that encompasses 45,000 square feet of gaming space featuring 1,175 slot games, over 30 table games, a Poker Room, and a High Limit Room. Accommodations include a 243-room hotel tower and a 95-room boutique hotel. The property showcases an ultramodern entertainment lounge, four dining options, two bars, a gift shop, conference center, riverfront pavilion, and a 1,660-vehicle attached parking garage.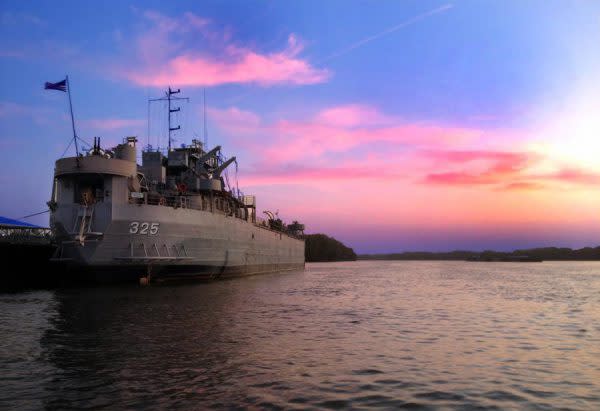 USS LST-325 – 5 Minutes from the Interstate
The LST-325 is the last remaining representative of the largest class of ship to ever serve in the U.S. Navy: the Landing Ship, Tank. These 328-foot long amphibious landing vessels were designed to carry tanks, trucks, jeeps, and troops directly onto enemy beaches for invasions in World War II. LST-325 participated in landings at Sicily, mainland Italy, and Normandy France during her service in World War II. While in homeport in Evansville, IN tours run hourly from 10:00 am to 3:00 pm every day, with each lasting roughly 1 hour. Come see us and walk the decks of history!
The neighborhoods of Riverside, Culver, Goosetown, and Blackford's Grove define the Arts District in downtown Evansville. The Haynie's Corner area has a long history, dating back to the first plat in the 1830s. A node of special development, several neighborhoods converged here. Today, Haynie's Corner Arts District is a symbol of community, advocacy, preservation, and regeneration its future sits with art, design, and architecture. There are new restaurants and bars showcasing art and music, a brewery, galleries, and retail and spa.